SIOUX CENTER—Neither the cool 45-degree weather Wednesday morning, May 6, nor the new coronavirus regulations in place deterred John Wesselius from setting out fresh lettuce, spinach turnips, radishes and herb plants on his product table.
Wesselius and his wife, Janna, of rural Sioux Center grow certified naturally organic vegetables for their business The Cornucopia.
They've come Wednesdays to the Sioux Center Farmers' Market since 2004, expanded to the Sioux Falls Farmers' Market at its Falls Park location on Saturdays in 2005 and added the Sioux City Farmers' Market at the Tyson Events Center in 2006, which has expanded to twice a week on Wednesdays and Saturdays.
They'd been planning for this year's opening of those farmers' markets before they planted the first seedlings in their greenhouses Jan. 27.
"It was never a question of not coming to the markets, we just had to figure out how to do it safely," Wesselius said Wednesday, May 6, the opening day for Sioux Center Farmers' Market in the Centre Mall parking lot. Hours are 8 a.m.-1 p.m.
The couple has been talking with the Sioux Falls Board of Health about its recommended protocols since the coronavirus began impacting the N'West Iowa area mid-March as the Sioux Falls market opened Saturday, April 4. There, the couple can see up to 5,000 customers in a day seeking fresh produce.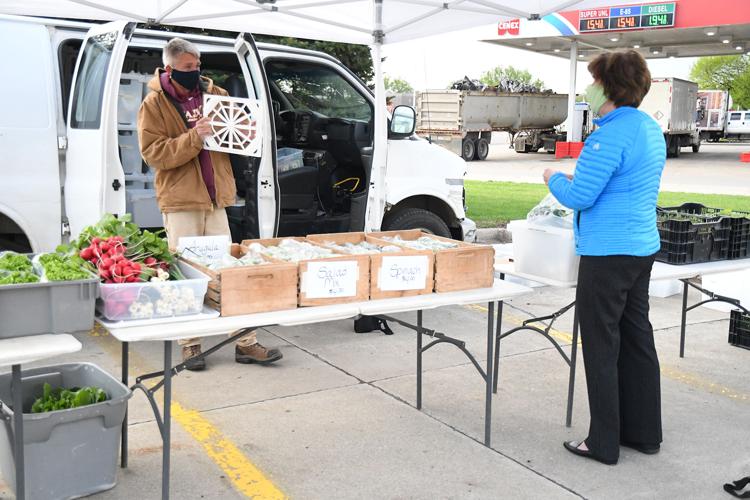 Though state regulations can vary, they've reviewed protocols recommended by the Farmers' Market Coalition that has compiled information and advice from farmers' markets, state associations, health departments and the Centers for Disease Control.
Based on those recommendations, the couple and their employees set up orange cones marking 6 feet away from the produce table. A sign on the table asks customers to point and name the product they're interested in purchasing and whoever is manning the market table while wearing a face mask will place that produce in plastic bags and set the full bags on the table for the customer.
Sioux Center customers have two options for no contact payment. Customers may put their money in a box on the product table and if change is needed, that will be placed on the table for the customer to pick up. Customers may also order online at www.localline.ca/the-cornucopia for pick up. Online ordering is also available for Sioux City Farmers' Market customers.
The new regulations haven't impacted Wesselius' enthusiasm for getting locally grown product directly to customers.
"I enjoy doing farmers' markets," he said. "I look at them like athletic events — our sports seasons starts in February and ends in December. We sprint five days a week until the big game day Saturday in Sioux Falls."
The Sioux Center and Sioux City locations also serve as pick up spots for their community supported agriculture, or CSA, subscribers.
"Subscription agriculture embraces the philosophy of communities supporting farms and in return, the farm supporting local families. Our CSA delivers a box of various fresh, tasty, nutrient-dense seasonal produce to subscribers once a week from May through the summer," according to their website, thecornucopiacsa.com.
While the pandemic has encouraged some to consider the farm-to-table approach, that connection for Wesselius goes back decades.
"We have been growing vegetables for our family for over 25 years," he said. "Fresh, flavorful, clean, nutrient dense, local vegetables is our passion."