SIOUX CENTER—Rolling over on her tummy, 5-month-old Lanndyn Mork of Sioux Center takes interest in her brother nearby while checking off another infant milestone in her life.
She eagerly attempts to wiggle forward toward her 7-year-old brother, Braxxton Mork, while they lay tummies down together on the living room floor of their Sioux Center home.
Soon, 3-year-old Emmy Mork checks out what her siblings are doing, too.
So far, parents Josh and Amber Mork said both older siblings often show a deep love for their new sister who joined their family Sept. 30, 2019.
"She's a happy, carefree baby who loves to be tickled and talked to. She just happens to have Down syndrome," said Josh, 37.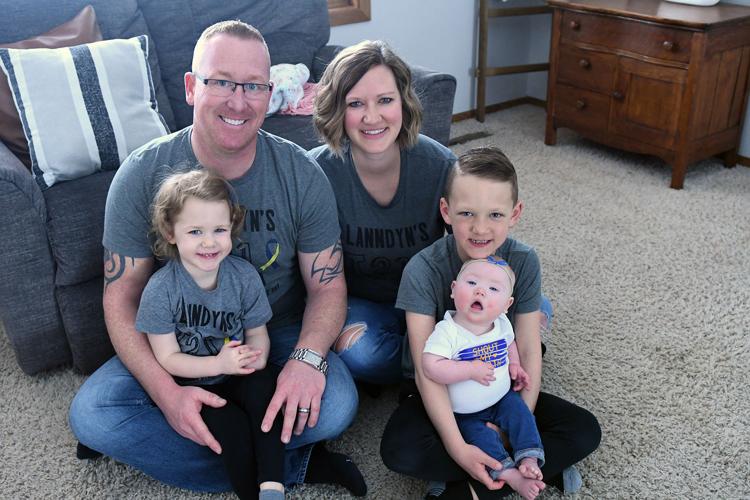 In honor of their sister and daughter, the family is honored to be part of World Down Syndrome Day, Saturday, March 21. The 21st day of March, or 3:21, was selected to signify the uniqueness of the triplication of the 21st chromosome, which causes Down syndrome.
The couple learned Amber was pregnant with their third child late February last year.
Because of their blood types — Amber being 0 negative and Josh being 0 positive, Amber had a blood test to determine if her body would support the pregnancy.
"It discovered antibodies in my blood, indicating it was fighting something so they sent us to Sioux Falls," said Amber, 36. "They did a routine ultrasound and since I was over 35, they also looked for markers of Down syndrome."
Doctors discovered two markers that put their child at higher risk — the measurements of fluid in the back of the neck was higher that normal and they couldn't detect a nasal bone.
"Because of those indicators, we did another blood test that took about two weeks to get the results back, but that indicated our child would be born with Down syndrome," Amber said.
The couple moved to Amber's hometown of Sioux Center about four years ago.
"In that time it felt like something was drawing us back," Amber said. "Yes, I had family here but something else too. Looking back on the last year, I believe God was preparing us for this journey because the support we've received from friends and family has been amazing."
The couple said their knowledge about Down syndrome was limited to knowing it was about an extra chromosome.
"For myself especially, I didn't know any of the details," Josh said, admitting that the diagnosis caused a bit of fear at first. "Having that knowledge made this pregnancy more difficult for me at first. Humans tend to run through the negatives and that's what my mind did, wondering will she ever get married, will she ever have kids?"
Reading through materials the Sioux Falls-based hospital provided, online research and connecting with local families helped the couple's mindset change.
"There's so much possibility actually," Josh said. "That all helped me realize it doesn't matter what we want, it's what Lanndyn wants when she gets older. We just need to support her."
Initially, a 20-week ultrasound discovered Lanndyn had a heart defect, which 50 percent of babies with Down syndrome can have when they're born. She was diagnosed with an atrioventricular (AV) canal defect in which she had two in the center of the heart affecting all four chambers where they would normally be divided. When a heart is properly divided, the oxygen-rich blood from the lungs does not mix with the oxygen-poor blood from the body. A CAVC allows blood to mix and the chambers and valves to not properly route the blood to each station of circulation. The diagnosis meant she would need open heart surgery within the first year of her life.
Since her birth three weeks early, however, Lanndyn has been surprising everyone she meets.
She was a healthy 7 pounds, 15 ounces, but because her oxygen levels were slightly lower, she spent about a week in the neonatal intensive care unit.
"An echo on her heart right after birth confirmed the heart defect, but another one three days later showed that one hole had closed and the other was shrinking," Amber said. "Another echo in December showed that both holes had closed so does not need to have heart surgery anymore."
Weighing in about 14 pounds now, she's also showing how well she's eating too.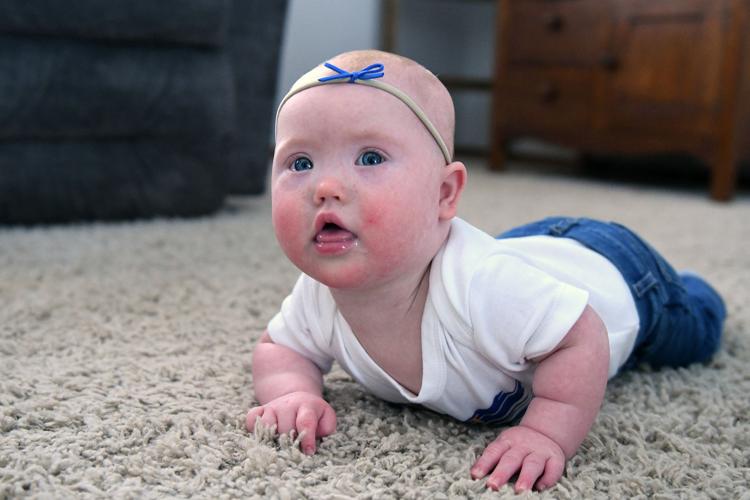 "We've had no struggles with nursing, which was a surprise as babies with Down syndrome can have low muscle tone, making it harder to learn how to catch on to breastfeeding," Amber said. "This whole journey now that she's with us has been much less scary than we anticipated. She's one of my children. I even forget she was born with Down syndrome."
The family has a monthly visit from Northwest AEA as part of Early ACCESS, Iowa's system for providing early intervention services.
"Each visit they're really happy with Lanndyn's progress," Amber said. "We're realizing how normal her life can be and it's really up to us to show her what she'll be able to do in the future. While Down syndrome is something she has, it's a big part of her and it will be a big part of her life, but she's so much more than having Down syndrome."