SIOUX CENTER—Although enrollment decreased, Sioux Center School District numbers are nearly even with last year's.
With the official numbers in, there are 1,468 students attending Sioux Center School District schools in the 2020-21 school year, down 13 compared to 1,481 in the previous school year.
This year sees a certified enrollment of 1,418.8, with 1,486.9 students receiving services.
Certified enrollment is the number of students for which the district receives state funding, a statistical number reached through a formula.
Even the certified enrollment count is down compared to last year, by 1.77, according to Sioux Center School District superintendent Gary McEldowney.
"That's not a surprise because we knew we were going to have a significantly smaller preschool this year," McEldowney said. "We also had more students whose families chose home schooling this year.
"What's interesting is with us being basically at a wash is that we're in a much better place than a majority of other districts because in the Northwest AEA and in the state and country, school numbers are commonly down throughout."
Because of the coronavirus pandemic, there are 23 students who have opted for full-time remote learning.
There are 602 students at Kinsey, from transitional kindergarten up to the fourth grade. There were 606 students in the 2019-20 school year.
A factor in that is a smaller TK than the previous year, going from 45 students to 39.
Sioux Center Middle School has 447 students enrolled in fifth-eighth grade, six students fewer than the year before.
This is mostly due to a large eighth grade class in the 2019-20 school year moving on to the high school. Last year, that grade had 125 students compared to this year's 105. Although the number of fifth graders increased (109 to 116), it wasn't enough to make up the difference.
At the high school, enrollment is at 419. Last year, it was 422.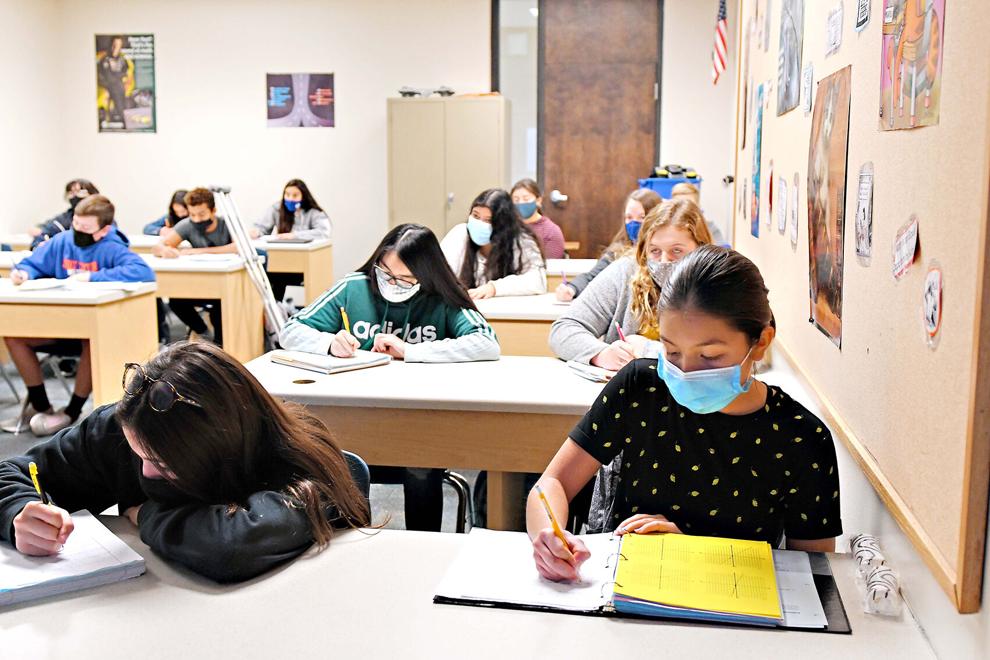 The departure of a larger senior class (109, including fifth year students, in 2019-20, compared to 92 this year) and a smaller junior class (95 students last year to this year's 85) factored into that decrease.
The freshmen class saw a slight increase in its numbers, however, going from 123 to 129. A larger increase was seen at the sophomore level, which went from 95 to 113.
Despite the slight dip in numbers, McEldowney said this year's numbers puts the district more in line with long-term trends after last school year's unusually large influx of students.
Open enrollment has continued to help the district's numbers as well, with 91 students who are nonresidents choosing to enroll in the Sioux Center School District.
Because this year's numbers are in line with those of the previous year, there were no new staff hires.
"We did have some retirements we replaced and we have a teacher this year who is working remotely with remote learning students for some health situations," McEldowney said. "We have a person in that classroom while that other teacher is serving the district in their remote teaching role. Other than that, staffing has been pretty level as well."
The next school year is already on administrators' minds. It will be hard to predict what that year will look like, but McEldowney expects a return to the normal pattern of growth in the 2021-22 school year. To have an appropriate number of staff on hand, the district will also have to take into consideration with the opening of the new high school building in the summer.
"We have those discussions well along the way, knowing that we're opening that additional campus," McEldowney said. "We've put in a lot of time and effort to make sure we're staffing those appropriately, knowing that we don't have unlimited resources and we have to continue to use those wisely so that our staff can make the most impact for the most kids."