SIOUX CENTER—Sunday marked the first time members of Covenant Christian Reformed Church in Sioux Center worshipped together in person since the coronavirus pandemic took hold in mid-March, so it was a time to celebrate.
As Iowa Gov. Kim Reynolds lifted restrictions on large gatherings two weeks ago, many churches in the area have begun the transition to in-person worship services.
To celebrate their first time worshipping together again, Covenant Christian Reformed Church held an outdoor service at Heritage Village in Sioux Center. The outdoor setting helped the congregation mark the first steps of opening up to in-person services as well as a chance to celebrate God's creation, according to Covenant's pastor Joel Kok.
A lot of his work is done in his study at home; the coronavirus didn't change that, but it has meant the way he preaches has changed. On Sundays, he worked with a camera, livestreaming the service rather than preaching to a physically present congregation.
Pastoral visits and church meetings have likewise taken place on online platforms.
"My heart goes out to those whose kids have been home. I have not heard a dramatic cry of distress from the congregation. I hope we're not missing that, but we're getting a sense that God is seeing us through this and we're staying in touch as best as we can," Kok said. "The goodness of God outweighs the discouragement of the virus."
On June 7 and 14, a limited number of worshippers were allowed to come in during the service, but it was encouraging all the same, Kok said.
"We enjoyed seeing each other and felt we were worshipping in a good way," he said.
Kok anticipates the church going to a rotating system where members of the church's pastoral groups come in on different weeks. This would allow them to worship in person while still able to effectively maintain distance between people.
"Then as we enter into August, we'll see what the trends are for COVID cases," Kok said. "Maybe then we can take a further step to have more."
Sunday's worship service at Heritage Village was similar to a normal church service, featuring singing and praying and Scripture; there was just an added emphasis on praising God for his creation.
"We want to recognize that even though we are socially distant, we are united in Christ and the Spirit is at work in our worship," Kok said. "I don't think we would have had an outdoor service like this were it not for the COVID virus, so this seemed to us a fitting thing to do. There could even be extra joy to be able to be in the beauty of Heritage Village and the beauty of God's creation. God can bring a good thing out of a bad situation, as He likes to do."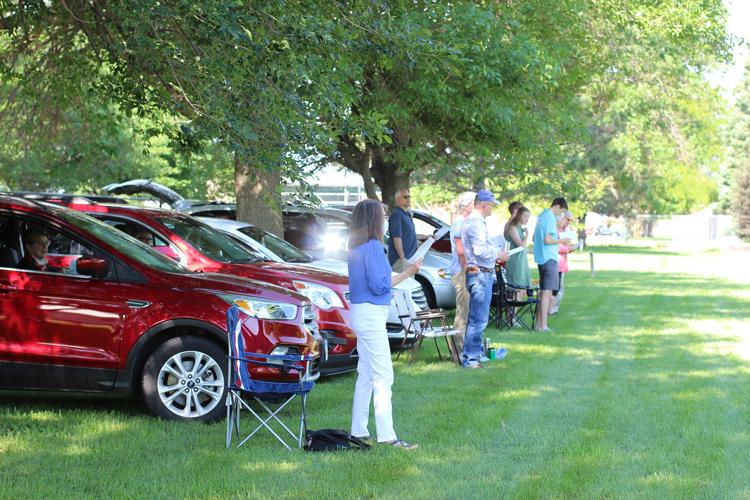 As Covenant's worship and music coordinator Rebecca DeVries put it, "We are celebrating that we are back together, but it'll still feel a little different because we have to practice social distancing. We're encouraging face coverings. We won't be able to shake hands or give hugs, but we'll sing together and pray together and see each other. That will be good."
The church tries to have one outdoor service during the summer months, and this has brought them to Heritage Village for an outdoor service before. Other services have been held at Sandy Hollow Recreation Area and Central Park.