SIOUX CENTER—One group of Sioux Center ladies thinks school is cool.
That and fellowship keeps them coming back.
With a snip, snip here, a glue stick there,
Here some paper, there a snack,
The Tuesday ladies keep coming back to Sioux Center Christian School.
The group of 12-15 retired women offer a helping hand, mostly for the teachers in fourth grade and below — and they've been doing so for almost 27 years.
The ladies can be found in a former classroom turned workroom for two to three hours every Tuesday morning "helping where help is needed," said Virginia Vermeer of Sioux Center, one of the four founding members of the group who's still involved today.
Other founding members are Carol Koekkoek, who also still participates, Lena Fedders and Thelma Broek.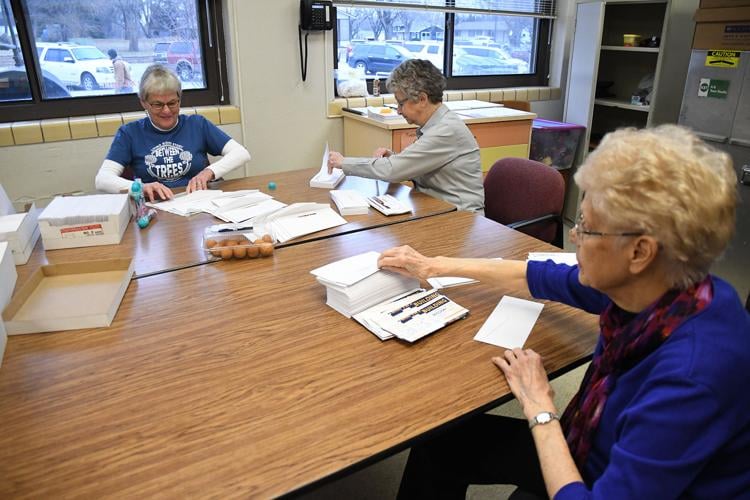 Koekkoek recalls the Tuesday ladies group starting after the schools' Cash for Trash program ended.
"There'd be a group of women who'd take so many labels like Campbell's soup and such and cut them out properly and organize what was sent to earn the school a little extra," she said. "When that started, a group of us still wanted to get together and asked how could we help. The rest is history."
Projects mainly focus on helping teachers with "extra things that are fun for students but would take a lot of extra time for the teacher," Koekkoek said, like cutting out shapes or pilgrim bonnets or assembling flip books. "There's always something to do."
Last week Tuesday's work included packaging mailers for the school office.
Volunteering in this way is one way many of the Tuesday ladies remain connected to the school their children attended and now their grandchildren attend.
Kathy DeWit of Sioux Center has been part of the group for a decade. She worked in the school's library, sent all three of her children to Sioux Center Christian. Her daughter, Nancy Vermeer, also previously taught at the school and now DeWit has grandkids at the school.
"Working in the library I heard a lot of laughter coming just down the hall," DeWit said. "The school has been a big part of my life and joining such a fun group seemed like a natural fit for me."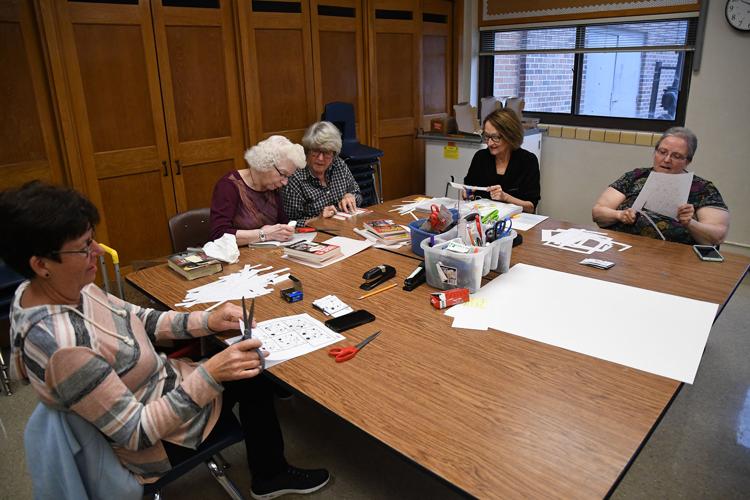 Pat Eggebeen of Sioux Center, who has four grandchildren attending the school, has been part of the group for five years after being invited.
"We moved here from Wisconsin and not knowing hardly anyone and being disabled, this seemed like a chance to go out and do something and have some social time," she said. "It's been enjoyable."
Elaine De Leeuw joined the group two years ago.
"I really just moved down the hall," she said. "I had been volunteering in the library, helping with some of their needs. I heard the laughter from down the hall and it was suggested I join the group because the work I was doing could be done down the hall. It's been a great move."
Former Sioux Center Christian School teacher Lee Rhoda often helps De Leeuw with her work.
"Don't ask me how long ago I retired — I'm not good with numbers. But I remember people asking me around my retirement what I was going to do and I told them it was my goal to be a Tuesday lady and that's what I'm doing," Rhoda said. "I come for the treats and the talk — we talk a lot. And I'm helping the school that still means a lot to me. I can't speak for everyone but I'm living the dream."