SIOUX CENTER—With a hop off the mini trampoline, third-grader Anthony Trew plops onto a large bean bag with a satisfied grin.
Then off he rolls to start the second of four laps on the mini obstacle course set up in Becky Postma's sensory room.
Though Trew spends just 10 minutes a day with Postma, each minute counts.
"Each minute is filled with physical activity that's engaging muscles and the brain," said Postma, who is a sensory specialist at Sioux Center Christian School. "Working the body plus the brain helps a student regroup and refocus. I'm offering a sensory snack — a little break in a long period where a student can get up and move, engage the brain and muscles together so they can maintain focus in the classroom."
Postma said certain sounds, sights, smells, textures and tastes can create a feeling of "sensory overload" for some students. Bright or flickering lights, loud noises, certain textures of food and scratchy clothing are just some of the triggers that can make kids feel overwhelmed.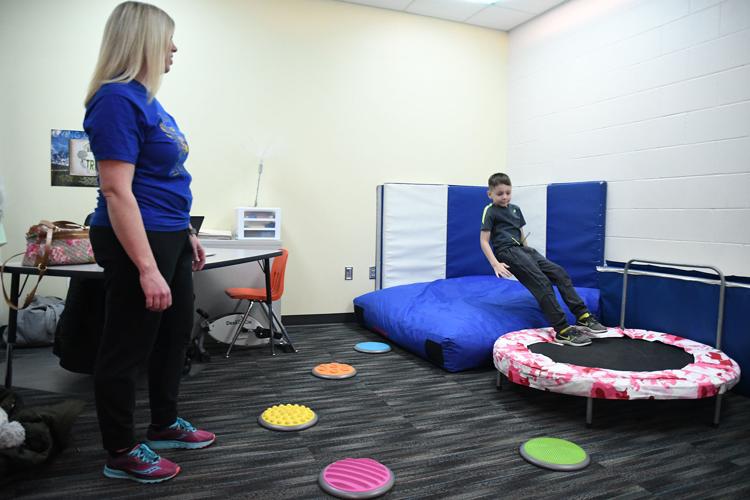 Visiting with a sensory specialist provides a low-stress, fun environment for a student with sensory issues to learn to regulate their brain's negative reactions to external stimuli by developing coping skills for these experiences.
"A lot of people don't understand what sensory is but it's becoming more of a need in new era of education," Postma said. "There's more awareness that meeting the sensory needs of students is important and affects a student's daily life routine."
Though in her second year as a sensory specialist at the Christian school, the school itself has had a sensory program for eight years.
"We have more than 520 kids and each child is an individual and important, created by God and each has their own needs," said head of school Josh Bowar. "As a school, we seek to provide students with the tools they need to be successful and this is one way in which we can do that."
The ultimate goal for every student refereed to the sensory program is to gain the tools they need for self-regulation. That isn't necessary done within a year of sensory, Postma said. "
"Sensory needs can change and evolve throughout the years," she added. "Some students learn those tools more quickly and some need additional support over the course of a couple of years, to help them learn how to self-regulate throughout their daily years as the student grows and matures."
Postma works with all ages at the Christian school, which is transitional kindergarten through eighth grade.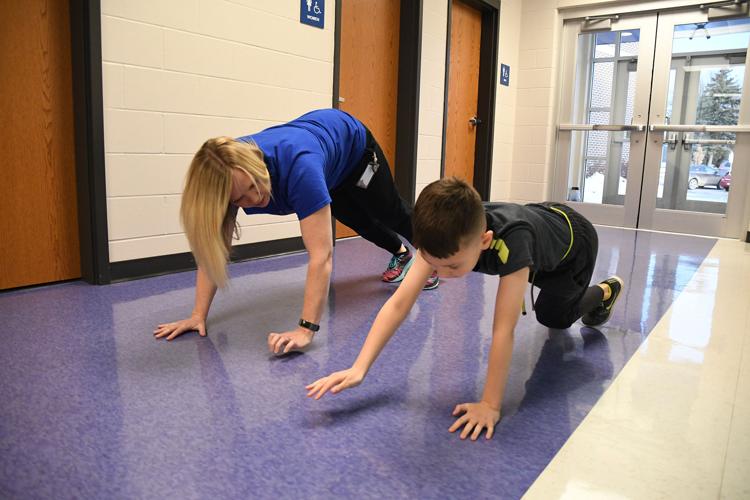 The number of students she sees each year varies. Last year she saw 28 students; this year she has 25.
"Once a child is referred to me, I start by observing the student in the classroom," Postma said. "This could lead to me providing some one-on-one assistance to that student in the classroom once a day."
Other students have daily one-on-one sessions in the classroom and individually with Postma. And still other students only meet once or multiple times a day with Postma outside the classroom.
While some work is done in her classroom, sometimes sessions take place around the school building or playground.
"My work is about providing students with tools the can use to be comfortable in all social settings, whether it's on the playground, in a classroom or large or small group setting they'll be in at school," Postma said. "So sometimes that means meeting one-on-one in different parts of the building to help facilitate that this skills they're learning aren't just for my use in my room."
Teachers and parents have noticed the positive impact this program has had on Christian school students.
"By providing these tools, students feel more comfortable with themselves and within their surroundings," Bowar said. "We've seen how students gain confidence in themselves when as they learn how to self regulate and then they're more successful in the classroom."
Referrals can be made at anytime, allowing the school to work in real time to meet student needs as they're being noticed by parents or teachers.
"We're blessed to have the ability to be flexible and support kids as different needs arise," Bowar said. "We can change interventions, too, as needed, to support each student."
Sometimes Postma will work with a whole class. For example, daily she visits one of the school's kindergarten classes to provide a 10-minute sensory time.
"In doing this and in working with individual students, teachers have said how much they see a difference in their students," Postma said. "That 10 minutes of having sensory snack can mean the difference between being able to focus in math or reading a story to not paying attention at all, which as long term impacts on a student's interest and progress in school."