SIOUX CENTER—The effects of the coronavirus pandemic first struck N'West Iowa a year ago, coming into fruition March 15, 2020, when Gov. Kim Reynolds announced a series of lockdowns and restrictions intended to slow the spread of the virus.
Those actions impacted how local businesses and restaurants did business, shut down other services completely and required people to change daily habits.
By and large, things look normal again at Renae's Salon & Spa.
Owner Renae Visscher of Sioux Center said she's fully staffed and able to schedule clients at regular hours and offer their full range of services, as they've been able to do since reopening after being closed for about eight weeks, from March 22 to May 19.
The main indicator that things are different from the start of 2020 is when they wear masks to help some clients feel more comfortable.
"We're still being cautious and cleaning a lot more than normal, but it's really nice that we can feel like things are nearly back to normal again," Visscher said.
But for eight weeks, the salon had to halt all its services and close its doors, impacting the business's 10 stylists and two massage therapists, and when they reopened, many clients were more cautious about public interactions.
"I still have people who are very cautious as far as not getting their hair done as often," Visscher said, but she has tried to accommodate people's concerns and has scheduled people to come in earlier than normal, when fewer people are around.
Still, for a while, everyone had to put in big hours to meet demand, as so many people hadn't been able to get their hair done.
"We worked our tails off," Visscher said. "Most of worked 50-70 hour weeks. We had a running list, and I had over 100 people on my list to call back and try to get in."
As far as mask wearing goes, she and the stylists go by what makes the customer comfortable.
But the big fear after reopening was if they'd suddenly find themselves shut down again.
"We just didn't know what the next month was going to bring, if we were going to be able to make money again," Visscher said. "We wanted people in chairs but maybe there wasn't going to be a lot of people coming in. I felt like we had to take it day by day and week by week because we just didn't know. There was that fear of the unknown, and I feel that way right now, too. I don't think we'll have to close down again, but you just don't know for sure."
Another challenge they faced was getting in their usual range of products. From what she's heard from one of her product suppliers, manufacturers have struggled to keep on hand enough employees when unemployment benefits pay more than their wages.
"We ended up switching coloring lines because we couldn't get most of our products from our regular product line," Visscher said. "That was tough, too, because in the midst of everything else, we had to relearn how to use a color line and be educated on that through Zoom meetings. Before, we would have an educator come in to the salon and educate us, but instead, we had to do that over Zoom."
Regardless of the struggles, Visscher said she and the others at Renae's Salon & Spa feel blessed to be back to work.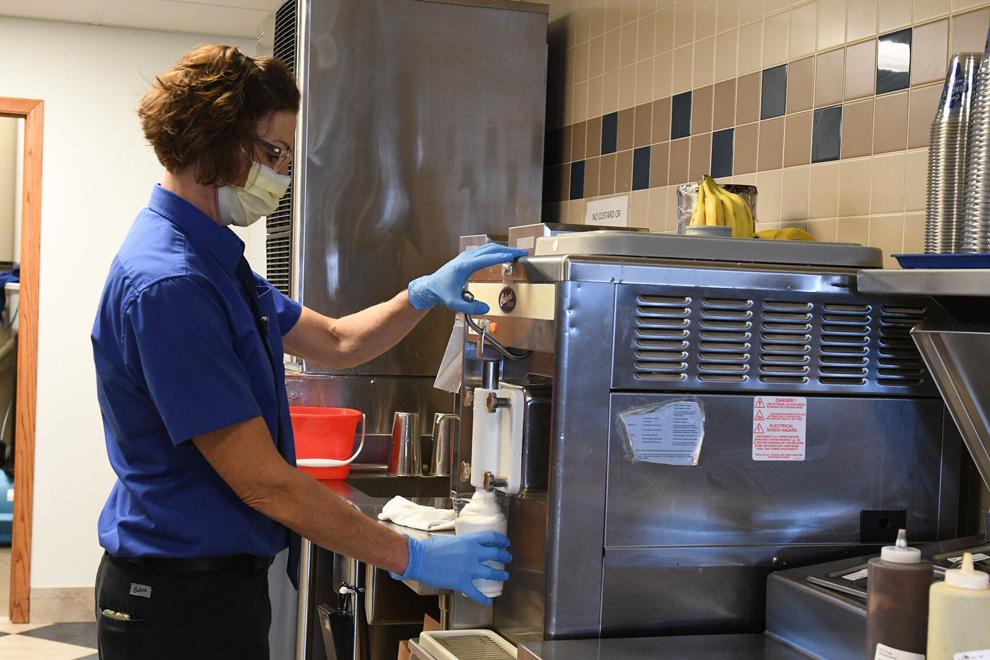 Culver's lookback
For Angie Rodenburgh, the owner of the Sioux Center Culver's, those early days following the lockdown were the most stressful. From Mach 16 until the end of June, indoor dining at the restaurant had to be closed, with business limited to the drive-thru window.
"When you go back to almost a year ago, we were doing 100 percent of our sales through the drive-thru because of the mandate," Rodenburgh said. "Originally our drive-thru sales were in that 30-35 percent range, and now it's probably still at about 60 percent of our sales."
Although that 60 percent will likely decrease, she expects the drive-thru to be a more popular option than it had been before the pandemic as people's habits have changed.
The governor's orders represented a major change in Rodenburgh's vision for customer service.
"That made us reinvent our business model," she said. "It's based on hospitality and this face-to-face interaction with people had to change when we had to cover our smiles up with a mask. We had to tell everybody not to go out of your way to get in anybody's bubble; try to keep your distance from people. Be polite, be quick. Really everything we had to do went against what we've been trying to teach people for the last 12 years. It was really difficult."
She accommodated team members who had concerns about the virus, with some opting to stay home, but all full-time employees were able to remain employed throughout the pandemic, she said.
The fast changes of federal and state regulations and orders made it a difficult time to do business, and as a franchise, there were corporate rules to follow, too.
The rules seemed to work well enough to keep Culver's employees and guests safe. Rodenburgh said that although a few employees did catch COVID-19, they caught it from outside of work and it did not spread to other employees.
"We already try to operate with high standards and anything as far as cleanliness and PPE that we were required to wear and the disinfecting, all those things, we went above and beyond in those aspects in hopes of keeping people safe," she said.
Of course, there was plenty of trial and error involved through the year, working with the rules while trying to provide customers with a good dining experience.
For example, the soda dispenser was closed to the public for a while, but that proved to be an unpopular move and a hassle. However, the condiment counter remained shut down since indoor dining reopened until only two weeks ago. Likewise, the clear plastic screens that had been set up in front of the registers are now gone as well.
These changes are slow to come, but they are being made — and appreciated.
"Things have just crept open again inside, which we're grateful for," Rodenburgh said. "Like everybody says, it feels like we're getting back to normal."
However, having employees wear masks, disinfecting every hour, keeping dining at every other booth and table will continue to be regular features at the restaurant.
"We're glad to be open and I'm super grateful for this community," Rodenburgh said. "If I was going to say something about 2020, I'd give kudos to our community. This community went above and beyond supporting the businesses that were available for them. … We're so fortunate to live here."