SIOUX CENTER—A token of musical and agricultural history has returned to Sheldon.
It's been many years since Martin Dekkenga of Sioux Center attended Sheldon High School or FFA, but it's in their honor that he donated his own FFA jacket to the Sheldon Prairie Museum.
Dekkenga was born and raised one of nine children on a farm near Matlock where his family raised hogs and cattle.
Dekkenga enjoyed farm work, but as a child, he got sick. Doctor never found out definitively what Dekkenga had. Either way, it affected his legs, with one leg being shorter than the other ever since, and his foot on his bad leg was a bit twisted, though that was corrected with surgery later on.
The take away, he said, is that for most of his life, he's had to buy two pairs of shoes of different sizes.
Though his childhood physical ailments meant that it would have been difficult for Dekkenga to make farming his vocation, he still enjoyed farm work, and FFA was a good way to stay involved with that interest. He remembers raising a pair of hogs his father gave him for his FFA project.
"I had to carry water out to them, carry feed out to them, but I enjoyed it," he said. "I was doing something worthwhile."
Dekkenga was also an avid singer, having participated in choir while in high school and later on in college.
But one day in high school, one of his teachers informed him that the principal wanted to speak with him.
"'Don't be alarmed, but he just wants to see you about something.' So, I went to see him," Dekkenga said.
Although he was told not to worry, it couldn't be helped.
"I went to the principal after the teacher told me to, and I was thinking, 'OK, what'd I do wrong?'" he said.
The principal said the school had the opportunity to send one of its FFA members to the FFA National Convention and asked Dekkenga if he would be willing to represent Sheldon and be a part of the FFA National Chorus.
He assured Dekkenga all expenses would be taken care of. It wasn't a hard decision for him to make.
Dekkenga told his parents about the opportunity that night, and they were happy for him.
He traveled to the National Convention in Kansas City by train. There were about 150 other boys in the choir, he recalled.
All of the practice for the songs happened when they got there, and although he doesn't remember what songs they sang, he said the concert went well and it was a thrill to be a part of.
He's not one to throw out old things, so he kept his jacket, complete with the National Chorus letters, all these years.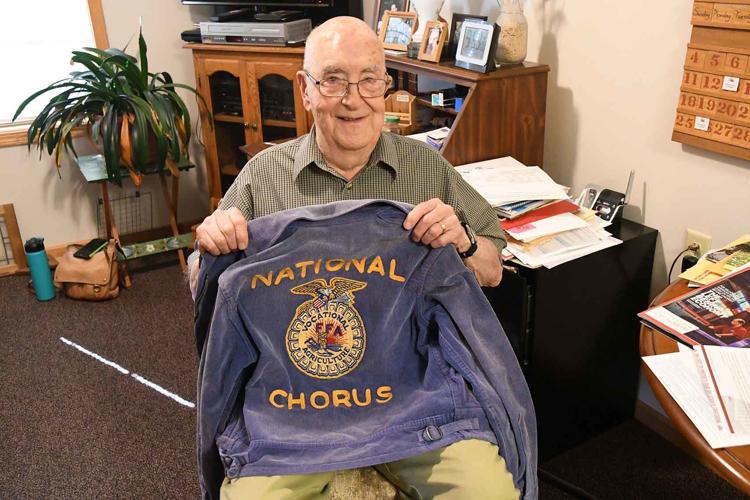 Being retired and living at Crown Pointe Independent Living in Sioux Center, Dekkenga loves a good visit. So, when he stopped at State Farm in Sioux Center, he got to chatting with Evie Postma.
Having come from Sheldon, his years in FFA and his time in their choir got brought up, as did his jacket.
She made the suggestion of donating the jacket to the Sheldon Prairie Museum.
"They have things from all the different stores, from people in the area, from high schools. They've got pictures of all the graduating classes," Postma said, so it made sense that they might be interested in having the jacket, too.
Dekkenga agreed.
Postma delivered the jacket to the Prairie Museum on his behalf Sept. 2. The museum volunteers wasted no time in getting the jacket ready for display.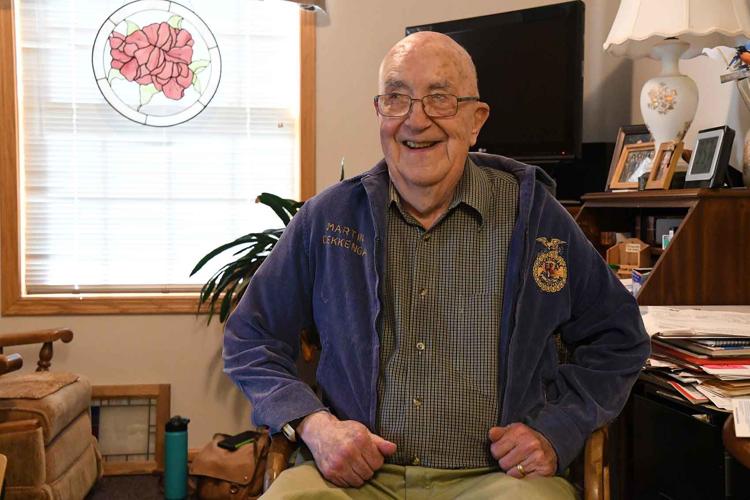 From singing to instructing
Dekkenga graduated from Sheldon High School in 1949. After that, he attended Northwestern College in Orange City, though he had to come back home to help out on the farm for one semester because all of his brothers were in the Army.
He originally intended to become a minister, but as he tells it, he and the Greek classes didn't get along well.
He credits God for getting him into teaching.
On a Sunday afternoon, he and some friends were driving in his car. They stopped in Orange City for a bit when one of their professors came up and asked them about their plans for that fall.
"He got to me and asked me, 'Marty, what are you going to do?' I says, 'I don't have the slightest idea.'
He said, 'Why don't you think about going to school to become a teacher?'" Dekkenga said. "He wouldn't take no for an answer."
Soon enough, he had a job lined up teaching fifth- and sixth-graders at a small school near Hudsonville, MI. Dekkenga went to Calvin College to get his teaching degree, and he and his wife, Leona, married in 1953.
Dekkenga went on to teach in Sanborn and Austinville.
In 1969, he started work as a Dordt College communications professor. He retired in 1997.