SIOUX CENTER—Sandy Hollow Recreation Area east of Sioux Center has been a hive of activity this spring, according to Zach Weyer, head park ranger at the county-owned park.
Gov. Kim Reynolds lifted restrictions on campgrounds starting May 8, and Sandy Hollow hasn't had trouble finding campers to fill its campsites since then.
Even after opening the campground to campers again, the restroom facilities have been closed to the public since then through Memorial Day weekend as a way to protect staff from the coronavirus.
"We have a bit older employees here we want to protect," Weyer said.
But that restriction has been lifted as well, starting Tuesday.
"We'll have our full staff after Memorial Day weekend, so we'll be going in there every couple of hours and checking on things, touching things up," Weyer said.
The campground had been scheduled to open April 18. Despite not being able to do that, Sandy Hollow has been as busy as ever, Weyer observed.
"We had more foot traffic out here this year than any other year I've been here," he said. "I'm assuming that's because people didn't have other places to go, so we did see a lot of newcomers out at the park asking questions, which is awesome."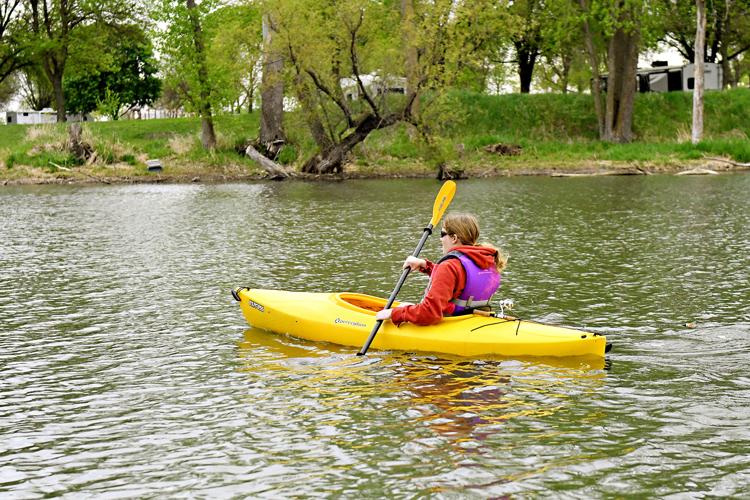 He has gotten plenty of questions about why the campgrounds had to be closed to campers due to the coronavirus pandemic, but that's given way to eagerness to enjoy camping again.
"They were really excited to get out because it seems like this is one of the only things that people believe in for sure being safe, so long as social distancing is followed," Weyer said. "It's been very positive out here."
The campground was nearly packed full as of Thursday. Only one available spot was left unfilled, with several spots closed off to allow grass to grow following concrete work at those sites last year when they paved four more campsites.
"We also added four water sites on the other side, down in the corner. Over half of the campsites at the campground now have water. Seems like it was a big commodity people liked to have," Weyer said. "It'd be nice to get every site in the campground at least on water and then eventually full hookup."
Guests new and old can look forward to a number of projects scheduled to further improve Sandy Hollow.
One of the main undertakings at Sandy Hollow this year is going to be the connecting of the two ponds. It's something that's been planned for a number of years, and should begin sometime in the late summer or fall.
The strip of land dividing the two ponds will be removed and replaced with a 50-foot long walking bridge so guests can still walk from the campground to the beach.
"This will allow for better water quality," Weyer said. "We kind of have two different fish populations right now in the two ponds. The crappies being a little stunted in the beach pond right now, so this should help with the fish population, too. They'll be able to spread throughout the whole pond."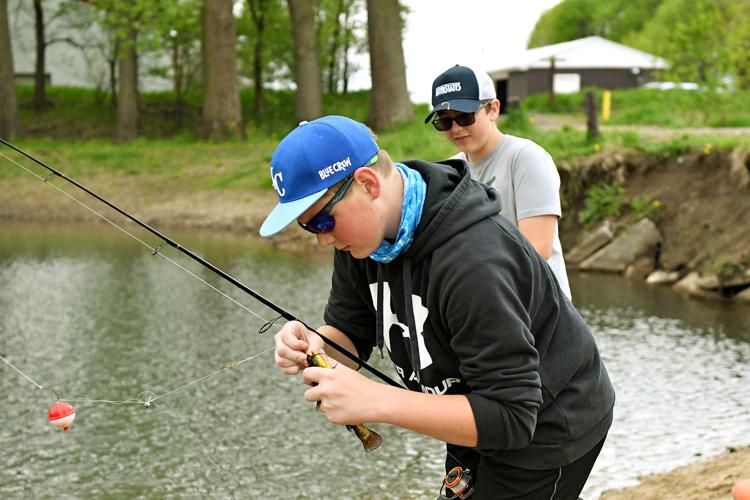 Kayakers and canoers will also benefit from the expansion, he added.
It won't be the last time the county works on the ponds, however.
"Future-wise, we are looking at a phase III pond expansion," Weyer said. "That'd basically go north of what we've already done and will be our big project in the next couple of years."
They're going to upgrade their electric pedestals at the campsites.
"We do have 35-amp pedestals in the campground and we're going to take those up to 50-amp breakers for the larger campers in the campground," he said.
This will be a project that will have to wait later in the camping season, likely in the fall. That's because it can be a messy project, and it requires turning the power off.
One thing that did work out in their favor was the weather; this was the first spring in years the area didn't flood.
This not only allowed county workers to get more things done at Sandy Hollow but also at the other county-owned parks.
"We were able to catch up," Weyer said. "That was a blessing, too."
Starting last year, work has been done near the golf cart sheds by the club house to make a path and a special little area.
A purple martin house was made by Taylor Degen, a Sioux County park ranger, and added. Butterfly houses will also be added.
"We're expecting this to become a really cool pollinator garden that's going to attract a lot of species, and people will be able to walk through and see that," Weyer said.