SIOUX CENTER—A robot has appeared in Central Park in Sioux Center, and it's on a special mission from Pella Corporation: to deliver books to park visitors.
The robot is one of the Little Free Libraries worked on by a pair of competing teams from Pella Corp. at the start of the year.
Sue Halma, a human resources assistant with Pella, was one of the people brainstorming ideas for a competition pitting Pella's engineers and department managers against each other.
"We were thinking we wanted to do something for the community, and we were brainstorming, and we came up with the idea for little libraries," Halma said.
The idea behind what are called Little Free Libraries is a simple one: provide a small space to hold books to share with the community. They're typically small enclosed structures containing a pair of shelves to house a selection of books, and they can take a variety of shapes and forms.
"There's one in Inwood right across from where my mother-in-law lives, and it's one that looks like a house. It's nailed to a tree stump and it's so cute," Halma said. "I thought, 'Could we make little libraries?'"
The idea stuck.
The two teams were allowed to use any materials available at Pella, from scrap wood to unused controllers, to make their libraries. Teams built their creations during their free time.
"There were some late nights put in to get these put together and look sharp," said Pella plant manager Denny Van Zanten. "It's something we wanted to feel really good about having out in the community, and as Sue said, could withstand the elements."
There were no restrictions in this contest on what they could make. It just had to be built with the realities of Iowa weather in mind, staying outside all year in sun, rain and snow.
The engineers came up with a robot. They used old, disabled fire extinguishers as a rocket pack on its back, and machine controls serve as its eyes and ears.
Pella process engineer Brad Van Berkel was one of the engineers who helped built the robot.
"We try to be creative as engineers, so we wanted to do something out of the norm," Van Berkel said. "It was a competition, so we wanted to do something that had a little surprise and that kids would like."
The department managers came up with a simple but elegant wooden structure with a doubly-slanted roof. The wood came from the material Pella uses to make windows and frames.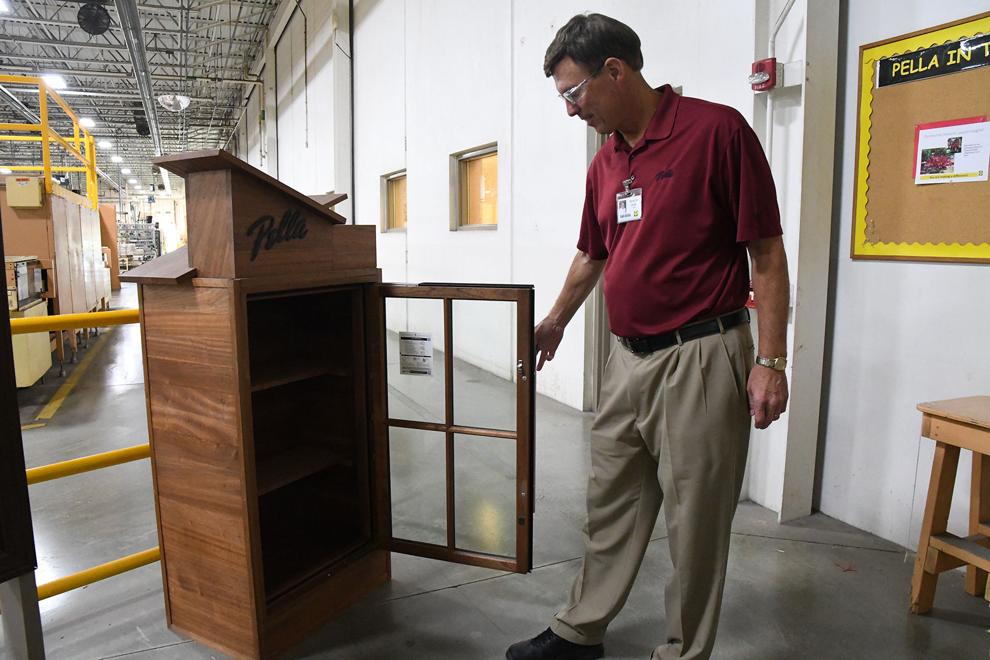 With those two libraries completed, it was time to vote for a winner. Employees were to bring in books to vote, with one book being one vote. A person could bring in as many as they liked.
More than 600 books were collected, Van Zanten said, and the engineers' robot won.
With permission from Lee Van Meeteren, Sioux Center's parks director, these little libraries will have their homes at Central Park and Children's Park. The robot had already been installed in Central Park a couple weeks ago, and wooden one will be added at Children's Park in the fall.
These are the first Little Free Libraries to come to Sioux Center and represents one way Pella is engaging with the community, Van Zanten said. The company has also made donations toward the new shelter house at Children's Park, they've collected and donated school supplies and they've increased the winnings for their School Staff Member of the Month award from $250 to $500 for the 2019-20 school year.
"This ties into being a great community member, as a way to say thank you to the community and to our team members," Van Zanten said.
Van Meeteren said he's happy to see these additions to the park, and he thanked Pella for their creative donation to the parks.
"From the park's perspective, we always look for opportunities for engaging kids and adults," Van Meeteren said. "I've heard of these libraries in other cities and how well they've worked, and when Pella approached me with the idea, I was very excited about the opportunity to start this within our community."
It can only be a positive thing, he said, and it encourages reading and sharing and neighborliness.
"I'd love to see a bunch throughout our trail system, just to get people out and active and look for fun ways to be along the trail," he said. "I would encourage any business looking for opportunities to do something to give me a call."