SIOUX CENTER—U.S. Rep. Randy Feenstra spoke and answered questions for about 30 minutes last Wednesday at the monthly Sioux Center Chamber of Commerce luncheon.
The congressman from Hull is in the majority party for the first time when he and 221 other Republicans began this year's term Jan. 3.
Feenstra said he is focused on policy areas central to his district, the Iowa 4th, as his party takes back control of the U.S. House of Representatives.
"What are we doing in Northwest Iowa to be so successful? We care. We care about our communities. We care about our businesses. We're philanthropic — involved in churches, hospitals, nonprofits. We take care of people. We're special," Feenstra said. "We're this little diamond in the nation. I represent you, and I take that very seriously. You are my bosses. You can vote me out. When you talk to me I want to listen. I want to take your thoughts and ideas back to D.C. and try not to be a politician but get things done and resolves problems."
With 435 House members, Feenstra said "getting the job done" regarding solving problems is not an easy task, citing the weeklong voting for speaker, which pushed back the process of committee assignments in the U.S. House. Feenstra was assigned to the House Ways and Means Committee and, as of Jan. 18, hoped to be on the Trade subcommittee.
"It was a bit of a clown show on CNN and Fox News trying to get a leader," Feenstra said. "I'm ashamed of that, but what came out of it was good. Let me explain. Each leadership determines the rules of how we're going to govern. Under Democrat leadership, the government is often run from the top down where the leadership says something and everyone falls in line. As Republicans, when we took over, we said that's not how government should work. It should be grass-roots. The people should have a voice that's brought to committees, vetted and then brought to the leadership to create laws based on what the people want.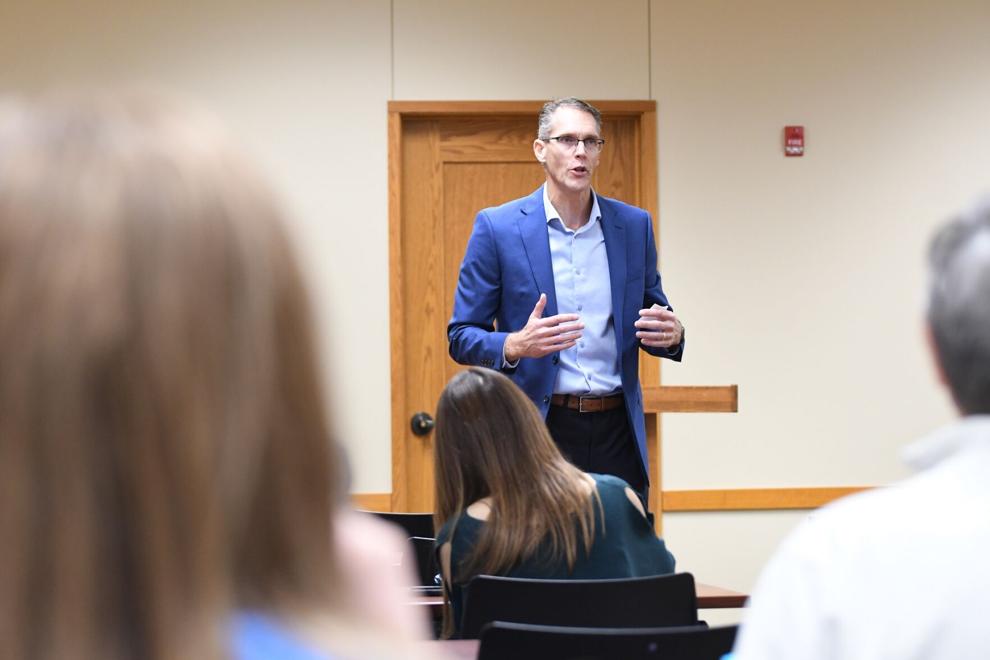 "Democracy is messy, but I'm still thankful to live in a democratic nation where we can voice our opinions and we can have say."
Feenstra highlighted the $31.5 trillion national debt as one of his concerns.
"When you have a credit card, the company can call you and say you're tapped out, you can only spend to that ceiling," Feenstra said. "While I understand we have to raise the debt ceiling, we also need to start cutting costs. I'll be the first one to tell you that you cannot shut down government. If you shut down government, that would be catastrophic to our economy. There has to be a balance."
A chamber member asked Feenstra how he would curb federal government spending.
Feenstra said a review of discretionary spending is necessary. Discretionary spending is money formally approved by Congress and the president during the appropriations process each year. Generally, Congress allocates more than half of the discretionary budget toward national defense and the rest to fund the administration of other agencies and programs.
"We need to look at our agencies to see how they can be more effective and efficient," he said. "We need to try to bring all the agencies to the table and look at what cutting 10 percent of their budget over the next 10 years would look like, how would that impact society. We have to have that open discussion."
Feenstra cited labor shortage, especially in health care, as another national concern that needs review and support.
"Hospitals and clinics can't find nurses," he said. "There's burn out but also there are third-party nurses making double what a regular nurse is making. That's really affecting the bottom line in rural nursing care."
Feenstra said one possible answer on the table is the idea of creating a special program where nurses can come from Ukraine, Afghanistan and other countries to help manage the shortage.
"This is really a quality-of-life issue, and the No. 1 issue affecting maternity care," Feenstra said. "Some women in Iowa have to travel 50-75 miles for maternity care or to have a child because closer, smaller hospitals, if there is one, don't have the nursing or doctor staff to keep a maternity unit open. We need to make sure we have the people, have the sustainability. The severe concern out there right now is what could happen if we don't get more people in the industry."