ORANGE CITY—Sioux County Trails Council chairman Brian Van Engen presented the latest plans for a proposed recreational trail that would connect Sioux Center and Orange City during the Sioux County Board of Supervisors meeting Tuesday, April 20.
The presentation was for informational purposes, and no action was taken by the supervisors.
Van Engen said the council's overall goal is to continue to build trails to connect the cities and parks within the county so that people can readily access them by bicycle.
Sioux Center has about eight miles of recreation trails while Orange City has about seven miles. The proposed route to connect the cities and Sandy Hollow Recreational Area would span about 20 miles of paved trail.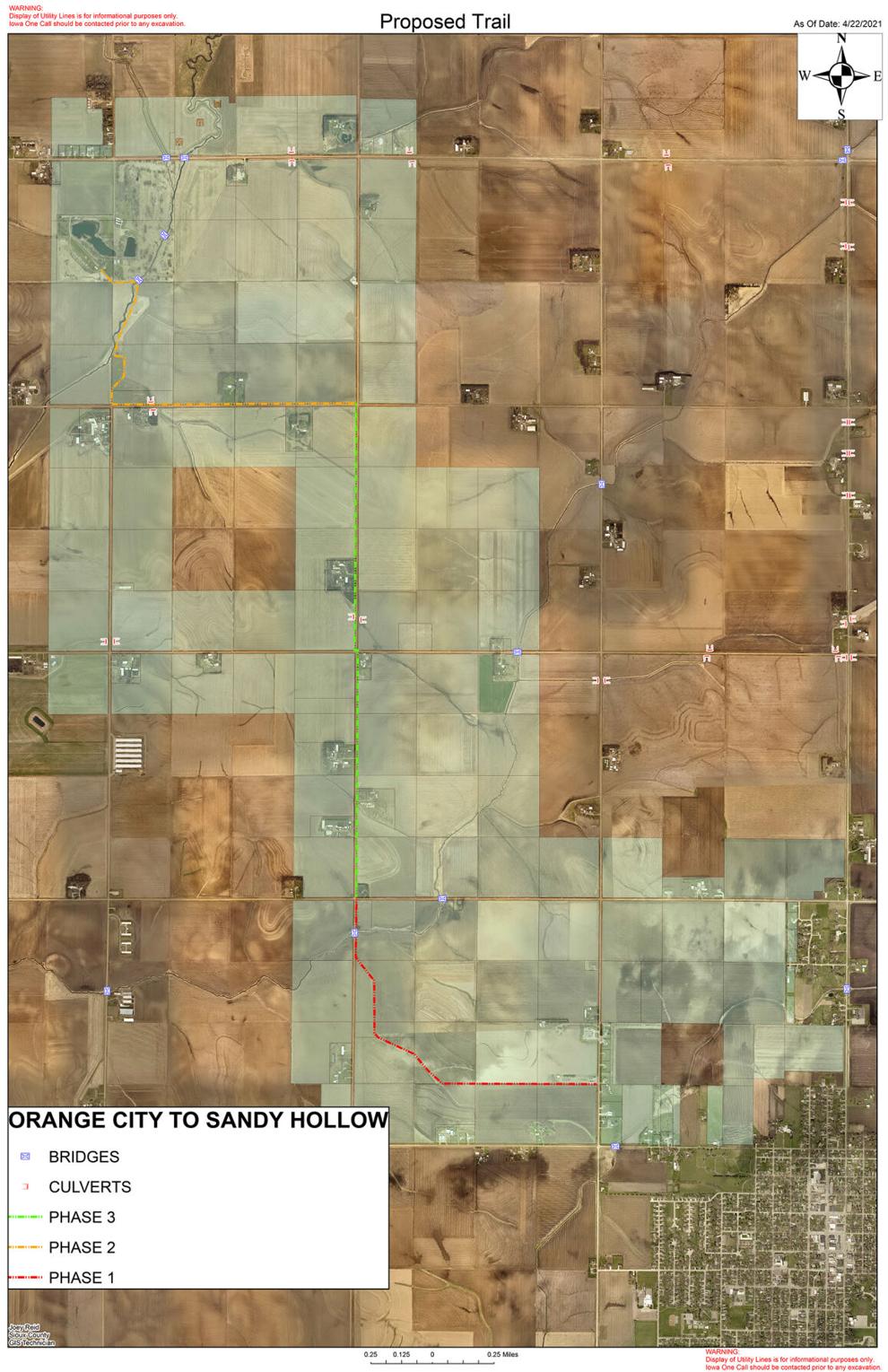 According to the latest plans, the new path travels from Sandy Hollow south, following the West Branch of the Floyd River until it can connect with public right of way to Indian Avenue. From there, the path would potentially go south about two miles before connecting with another waterway that takes the path to Ironwood Avenue on Orange City's west side.
The first phase of the project would begin with trail construction on Ironwood Avenue, with the proposed starting point on county land neighboring the sheriff's office. The trail would cross 20 feet of the county's land, meaning it would require county permission for construction to take place.
The second phase handles the area from Sandy Hollow to the public right of way. The precise path of this section is still considered to be in the planning stages as the council works with landowners to secure a pathway through their properties.
The third phase would develop the trail path along some gravel roads, with the council obtaining letters of intent from many landowners along the proposed path.
"There are still some issues we're working out, trying to figure out where it would be best to go," Van Engen said. "Some people have structures all the way up to the right of way, and then we'd possibly have to go into the right of way for a little ways in the ditch to get by those places or things like that."
Although some parts of the trail would likely use public rights of way, the council's preference has been to obtain easements adjacent to the right of way.
"But potentially there could be areas where we would need to use some of the right of way to cross around properties that we couldn't get that," Van Engen said.
Paying for the project would be a combination of county and city funds. The council would pursue federal, state and private grants as well as solicit for private donations from businesses and individuals.
Van Engen said safety is a big concern for bicyclists who would want to travel between Sioux Center and Orange City. It is a potentially hazardous trip given the high traffic volume on the routes between the cities: Highway 75 and Highway 10, and 400th Street (B40) and Jackson Avenue (K64).
Another reason for the project is to boost recreation, quality of life and economic development, which tie together, Van Engen said.
"Nationwide, trails for biking, running and walking rank consistently as the top amenity that people want," he said.
Cities such as Sioux Falls, SD, have done surveys on desired amenities and found recreation trails to be the top desire. There is similar demand from local communities.
"A couple of weeks ago, we had the Sioux Center Indoor Fair, and we had a copy of the proposed trail map there, and it was really interesting to see the reactions of people there," Van Engen said. "They'd see the map and ask, 'Is this really possible? Could this really happen?' Then they'd go grab other people and drag them to our booth."
He said it is easy to think of recreation trails as beneficial for larger cities and urban environments, but small towns have benefited from the presence of trails.
Van Engen pointed to the example of Lanesboro, MN, a town of 700 people that is able to sustain 12 bed-and-breakfasts, eight restaurants, an art gallery, a museum and a community theater because the Root River State Trail that runs through it has boosted interest in the community.
And more paths is something that Sioux Center is interested in also, according to Sioux Center city manager Scott Wynja.
"Our city council has been very proactive at extending, looping more trail sections through Sioux Center. Orange City and Sioux Center both see this as a huge benefit and opportunity to partner together and connect," he said.
That had the agreement of Earl Woudstra, the city administrator of Orange City. He said Orange City is conducting a survey with an outside firm, and on of quality of life issues, trails rose to the top for amenities.
"We've made a significant investment to connect with Alton, so we've gone in that direction. A portion of that, we still need to connect," Woudstra said. "We were kind of curious about where the connecting point would be for the trail to go to Sandy Hollow. We've had conversations with some of the property owners that would be adjacent to that area.
"Our goal would be to figure out where it'll be and then how do we connect our current trails to that."