SIOUX CENTER—Though there's no place like home, Hermina Van Roekel would say there's no place like her home.
The 88-year-old Sioux Center resident is proud to have called the New Homestead her home for 13 years.
Van Roekel moved to the New Homestead in 2006 with her late husband, Cornie Van Roekel. She's lived on her own since his death in 2011.
"I've got nothing to complain about," Van Roekel said, noting she has "nice neighbors" with whom she plays Rummikub a couple nights a week, goes out to eat with occasionally, sees at Wednesday lunches in the south community room catered by Kelly's Catering and at Bingo once a month. "This place was a good home for my husband and I, and remains a good community for me."
The use of a laundry room is included in her monthly rent.
"I don't have to worry about maintenance either," she said.
If a light bulb burns out, she can call the main office and maintenance supervisor Marvin Meendering will come to her apartment and replace it.
"He even took a look and helped fix my lift chair," she said. "It's a joy living here. The rent is affordable. I'm not well-to-do so it's really nice."
The New Homestead is short for the New Homestead Low Rent Housing Agency, which opened its doors in 1967 serving Sioux Center residents for 52 years. It operates under the United States Department of Housing and Urban Development, or HUD.
Van Roekel is one of the 64 individuals who live in the 54 apartments offered for elderly and/or disabled. The housing agency also manages 17 family homes, in which 21 adults and 28 kids live presently.
"Our overall goal is to be able to offer affordable housing dedicated to assisting families," said executive director Crystallyn Sterler.
One misconception she often encounters is the understanding of the income guidelines for housing eligibility at New Homestead.
"There's not an awareness of how many people might be able to qualify for low income housing," she said. "It also seems there's a negative vibe with that 'low rent housing' idea, that people think properties with that label are run down or not taken care of. If they see our properties, I think they'd be surprised at how well they blend in with the community."
A goal for the agency's board of commissioners — made up of seven volunteers from Sioux Center who meet monthly — is not only to provide affordable housing, but suitable, quality housing for its tenants.

The board monitors customer satisfaction by reviewing tenant move-out surveys.
"The information provided on the survey assists out housing agency in growing by identifying areas that are being excelled in and those that need improvement," Sterler said. "Our units and dwellings are continuously being updated with improvements to increase our rental market for qualified families and individuals."
Each year, HUD provides an allotment of capital funds to its Public Housing Agencies for the development, financing and modernization of public housing developments and for management improvements. The amount varies each year. While some years it's a limited amount, Sterler and the board are excited as their agency received $111,763 in 2019.
They plan to use some funds to update the sidewalk outside the New Homestead office next summer.
"We're also planning on renovating the north community room," Sterler said. "We're exploring our options for the space because it's not used on a continuous basis."
Options under consideration include creating a fourth laundry space for the New Homestead campus, moving the maintenance office and storage to be able to expand the main office spaces or even remodel the space into another apartment as the agency has three applications on its waiting list for the elderly apartments. It has four applications on the waiting list for family housing.
Past projects completed with capital funds have included converting eight one-bedroom apartments into four two-bedroom apartments, replacing furnaces in the family homes, remodeling the south community room, upgrading windows and siding, updating various apartment and home kitchens by replacing items such as counter tops, cupboards and sinks and installing new doors on family homes.
This is the first year the agency applied for and received its first grant of $19,000 from the Northwest Iowa Regional Housing Trust Fund, which allowed them to replace three family home driveways, update sidewalks and add back patios for those homes.
"We'll definitely apply for that again," Sterler said. "It helps us do projects and keep our facilities looking nice."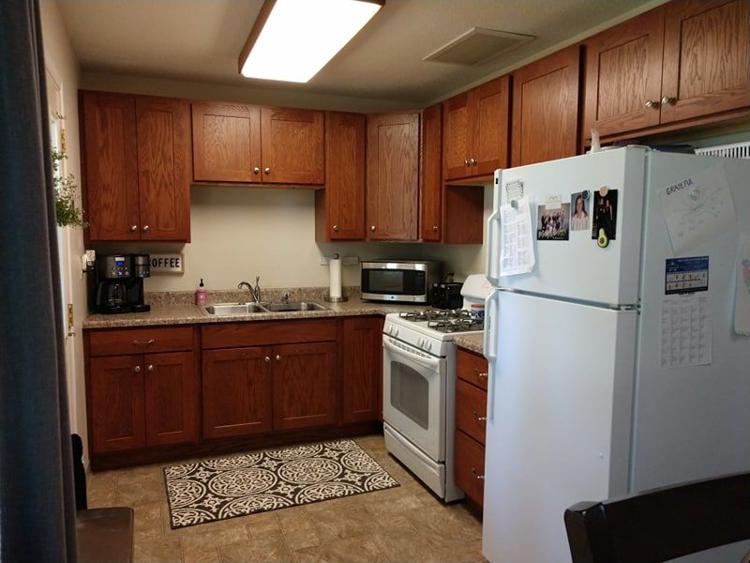 Sterler said the agency is working to get its name out and doesn't want to keep secret what it does.
"We're very blessed to be able to have this type of affordable housing to give everyone a housing option," she said. "A lot of communities don't have low income housing options and that's a struggle. Residents sometimes have to move further out or away from their families so to be able to offer this housing in Sioux Center is not only a blessing to those who receive but also a blessing to the community."
Van Roekel agrees.
Living at New Homestead gives her a chance to remain on their own and have their own home be close to family.
"I have seven children, 26 grandchildren, 71 great-grandchildren, eight great-grandchildren," she said. "They're not all nearby but many are. I'm happy I can afford a place in Sioux Center because it's home to me."