SIOUX CENTER—Sioux Center has a new barber in town.
Rafael Maldonado, 28, moved into the community earlier in the year, and has set up shop downtown at 344 N. Main Ave., next to the Taco John's.
His barbershop, Rafa's Famous Fades, opened March 8 and operates 10 a.m.-7 p.m. Tuesday-Saturday.
"I want to be everyone's barber," Maldonado said, with men and women of all ages welcome to his business.
Since taking over the space, he's transformed the interior, which was previously the Trump Shop and Sewing by Sara before that. Gone are the dividing walls and the carpet, and in its stead is a pair of barber chairs and floating TVs.
"I got these like two days ago, both of them," Maldonado said. "The chair I had before, I had for like five, six years. The arm rest was falling off and it didn't go down anymore. I'm glad I upgraded."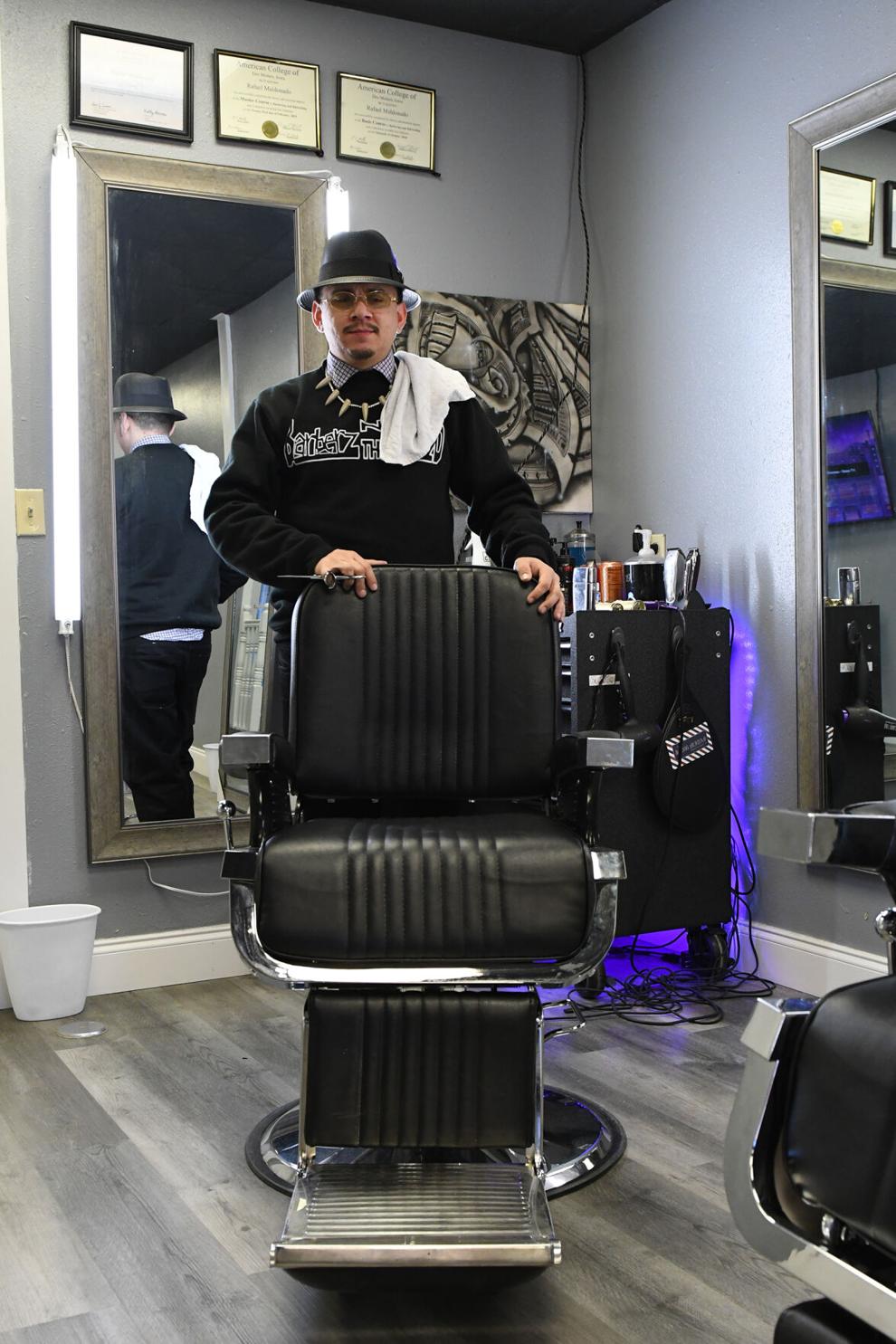 As his business' name implies, the licensed master barber specializes in fades.
"They're my favorite hair cuts," Maldonado said. "They're nice and clean. You see the outline of the hair, and it blends into the top really easy."
He can incorporate different designs into the fades as well, but his work extends beyond haircuts and includes shaving, hot towels and facial masks.
Being a barber is about making customers happy.
"I like that moment when I turn the chair around and they see that mirror and all I get are smiles. That's priceless," Maldonado said. "You see it in their eyes that they're happy, excited."
They say that if a therapist costs too much for you to see a barber instead, he joked.
"It's true. The people who come in, the before and after, when they walk out, they're practically dancing out the building," Maldonado said. "They speak louder, get more confident. That's good. That's my favorite part. You can see it in their eyes and body movement. I'm glad I can provide that feeling for people."
Another aspect of barbering for Maldonado has been barbering competitions, where he's found success as the trophies at the barbershop can attest. He plans to continue to participate in barbering competitions, which he views as learning experiences.
"They teach you things," Maldonado said. "They teach you a lot of different steps, different techniques. It soothes your soul, it rejuvenates your energy and reminds you to keep pushing, to keep going. That's the best feeling."
Maldonado grew up in Orange City, becoming interested in barbering in his youth. It started as something he'd do with his friends, but soon he had a full schedule of clients he'd attend to after school.
"The first haircut I gave was nine years ago," Maldonado said. "I didn't start advertising haircuts until three or four years ago. It was cool and fun."
When he was getting started, he'd watch YouTube videos on the subject every day. That only further fueled his passion to get into barbering.
Maldonado began attending the American College of Hairstyling in Des Moines in 2017, where he lived for the next three years.
The decision to return to Sioux County came because he wanted to be closer to family.
"I spent too much time away from there. My nephews and niece were growing, so I didn't want to spend any more time without them," Maldonado said. "I came back for family, but I also came back because I wanted to provide haircuts the way I do them, with these designs the way kids want them now and fades that men want."