SIOUX CENTER—The 9/11 NEVER FORGET Mobile Exhibit is coming to Sioux Center all three days of Summer Celebration set for June 6-8.
Chuck Brunsting of the Doornink-Brunsting America Legion Post 199 in Sioux Center, held up the signed contract for the mobile exhibit at the Sioux Center Chamber of Commerce's monthly Chamber meeting Wednesday.
"With the American Legion celebrating 100 years this year, we wanted to do something to help veterans and the community," Brunsting said.
The Doornink-Brunsting Post 199 is donating $5,000 toward the $17,000 project. Brunsting said the exhibit portino of the cost is $13,000 but the additional $4,000 is to cover adverting, hotel and other incidental costs related to the traveling exhibit.
"We need your help, businesses especially and even individuals, to raise the funds by June," he said. "It's coming, and we couldn't be more excited."
In 2013, the Stephen Siller Tunnel to Towers Foundation launched the exhibit as a tribute to all those who lost their lives Sept. 11, 2001, including, of course, the 343 members of the New York City Fire Department who made the ultimate sacrifice.
The high-tech, 53-foot tractor-trailer, which transforms into a 1,000-square-foot exhibit, is a tool to educate citizens throughout the country about the events of that tragic day.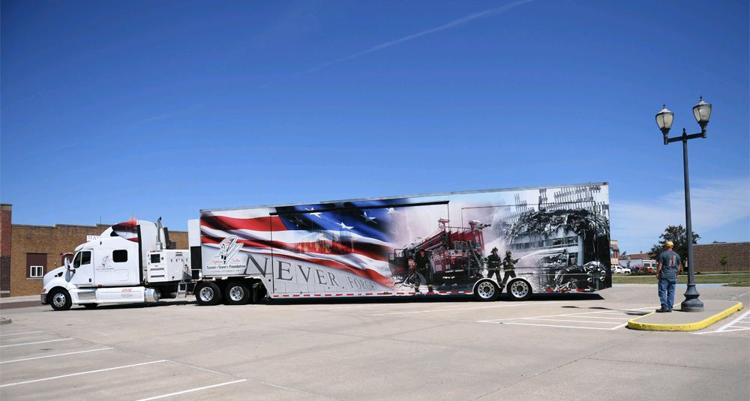 The memorial provides interactive education; including artifacts such as steel beams from the towers, documentary videos, and recordings of first responder radio transmissions. Interactive guided tours are carried out by FDNY firefighters who provide firsthand accounts of the day and its aftermath.
The 9/11 NEVER FORGET Mobile Exhibit, which has traveled to nearly 30 states and Canada, has welcomed in over 350,000 people to date.
During Summer Celebration, the trailer will be stationed in the southeast portion of the Centre Mall parking lot.
"Firemen from 9/11 are giving these tours," Brunsting said. "This is your chance to talk to some of the folks that were part of the worst event in our nation's history since Pearl Harbor. Of the people I've heard of visit this traveling museum, there were no dry eyes after the tour."