SIOUX CENTER—Schelling Construction is adding to Sioux Center's housing options with the construction of an apartment building and townhouse complex in a development called Ridge Creek.
The work being done now is the first of potentially several phases. This first phase includes the construction of five buildings: two eight-unit apartments and 16 townhomes that will be divided among three different buildings.
Schelling Construction president Dave Cleveringa said that is part of the company's two to three year plan for its nearly seven acre lot along Harrison Avenue, just north of The Ridge Golf Course and west of the wastewater treatment plant.
It is also the company's largest residential project for Sioux Center.
These apartment units are being built with Sioux Center's workforce needs in mind.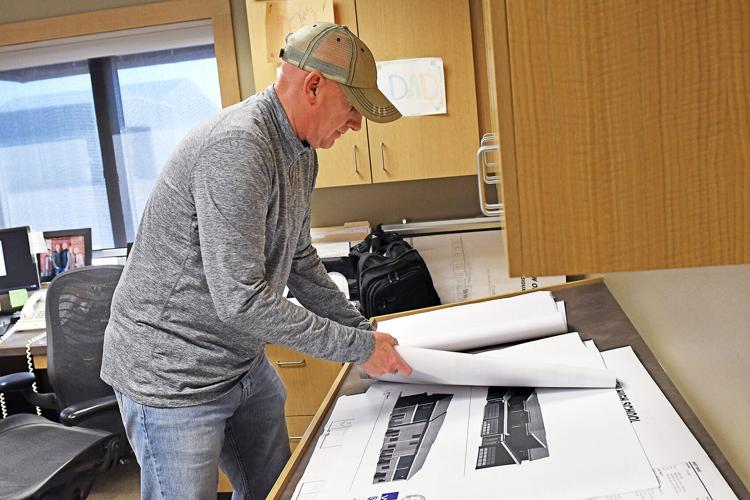 "You have Interstates, the hospital and several other large companies hiring," Cleveringa said. "We are kind of targeting that younger, out-of-college age. However, we won't say no to anybody."
He said a traditional home doesn't suit everyone's needs, and these properties are for those other people. Some are empty nesters who want to downsize or those who live here while the weather is nice and travel south for the winter.
The apartment's two-bedroom units would be about 1,100 square feet and one-bedroom units are 700 square feet.
The townhouses would feature walkout patio doors, concrete patios and privacy screens along the side, as well as garages.
At the moment, crews are putting the roof onto the eight-plex apartment building and the foundations for one of the six-unit townhomes has been set. The goal is to have the apartments ready to lease in the spring and the townhomes ready to lease or sell in midsummer.
"We'll just see how things fill in and determine if we do the next eight-plex next or if there's demand for the townhomes, we'll do that next. We'll let the market determine which building gets built next," Cleveringa said.
They already own the property they need for that future expansion. It covers the whole corner, encompassing the creek to the west and the retention pond to the north.
"We do have a majority of the dirt work done for the whole property already," Cleveringa said. "That's because we wanted to take a lot of dirt from the south end and take it over to the north end to build it up. We already own that property and we'll see how fast we build to the south."
A website for Ridge Creek is in the works, but Cleveringa said anyone with questions about the property can contact him by phone at 712-722-3042.