SIOUX CENTER—More than $4,600 was donated Wednesday, Aug. 7, to Midwest Honor Flight.
The American Legion Auxiliary 9th District of Iowa donated $2,427.50. The district, made up of 13 Iowa counties, focuses on raising money for two organizations each year, first for Veteran Affairs and a second organization of district president's choosing.
Marjorie Brunsting of Sioux Center is in her second year as 9th district president. She chose Midwest Honor Flight for three reasons.
"The mission of the Auxiliary is to support the Legion, our veterans and our communities," Brunsting said. "Midwest Honor Flight does all three."
Elaine Leusink of Sioux Center, a Midwest Honor Flight board member, accepted the donation.
"This is making dreams come true," she said. "It's a lifetime gift. We're so grateful."
The amount covers the cost of more than three veterans to be part of the Honor Flight.
Sioux Automation Center in Sioux Center also presented a $2,235 donation to Aaron Van Beek of Sioux Center, who is the founder, president and director of Midwest Honor Flight. The funds were raised through employee donations made as part of the company's annual corn hole tournament.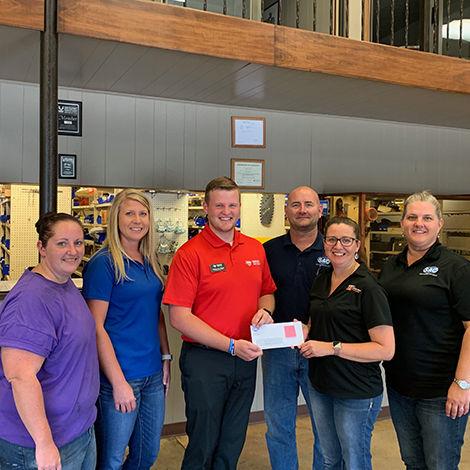 The funds also will sponsor three Vietnam veterans trips to Washington D.C. this fall.
Midwest Honor Flight through the Honor Flight Network allows veterans from a 90-county area of Iowa, South Dakota and Minnesota to fly to D.C. under the care and supervision of Honor Flight Guardians.
"Midwest Honor Flight recognizes American veterans for their sacrifices and achievements by flying them to Washington, D.C. to see their memorial at no cost," Van Beek said.
Midwest Honor Flight has completed four missions, taking more than 300 veterans to D.C., and is scheduled to have two missions this fall: Sept. 29 — the whole flight of which is paid for by a donation from Smithfield Foods — and Oct. 12.
To learn more about Midwest Honor Flight, visit www.midwesthonorflight.org.