SIOUX CENTER—Sioux Center Middle School welcomed a new principal at the start of this school year, but it's a face already familiar to staff and students alike as Eli Ellis has taught at the school for 12 years.
Ellis was hired as principal July 1 after previous principal Jill Hulshof desired to return teaching fifth-grade science. She served as middle school principal for two years.
With school underway, there are things about his new role that Ellis is still finding out about, but he's excited to embrace it all.
"I am blessed to be here and to have the opportunity to do this in this community," Ellis said. "It's understated how supportive families are and how supportive our business and general community is of our school system."
Taking on the new role also means the longtime teacher gets to continue working in his hometown with his wife, Bre, and their 11-month-old daughter, Mila.
Ellis, 37, is a Sioux Center native who graduated from Sioux Center High School in 2001. From there, he went on to Northwestern College in Orange City, at first working with the goal to become an English teacher.
He credited his mother, Jean Ellis, a longtime Sioux Center educator herself, for his desire to become a teacher.
"My mom was a teacher, so I've always been around school and love to coach and be a part of athletics," Ellis said. "So it was always on my brain that I would be a teacher. … She retired the year I started, so I got her keys and all that. It was a passing of the torch. There's been an Ellis in this building for a long time."
Ellis never formally entered the education program, but he took many of the classes needed for an education degree with a teaching career in mind. As it went on, however, he wasn't sure if teaching was the best fit for him. So in 2006, Ellis graduated with a psychology degree.
A few years later, he came back to take those couple of remaining classes at Northwestern College he needed for an education degree. He got his special education endorsement through Morningside College in Sioux City.
Ellis even student taught special education and psychology at Sioux Center Middle School before beginning his job there where he taught special education for seven years and seventh grade social studies for the last four years.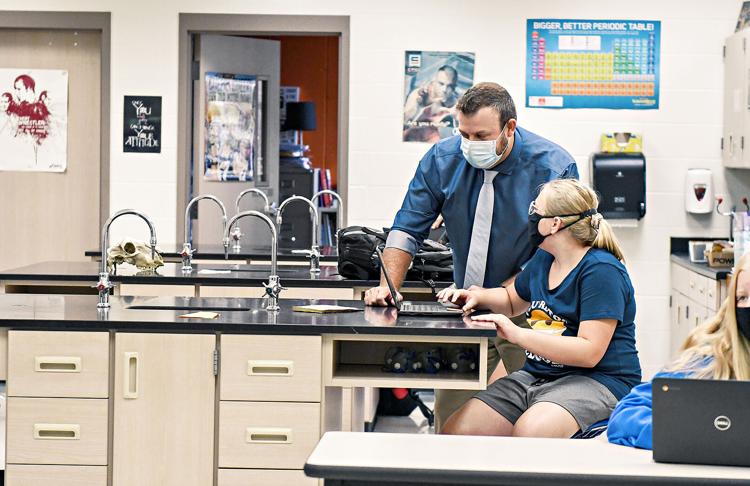 He's remained a teacher because of his passion for the students, particularly in the middle school age group.
"There's something about the teenage years with the maturity and the awkwardness that goes with being a middle schooler. I love that age group," Ellis said. "Building relationships with the students is what it's really about."
Working with this age group means behaving as a role model for them and helping them prepare for the challenges of becoming a young adult.
"You can have an impact on them. There are a lot of kids who are seeking that," Ellis said. "It's very rewarding to know that you can do that even for one person."
As someone who enjoys taking classes as much as leading them, Ellis began working to get into school administration.
"Administration was one area I was intrigued with, and the older I got, the more I was interested in the decision-making and wanted to be involved in the decisions that were happening at school," Ellis said. "I felt going into administration would open another set of doors for me. I never would have thought a job in Sioux Center would open, so I was surprised when it was."
As it turned out, events lined up too well for him not to take this opportunity.
"It's a timing thing that was beyond my control. There is something to God's timing. I just finished my principal endorsement a couple weeks ago," Ellis said.
It's been a good challenge for him, he said, and he's happy that he went this route.
Ellis even did some administrative interning alongside Hulshof, which gave him a preview of the job and how the building operates on an administrative level. It gave him confidence that working as a school administrator was something that would be a good fit for him, wherever he ended up.
About a month into his new role the responsibility of it more fully dawned on him.
"There were decisions made before that, but it was organizational things. But then it became making plans for the school year and what it looks like. These are decisions, grown up decisions that are going to impact families, students, your staff and anybody who works in this building," Ellis said. "I get to make decisions, and that is a little daunting, but it's also awesome."
As a school principal, Ellis said everything ought to be about making sure students' needs are served first.
"Everything needs to be in the best interest of our students, and keeping that as everyone's focus can be difficult sometimes," Ellis said. "But that has to be balanced with staff needs as well, and that's huge."
To him, serving students and staff means being engaged with them, interacting with them and accessible to them, ready to support them.
"My approach is to be hands-on, to be in classrooms and to be out there, visible to students and staff to let them know that I am there," Ellis said. "That goes a long way with everybody. Yes, I'm an authority figure, but I'm also human and I don't want interactions to be strictly negative, I want them to be positive as well. That means building relationships with kids and supporting staff."
With the early closing of the schools at the end of the 2019-20 school year, every school building faces the same challenge of determining their students' needs and what expectations for growth this year ought to be.
"My goal is for every student, regardless of their ability level, to grow. Our job is to find out how to support those students in a way that they show growth," Ellis said. "That's the expectation I have, whether it's on a standardized test or socially or emotionally."