SIOUX CENTER—Woodworking is more than a hobby for Orlan Gulker; it's a window into God's creation. He's a man who sees God's handiwork in all of creation, such as his other passion, beekeeping. But looking into a cut of wood and seeing the waves and knots, he can't help but pause at the beauty of it.
At 72 years old, Gulker hasn't moved much in his life ever since his family moved from Minnesota to Lebanon in 1956. He still lives in the same home his parents moved into when they came.
In his workshop next door, by the Lebanon Christian Reformed Church, he keeps his tools and materials for his projects.
He's been into woodworking for the last 25 years or so, but he really got serious about it in the last six years after retiring from 14 years of work as a salesman at Vande Berg Scales in Sioux Center.
He already had done some woodworking projects for himself and family. With four kids having families of their own, there was always something he could work on for them.
"I knew I would need something to keep me busy," he said. "There was no doubt in my mind that once I retired that that was what I was going to do."
His first big project was to build a water bed frame about 30 years ago. He made it by mimicking a picture he had on hand. It's still used, although looking at it now, he sees it as a bit crudely made.
For his grandkids, he'd make little tables and chairs after work.
But as his retirement approached, one night he sat at his counter drawing out plans for a new workshop.
"My wife, Evie, asked me what I was doing, so I told her," Gulker said. "She said, 'Why don't you buy the school?'"
The school in question was the old Lebanon Christian School right next door, between his home and the church. The school, which grades kindergarten through eight, had closed in 1979, but it was used by the church for many years after that for youth groups and as a pastor's study space.
Gulker had even attended it, starting in the third grade.
At first, Gulker didn't think much of the suggestion, but the idea grew on him and he bought it from the church in 2015. He put on a new roof and insulated it, and it's turned into a kind of man cave for him.
"I had a lot of space here when I started, but that space disappeared," Gulker said, especially has his woodworking hobby had turned into a side business he calls Schoolhouse Woodworking. Through this, he takes on projects as he likes, though it's not about money.
"It's something to keep me busy, and it's doing something that I love and can thank God for the talents that he gave me that I can do something with," Gulker said.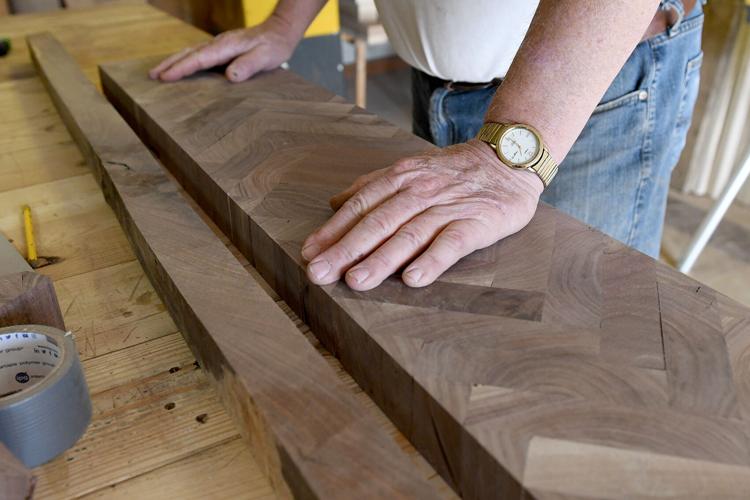 In his retirement, he's made a variety of furniture pieces: end tables, sofa tables, shelves, chairs and the like. Tables are his favorite projects.
Sometimes the tables get a bit big, making their move out complicated. Gulker recalled one large table that weighed more than 900 pounds. After removing the stair railings, six men were able to haul it outside to be taken to its new home.
Quite a few of his pieces preserve the natural edges of the wood piece, a feature that's called a live edge — a popular thing these days as it gives the finished product its own character and makes it one of a kind.
Anything that tests his skills and gets him thinking about how to approach a request is sure to make for a fun project and is the favorite part of his hobby.
One such project involved four small but detailed chairs for his grandkids. Though fun, it took a lot of time because of the many small pieces involved.
Gulker is fascinated by the materials. Lately, he's been using a lot of black walnut, which requires a face mask to protect him against its harmful dust, but he still sees plenty of variety in the kinds of woods he uses.
A length taken from the branch of a red elm tree is one example. The board is curved along its edges, in the shape of an arch, with prominent rings displayed. He's turning it into a coffee table for a customer.
"This was a tree a year ago," Gulker said, holding up the board. "The beauty in this, I thank God for it. I can see God's hand in this. It's unbelievable the beauty in a piece of wood."