SIOUX CENTER—Colorful flags and a runner's aid station were all part of a special send-off at Snap Fitness on Thursday, Feb. 19, for a Sioux Center resident's to compete in the Olympic Trials for marathon running in Atlanta.
Making it to the Olympic Trials has been a kind of bucket list goal for Jen Van Otterloo, who began doing marathons in the fall of 2015.
The tryout is Saturday, Feb. 29. She and her family — including her husband, Joel, their three children, her parents and her husband's parents — will fly to Atlanta on Thursday, Feb. 27, in anticipation of seeing Van Otterloo run.
"I wanted my kids to also experience this because they've never really seen me run a big marathon before," Van Otterloo said.
The Sioux Center native has been a runner her whole life, getting her start running around her parents' acreage with cats, dogs and horses.
"God gave me this ability to run," she said. "I just love the way running feels. It's free, relaxing and a great opportunity to hang out with friends. Sometimes I do these couple hour runs with friends and we just talk the whole time. It's let me meet a lot of new people across the world. Running is a part of me. It's who I am."
Van Otterloo is a 2004 graduate of Unity Christian High School in Orange City where she participated in cross country and track along with volleyball, dance team and softball. She also participated in cross country and track at Dordt College in Sioux Center, graduating in December 2008.
Since then, she has worked as the physical education teacher for Kinsey Elementary in Sioux Center for 11 years.
Van Otterloo has completed five marathons.
She qualified for the Olympic Trials with her time at the Fargo Marathon in North Dakota in 2018. She clocked 2 hours, 44 minutes, 17 seconds, finishing 11th out of 1,463 runners and placing second out of 654 women.
Although she has run in larger marathons, she knows the atmosphere will be different at the Olympic Trials.
"There's going to be added security, and the day before the race, we have to get our uniforms checked out to make sure they follow the media rules and logo rules," Van Otterloo said. "I've never had to do that before, so that's all new to me."
Then there is the surreal thought of seeing some of the nation's top athletes in person.
"I'm just looking forward to it," she said. "I'm excited and I'm nervous, but I'm ready to enjoy this experience. It's something totally new and awesome."
Van Otterloo will run against more than 500 other women, with only the top three finishers qualifying to represent the United States in the Olympics.
"Realistically, there's no chance I'll make it to the Tokyo Olympics. I'm ranked at about 300 right now. But that's 300 in the U.S. so I'll take it," she said.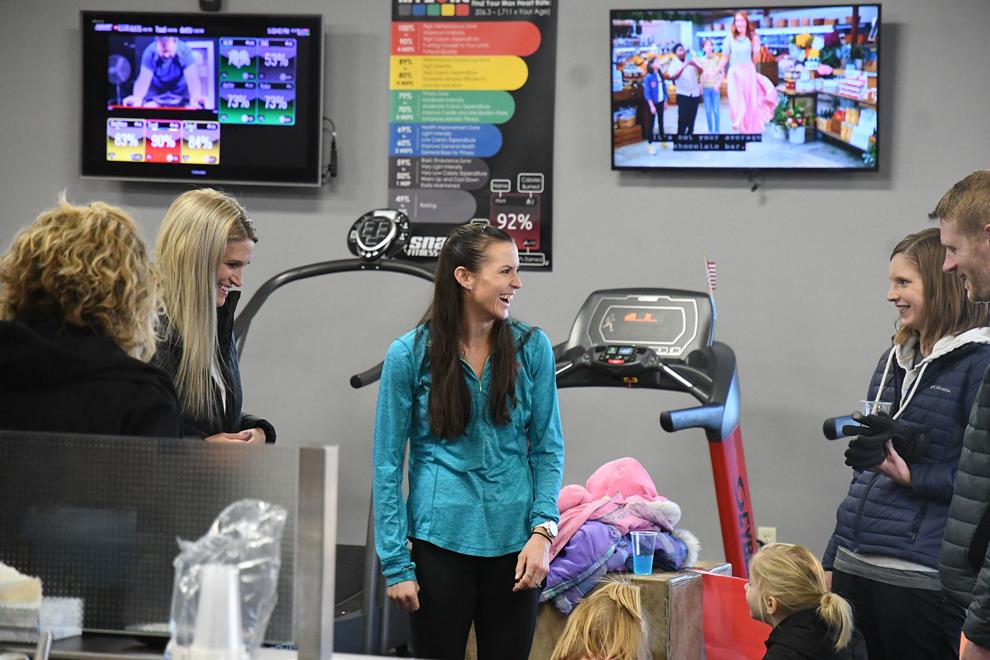 Van Otterloo was grateful for the send-off at Snap Fitness, which featured a mock aid station loaded with Gatorade and a selection of snacks. She was presented a book signed by family members and friends with notes written to her.
"I'm going to read that on the plane on my way there to encourage me," Van Otterloo said.
She also is grateful for her husband's support as she pursues her dream.
"He keeps me sane and he helps with the kids," she said. "My husband has been my No. 1 fan, and my kids inspire me and my students inspire me. I also have friends and family who've been there since day one. I couldn't do this alone.
"Running might seem like a lonely sport, but when you've got all this support behind you, it's awesome."