SIOUX CENTER—In the commons of the new Interstates facility along Seventh Avenue Northeast is a whiteboard wall with a turkey drawn on it. Next to the words, "What are you grateful for?" one of the responses written states, "Wayne McDaniel."
He's grateful for Interstates, too, for all that he's gained through his years with the company.
McDaniel, Interstates' vice president of project delivery, has been with the company for 46 years and he's retiring this year. His retirement party was Tuesday, Nov. 26, and his last day at Interstates will be Dec. 20.
Getting started
The 68-year-old grew up in Mitchell, SD.
As a young man, McDaniel had gone to Mitchell Technical Institute for electronics, but he needed "a little direction," he said, so getting out of town would be a good thing for him.
One day, a flooring man from Sioux Center struck up a conversation with McDaniel's father. One of the things they talked about was Interstates, which happened to be working on a hospital in Mitchell at the time.
"So, I went down there and talked with Dan Ver Hoef and he got me on the phone with John Franken. The rest is pretty much history," McDaniel said.
He got started as an apprentice electrician, and for the first 20 years of work, he mostly lived on the road, following the job sites across the country. Most projects lasted six to eight months, so he'd live in an apartment in the area until the work was done.
"My first venture to Mississippi was about two months after I started with Interstates. Never been out of South Dakota before that, went all the way down to Mississippi; that was interesting," he said. "Very eye opening."
That was in 1973, and what he found there was a very different culture. Although the people he met there were nice, it was still a place wrestling with segregation between blacks and whites.
It was very different from what he had known in Mitchell, where one of his ministers was a black man.
"I remember going down to the bar down there," McDaniel said. "The blacks couldn't come into the bar. They could come up to the window and get a drink. It was strange."
After working in Mississippi, he went on to work at a site in Atchison, KS.
"Then I kind of bounced around after that," McDaniel said.
He'd return to Mississippi again later, to work on five projects throughout the span of three years.
"I liked it down there. It was fun. The people were good," McDaniel said. "The weather was nice. Got a little hot in the summer. It'd rain about 2:30 every day, and the steam would just come off the ground, it'd be so hot. It'd take your breath away. But you got used to it."
Most of the projects he'd work on were feed mills, and he'd spend a lot of his years working throughout the South, including Florida, Georgia, Alabama, North Carolina, South Carolina and Virginia.
He'd also go Utah, a pretty state by his recollection, but it was while working on a sunflower oil extraction plant in Velva, ND, that he met his wife, Cindy. She was working at the job site, too.
"I don't know how I would have met my wife if I hadn't worked for Interstates because I'd have never gone to Velva, ND," he said. "We met in 1981 and haven't been separated since."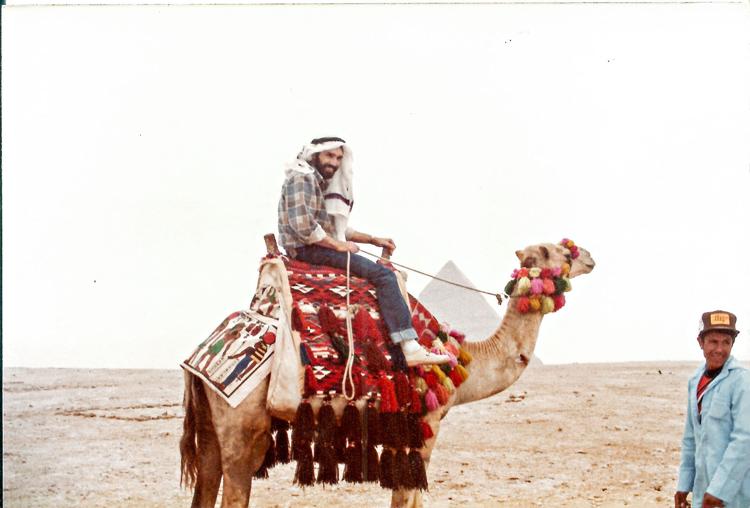 Egypt-bound
Soon, the young man who had once never left South Dakota would in the early 1980s find himself supervising an Interstates project in Egypt for two years.
"They subsidized bread over there, and we built a grain facility for wheat. That was fun, too. Those were nice people as well," he said. "It was a USA job. President Carter, he gave Israel so much money and so he had to give Egypt the same amount of money. The projects were allowed to go for 10 years. This one was on eight years when we went over there, and we had to get it finished in two years."
The Egyptians were good people, he reiterated, but they had a different perspective on keeping schedules.
So much so, that McDaniels can still recite the Arabic phrase he heard often while over there, which translated to, "The day after tomorrow, God willing."
"They were always procrastinating, putting things off," he said.
There were two stories from his time in Egypt that stand out to him.
The first comes from shortly after he arrived in Egypt. It was during Ramadan, the Muslim holy month. They stayed a hotel for the first few days, and when he went out one day to look around, he saw what looked like bloody handprints all over the building wall.
He couldn't help but think, "What the hell did I get myself into here?"
This, he soon learned, however, was part of a blessing upon the building.
Much later in his stay in Egypt, he and some others flew to Israel to see the Rambo movie "First Blood." After the movie, they eventually made their way back to the hotel and had some drinks at a table.
"I look up and I see these people at the bar, and I think I should know those people. Who would I know in Israel? I couldn't think of it," McDaniel said. "Pretty soon I have to get up and I go ask the bartender. It was Chuck Norris. They were making a movie over there, a Delta Force movie."
McDaniel wound up riding in the elevator with him.
Retirement
After working for Interstates on the road for 20 years, it was time to settle down.
"John Franken said I could come in and work here out of the office," McDaniel said.
That's what brought him to Sioux Center.
Even though he moved to Sioux Center, he still traveled frequently as part of his job as a project manager.
"I had to go out and make sure they were running right, meet with the customers and price changes and all that stuff," he said. "I went out with the guys a lot, and part of my job at Interstates was to assign manpower to the jobs."
In his years of leadership at Interstates, McDaniel has operated under the philosophy that if you take care of your workers, they'll take care of you.
"It worked for me for 40-plus years," he said. "Our job is to grow the people here, and our business is a tool to do that."
And it's been the people here that have kept him with Interstates for so long, he said.
"They're all really great people to work with. Always have been," he said.
His plans for retirement include going to an acreage he and his wife bought near Alcester, SD. There'll be plenty of tasks there to keep him busy and he thinks a part-time job will be in the picture at some point.
"But I don't really want to get tied down because we enjoy traveling around," McDaniel said.
Fishing and golfing will likely figure into his retirement as well. He noted that with his work, he hasn't been able to golf like he used to.
"Interstates has been good to me. John, I couldn't thank him enough for what he did for me and the opportunities he gave me. We gave and still are giving a lot of opportunity to a lot of people. It's fun to see people grow," McDaniel said. "I couldn't have found a better job. I've been very lucky. Got a good family, good job, good friends. Got to see people grow."