SIOUX CENTER—The roles of two familiar faces at Petals & Perks in Sioux Center have changed as of Jan. 1.
Longtime employee Kari Hickman of Sioux Center became store owner, having purchased the business from Laura Sneller of Sioux Center who has transitioned to being a part-time employee.
"I couldn't be happier with who I am being blessed with to hand this store over to because my husband and I have worked hard to get this to where it is but I'm more than excited for Kari and her husband, Forrestal, to take on this adventure," said Sneller, 59.
The Sioux Center Chamber of Commerce will host a ribbon-cutting ceremony 10 a.m. Thursday, Jan. 28, to celebrate the transition.
Hickman, 29, has worked at Petals & Perks for 12 years, starting as a part-time employee after she graduated Sioux Center High School in 2009.
She was looking for a part-time job while she attended Northwestern College in Orange City to earn her degree in elementary education.
"I was good friends with Laura's daughter so by that association I had been in the store a lot," Hickman said. "Going further back, in middle school I remember those assessments we took about what we'd be when we grew up said I should be a floral shop owner or floral designer. I job shadowed Laura but didn't think about the part-time job here until I went to college."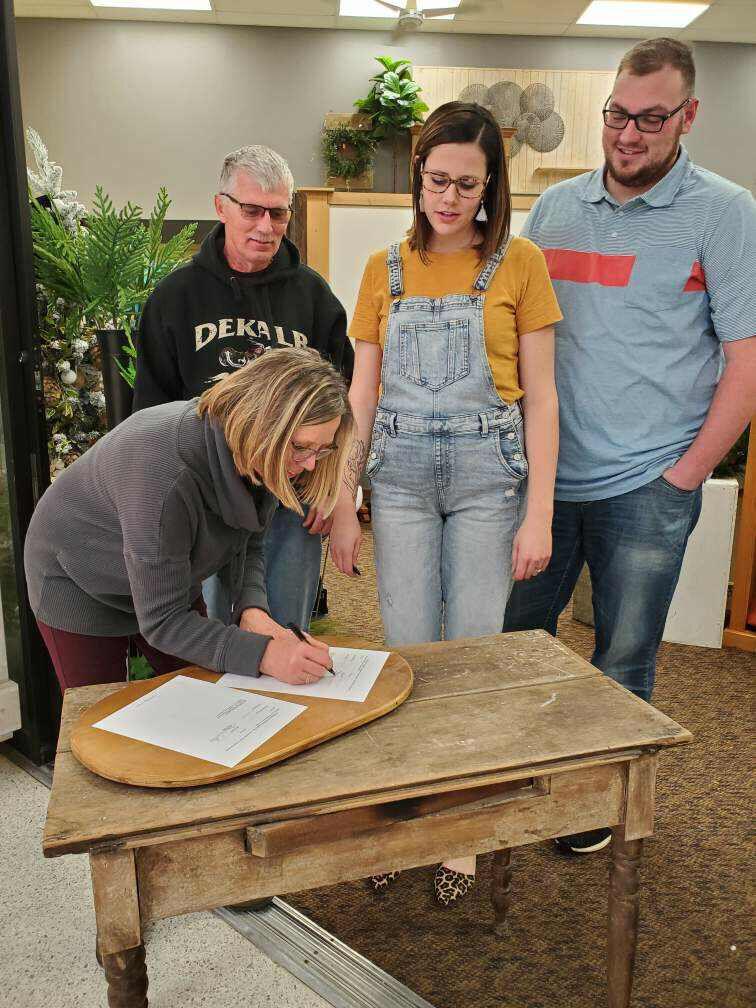 At the end of her college career, Hickman said she found herself truly enjoying coming to work each day at Petals & Perks.
"I applied for elementary education jobs, but I figured if I didn't get a teaching job from the interviews I had lined up, I'll do this full time; that's what I've been doing for the last eight years," she said.
She's been the store's only full-time employee.
Petals & Perks features fresh floral, home decor, wedding and rentals, sympathy, balloons and coffee. The store, originally named Weddings Etc., dates back to 1982. Sneller purchased the business in 1988, moved it to its first location in the Centre Mall in 1990 — a portion of where Main Cinema Theaters is currently — and then moved the store to its existing location in the mall, renamed it and added the coffee shop and drive-thru about 16 years ago.
"I feel like it's my identity, but I'm also really excited to pass it on," Sneller said. "Kari is extremely talented and gifted in floral design and home decor. Those are by far her two greatest gifts. And our personalities just worked so well together."
Sneller said Hickman has been the manager for the last five years and she's just walked alongside mentoring.
Sneller broached the idea of Hickman becoming owner about two years ago.
"There's no one I'd rather sell the business to than Kari," Sneller said. "She's been here, like a daughter to me. I felt like it fit really well so I really encouraged her to think about it because of the gifts she has in this. I truly believe she's going to be extremely prosperous."
Because January is a slower month, the store is in its second week of being closed to walk-in customers as it completes minor changes, including painting, the construction of a new storage room and rearranging the displays.
Hickman, who also gathers and repurposes antiques for a side business called Untold Story, plans to incorporate more of those items as a line Petals & Perks will carry. She also plans to enhance the baby gift offerings once the store reopens Monday, Jan. 25.
"The goal is to keep the store much the same for 2021," Hickman said. "Early on in our talks the idea of a name change came up but we've built a clientele with this business name so my focus is more changing the face — the look of the physical store and the logo — rather than the name, just to give it a little refresh and reflect the new ownership."
She looks forward to putting more of her own touch on the store.
"There are some people who don't love going to work, but I love coming to work and doing what I do every day," she said. "I had that feeling when I worked part time and it's crazy to me to be here. Time went so fast. I would have would never have guessed I'd be here 12 years and then own it.
"It's been really good for me to work here that long before owning to gain more understanding of what happens behind the scenes, and the mentoring through Laura has been extremely helpful. I'm so glad she's staying."
Sneller plans to stay on as a part-time employee for a couple of years, noting she's not ready to retire. Hickman will have four to six part-time employees.
"We're both excited about this transition," she said.