SIOUX CENTER—It might feel like summer, but the folks at Fields of Fun are ready for autumn in their second year of business, having opened Sept. 1.
Located on Ted and Jackie Altena's farm at 3273 400th St., a half-mile east of Sioux Center, Fields of Fun features a corn maze, pumpkin patches, hayrides, play areas, petting zoo, coffee shop and autumn and pumpkin themed decorations for sale.
Added this year are barrel train rides and a smaller corn maze for younger children to enjoy.
There will be hand washing stations and sanitizer at the farm for guests to use, but face masks will not be required.
As Fields of Fun partner Janelle Volkers explained, the new maze, called the Lil' Sprout's Corn Maze, is about 1 acre and has a simpler picture.
"The little kids can get a feel for what the big maze is like without getting lost," she said. "It's a little less intimidating, and it's perfect for when schoolkids come with school groups."
The petting zoo will have two miniature horses, alpacas, calves, pigs, chickens, miniature donkeys and goats. They're still looking for a turtle to add to the mix.
Drinks such as hot apple cider, coffee, iced coffees, smoothies and more will also be available. Saturdays, specially made pumpkin spice doughnuts will be available for sale.
Seeds for this year's pumpkin patch were ordered as early as February, and they were planted in May.
"It's most fun when people come and find their perfect pumpkin," Janelle said. "We have hundreds of pumpkins, but for each person, there is a perfect one. It's fun when kids find theirs."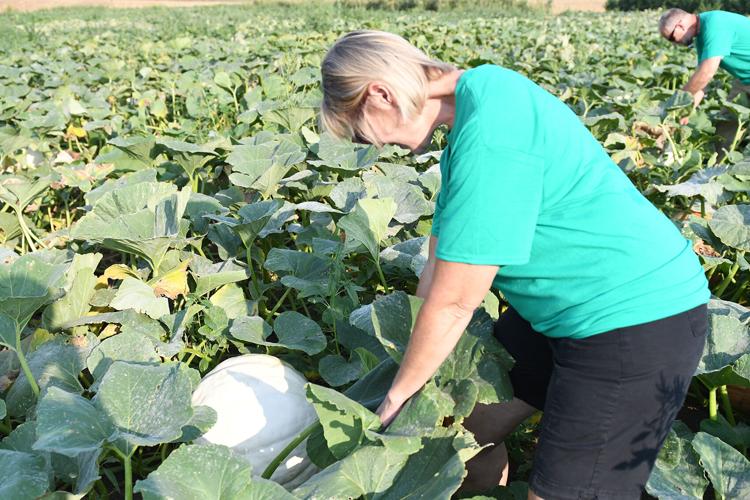 There are two pumpkin patches, one with the smaller varieties and another for the larger ones. The pumpkins have enjoyed the hot weather this summer, with heat helping bring out a vibrant shade of orange.
The maze was cut into the corn at the beginning of July, before it's waist high.
"You could almost say we're planning for next year this year," Ted said. "We're thinking about how to improve."
He and Jackie's three children enjoyed being a part of the business.
"The kids have their own little roles and looked forward to it all year long," Ted said. "It's fun to be known as the pumpkin place, and it's exciting. It's so busy, it goes by in a snap. It's two months, but it's over before you know it."
The Volkers' adult children lend their hands to the cause, too, making Fields of Fun a multigenerational family operation.
Looking back on last year, Mark was pleased with how 2019 went.
"We were pleasantly surprised with the reaction we got from people," he said. "People were grateful for it, they enjoyed it and we had people thanking us for this."
Having Pumpkinland near Orange City close after 29 years in business was a hardship for the community, Mark said, so people appreciated that the autumnal fun would be continued at Fields of Fun.
For anyone interested in coming in a large group, reservations ought to be made. This can be done through their Facebook page or website, www.fieldsoffun.net.
Fire pits can also be reserved.
Fields of Fun is open 10 a.m.-9 p.m. Tuesday-Thursday and 10 a.m.-midnight Friday and Saturday every week until Oct. 31. It will be open on Labor Day.