SIOUX CENTER—There's nothing like going out into the great outdoors with family, and a new YouTube channel is memorializing one family's adventures.
The channel, Roamin' with the Roses, is the creation of the Rose family — father Onsby and sons Elijah, Colin, Timothy and Caleb — of Sioux Center and records the trips and activities they partake in.
Started in May 2019, the channel has six videos so far. Although it's about the outdoors in general, right now, they're hooked on fishing.
It's something most of the four brothers living at home enjoy.
It helped that Onsby, a Dordt University associate professor of music, started with a good set of equipment. His stepfather was also happy to donate some of his gear to the family, and Onsby admits that Amazon has gotten quite a few of his dollars in the last few months as he adds to their fishing arsenal.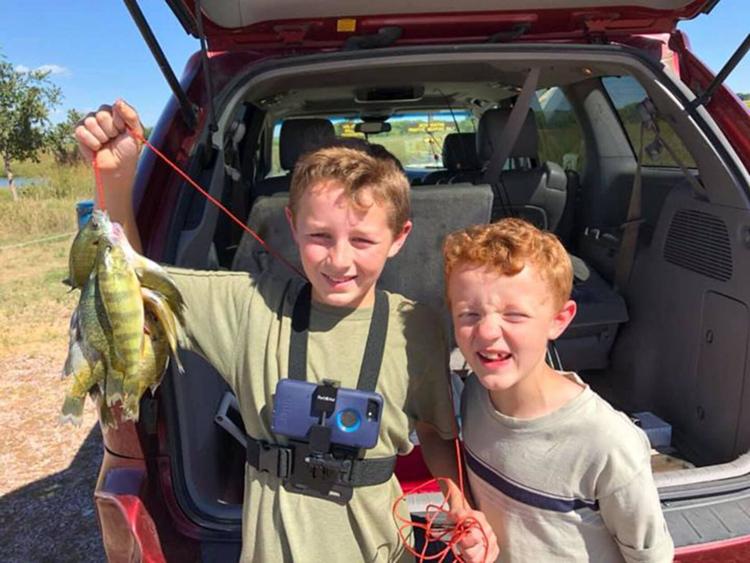 Before they fish, there's the search for new spots in the area. It's a fun way to pass the time for Onsby in between the kids' activities.
When fishing, they go for whatever they can catch; that means mainly sticking with bluegill and green sunfish.
"Bluegill is good for kids because they're not overly difficult and they taste great when you cook them," he said. "My dad was a bass fisherman, but we haven't done a whole lot of that. My hope is that by next summer, we'll be able to get a boat and do some fishing off that. It's a bit easier in the larger lakes when you have a boat to be on."
Fishing is something close to Onsby's heart because of its connection with his father and growing up in Virginia.
"I'd go out with him during the week and he'd spend his weekday evenings when he got home from work," he said. "He'd scout out the locations for him to fish on the tournaments on Saturday nights."
The idea of having a YouTube channel came when they moved to Iowa in July 2019. Talk about it began as a kind of joke and it turned into a way to give the boys a way to engage with a platform they enjoy.
"They probably watch YouTube like we watched television when we were kids," Onsby said. "I find myself doing it, too, and there are a few channels that I keep up with."
Seeing other YouTube channels tackle the outdoors helped spur him on to give it a try, with a family angle to it.
Other activities in videos have included cleaning and cooking fish, camping, and they recorded their trip to the Great Smokey Mountain National Park and Dollywood with Onsby's stepfather.
"My mom passed away this fall, so I think that's put things into perspective for him, where it's now let's enjoy life together while we can," Onsby said. "We did that and took a bunch of videos, and I haven't finished editing that."
The goal is to have a video posted to the channel every Saturday, having started recording in earnest at the start of the coronavirus pandemic.
They try to tell a story with their videos, so it's not just footage of them fishing. Videos often feature Onsby giving a voice-over narration as the family first gets ready and heads out to their destination.
With hours of video captured, the longest part of the process is the video editing, easily taking six to eight hours. Onsby uses his MacBook and iMovie to do that.
That being said, it can take a few weeks after filming for a video to be made and posted to YouTube.
On Saturday, Onsby, Elijah and Colin went out to a pond south of Alton to fish.
Elijah, 11, got to wear the camera that day. There is no real system the brothers have to determine who gets to wear it on any given day; it's just whoever gets to it first.
He enjoys fishing and chance to spend time together, and he'd like to do more video editing himself some day.
Nine-year-old Colin's favorite parts of this are monitoring the channel's statistics and eating the fish they catch.
"Caleb, who is not with us, he's more into the video side of it," Onsby said. "He likes the voice overs. I'm hoping to get him into doing some of that for us. He loves to camp. He doesn't like to fish as much. Tim likes to fish, but he's working today though."
These activities have been a fun way for the family to get out of the house and away from their phones and computers.
They have some future vacation trips in mind that they could turn into videos, and they're going to give ice fishing a try this winter.
The channel has been a fun family activity, and Onsby hopes the channel motivates other families to give these activities a try.