SIOUX CENTER—With 34 years of experience as a physical education instructor, Tom Estes has always been up for a challenge. But a year ago, he came up against the biggest challenge of his life: multiple myeloma.
Since then, the 70-year-old Sioux Center resident has gone through what's been an exercise in faith, patience and gratitude.
As a retired man, Tom has enjoyed golfing, and it was while on the green that this all began one year ago.
His wife, Doris, recalled that when Tom came home, he complained he had felt something pop while taking a swing. As it turns out, he had cracked a vertebra and needed to have a kyphoplasty to treat it.
The surgeon assured him he'd feel like a new man once it was done and could golf two days after.
Tom had the surgery in October, but he didn't feel any better. Then, while getting out of bed Oct. 18, 2021, he felt a lot of pain in his shoulder and collarbone. Doris took Tom to the emergency room and they found out his collarbone was broken.
With two unexplained fractures so close together, a doctor requested lab tests done and sent to the cancer center. That lead to the multiple myeloma diagnosis, which required Tom to go to UnityPoint Health-St. Luke's Regional Medical Center in Sioux City right away.
"His lab test showed he had dangerously high calcium and his kidneys were in bad shape," Doris said. "So, they said he had to get to the hospital right away."
They learned that multiple myeloma is characterized by bone damage, low red blood cell count, low white blood cell count and low blood platelet count, all of which Tom was experiencing.
"We had never heard of it," Doris said. "A lot of people think it's a bone cancer, but it's really a blood cancer that ends up affecting the bones. The plasma cells that healthy people have make antibodies and they help fight infections. With multiple myeloma, they're cancerous plasma cells and what they do is accumulate and they start crowding out your healthy blood cells and then they produce abnormal proteins instead of these helpful antibodies, and that's why your body gets weaker. What was happening is that the myeloma was chewing up his bones and then making them weak. Then all of a sudden, there's a break."
They also learned that treatment and medicines for it have advanced in recent years.
Since October, Tom has had four bone marrow biopsies and multiple blood and platelet transfusions.
"I dislike any time I get poked. My arm looked like pin cushions and were black and blue. That was terrible. Then finally I got a port put in," Tom said.
He completed radiation treatment at St. Luke's and then received seven rounds of chemotherapy from October to April. With that work to get the cancer under control, it typically takes six months for multiple myeloma to begin to reappear in the body.
Tom's came back much sooner, however. May 31 was only six weeks after, representing a major relapse. By then, he was nearly entering into kidney failure, and he had to be hospitalized again.
Then June 6, the morning he was going to be put on dialysis, Tom experienced a miracle. The doctors had been monitoring his kidneys and running daily tests since he was admitted. About 10 minutes after the nurse handed him and Doris the forms to sign so he could begin on dialysis, she came back to them with unexpected news.
"She came back into the room, her eyes really wide," Doris said. "She said, 'Your kidneys are working on their own. Would you like to hold off on the dialysis?' We said, oh, yes, absolutely. His kidneys continued to get better from there. It was a miracle."
And for that miracle, Tom and Doris thank all their prayer partners who have continued to support him.
There were some other setbacks, such as a blood infection, for which he was hospitalized for five days starting June 26. After being discharged, it was up to Doris to administer the proper doses of antibiotics three times a day at home for the next 12 days.
"That was scary," Doris said. "I watched the training video about 21 times before I did it. It gave me a whole new level of respect for nurses and the level of stress they have every single day when they're caring for people."
The treatments he's received so far has made him physically weak, and that has been an ongoing challenge. It's also resulted in a lack of appetite and weight loss.
The main treatment left for Tom is a stem cell transplant.
"For that, they first harvest the healthy cells from your own body," Doris said. "They freeze those and then give you the most intense chemo, which is very hard on the body because it kills all of the bad cancerous cells, and it kills your immune system. So you have to start over again, basically. The shots you had to have when you were little, everything is gone. Then they put your healthy stem cells back in your body. That's why a lot of people start feeling better and get better because they've taken out all the bad stuff and put back in the good."
"We talked to several people who had it and it turned out pretty good for them," Tom said. "There's been a lot of success. Multiple myeloma is not curable, but you can live with it. You can function normally with ongoing medication."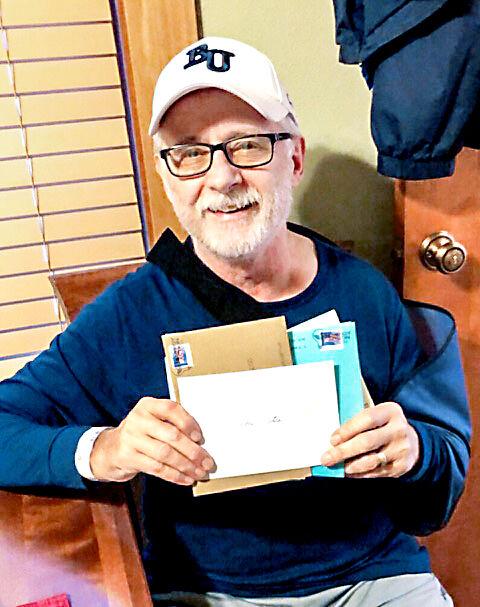 He was told he was a good candidate for this treatment and that age isn't an issue with its effectiveness, but he has had the procedure delayed a couple times now.
The first delay happened because of his myeloma relapse and the second was due to a test detecting if he had COVID in the last 90 days.
Although it would have been nice to have that over with, Tom said it's given him a chance to recoup some of his strength again. His transplant has not yet been rescheduled.
"I still have to go back and do two more days of testing," Tom said, but that still has to be scheduled as well.
"We're just waiting to hear," Doris said. "It's a waiting game a lot of times with this."
Throughout all the waiting and treatments, Tom has been thankful for the kindness and prayers, as well as the hard work and care he's received from the many doctors and nurses he's dealt with.
"I don't know how many people are praying for it, but you can feel that. All the cards people have sent and all the things people have done for us …. It's not a fun thing, but you can see good in it as you go. We're just so fortunate to live in a community that believes in Jesus and God," Tom said.
He added his thanks for his wife's presence and care.
"Without her, you wouldn't be talking to me," he said. "She put her life on hold to get me better, and she never complains. All those people combined have gotten us to where we are now."