SIOUX CENTER—Tucked away in the rivers and creeks that snake their way through the countryside or buried beneath the golden fields is a nearly forgotten history of those who have called Iowa home for untold millennia.
But sometimes, pieces of those stories resurface again, as they did for Max Wolgen, a senior at Dordt University in Sioux Center.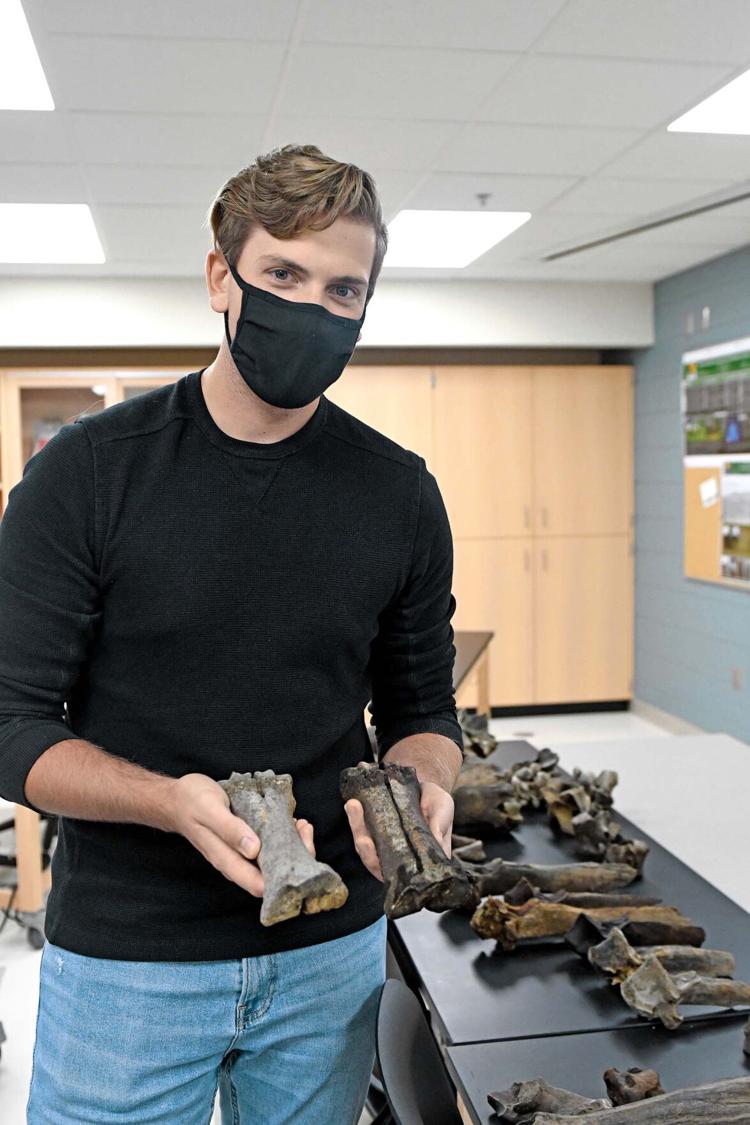 The 21-year-old Alton resident was one of the 18 or so Dordt students taking part of a water quality testing lab done as part of environmental studies professor Robb De Haan's ecology class.
The class had gone out to sample the West Branch of the Floyd River by Sandy Hollow Recreation Area three miles east of Sioux Center on Sept. 7, measuring stream flow, dissolved oxygen, water temperature, pH, nitrate, phosphate and ammonia concentrations, to name a few.
Thanks to the low water level and reduced water flow, Wolgen was able to wade further in than he otherwise would have and see into the water better than normal. As he walked along the river, Wolgen spotted part of a bone in the water, peaking out of the soil.
He didn't think much of it, disregarding it as likely a part of a cow, so off to the side it went as he continued to work on his lab. But Wolgen kept finding more bones throughout his walk, and De Haan thought a lot of his finds looked like fossils.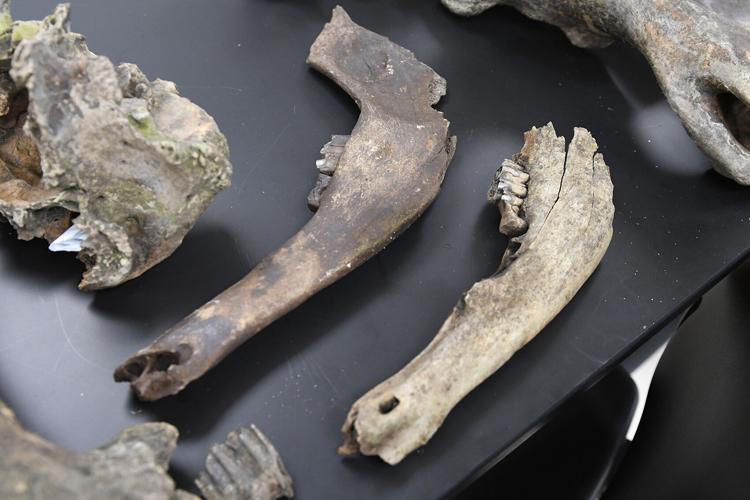 "That piqued my interest quite a bit because I've been interested in paleontology and bones and their fossilization for quite some time," Wolgen said.
The first one he had spotted was likely a bison's humerus, which is the front leg bone between the shoulder and elbow. It's a heavy piece, and it's also likely among the older pieces he recovered.
Wolgen and another classmate returned to the West Branch on Sept. 12 and 15 to explicitly search for more fossils and bones, since they didn't take any with them during the lab. After about 2½ hours of walking about a mile on each occasion, Wolgen had collected two storage totes' worth of bones.
At first, Wolgen's wife, Jade, wasn't thrilled by the idea of having so many dirty bones, but as Wolgen said, she did get over it and was interested in them, too.
He had recovered an assortment of parts in various stages of fossilization. As he said, he's no expert on determining what animal most of the bones belonged to or determining their age.
Color and weight are some of the factors that can help differentiate between bones and fossils, De Haan said. True fossilization takes several thousand years, he said, and some of Wolgen's bones could be older than that.
"This part of the state was not glaciated with the Wisconsin glaciation that went through Minnesota and central Iowa," De Haan said. "So we've got bones in these rivers that could be tens of thousands of years old."
Most of what Wolgen found are probably bison bones, which is not surprising given how long they lived in the region. As Wolgen said, some of what he found could be from 200 years ago or 8,000 years ago; it's hard for him to say.
The partial skull of a bison was among the heavier of his finds. It's the top corner of the skull, with the tip of the horn missing.
He found two jaw bones with some teeth still in place. One of them is lighter in color, hinting that its owner was walking around more recently than the other. He believes the older is from a bison but is unsure if the other is from a more recent bison or a cow.
His prize find, however, is something smaller and much more fragile: a 1-foot-long thin, pointed fossil he believes could be the tip of a woolly mammoth's tusk.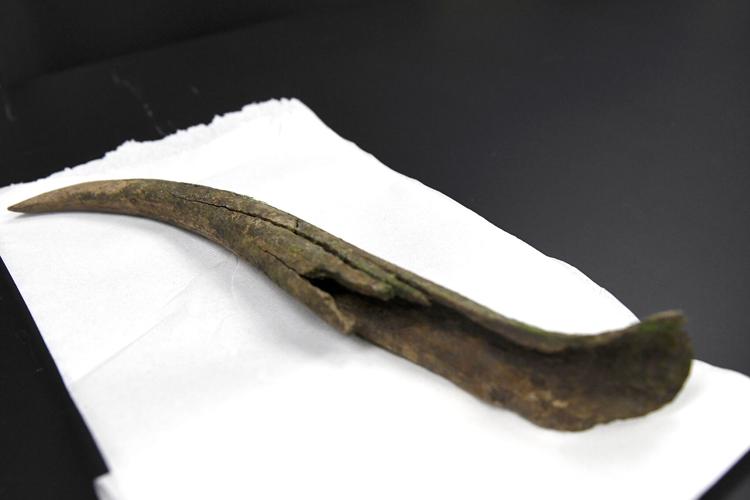 It is a rough guess, he admitted, but is the best guess he and De Haan could make.
"That is something you do not see a lot of in this part of Iowa," Wolgen said.
Mammoths are thought to have gone extinct in North America around 10,000 years ago.
Some of the finds are able to tell him a bit of a story, such as what appears to be a rather complete coyote skull. Although some of its front teeth are gone, one of its canine teeth is broken.
"It's not a fossil, but it could be 10, 15, 20 years old," he said. "It's got a tooth fragment here, and based on its appearance, you can tell this animal lived with a broken tooth."
The tooth, rather than bearing sharp break marks, appeared to have healed somewhat and been rounded off over the course of the animal's life.
"This thing probably gnawed around that for a long time before it died," Wolgen said. "I found that and thought it was an interesting find, so I kept that."
This was the first time Wolgen has found fossils, but it's a subject that's always interested him. He hopes to use these as classroom visual aids as he's working toward a major in secondary education in biology and earth science.
What really stunned Wolgen was how accessible these were. When people think of fossils, mental images of them tucked away in the rock walls of some far-off canyon wall come to mind. The sand of an Iowa creek? Not so much.
"They were just sitting on the shore, so I thought this could be something really cool, a fun project for me," Wolgen said. "It's really cool because I think a lot of people tend to think that Iowa doesn't have many cool things in it, but it all lies beneath the soil there, and when it's revealed, we can see this is a cool part of the world, geologically speaking."
He's thankful the water level was low enough and the water clear enough that he could spot so many fossils and bones.
"A lot of these were just under the surface and with it being so shallow, you could just walk along the bank and you could see little remnants of bones poking up out of the soil. That's when you get on your hands and knees and dig down and pull them out," Wolgen said. "A lot of these were submerged and you would probably not have been able to find these if the water was much higher."
These discoveries go to show the long story that N'West Iowa has to tell, De Haan said. They also act as a reminder that God has been at work in this area for a very long time.
"We sometimes think the place where we live isn't all that exciting," he said, "but it turns out there are some really interesting things around as long as you keep your eyes open and are attentive to your surroundings."