SIOUX CENTER—Sitting on the couch in her living room wasn't at all how one Sioux Center resident pictured her college graduation at the beginning of the semester.
"Getting to be part of the first Dordt University graduating class was exciting, but not getting to walk up and be handed my diploma in person the day of I'll admit I was a bit bitter about at first," said Hayley Visser, 22.
"I came to understand that Dordt made the call that they needed to make and I wouldn't want to have been in the shoes of those making that decision."
She still felt excitement sitting next to her mom as her name was read during the Livestream event Friday, May 8.
"I knew my family was going celebrate with me, it's just a bit different doing that side by side on the couch rather than in the big auditorium and getting to be in cap and gown," Visser said.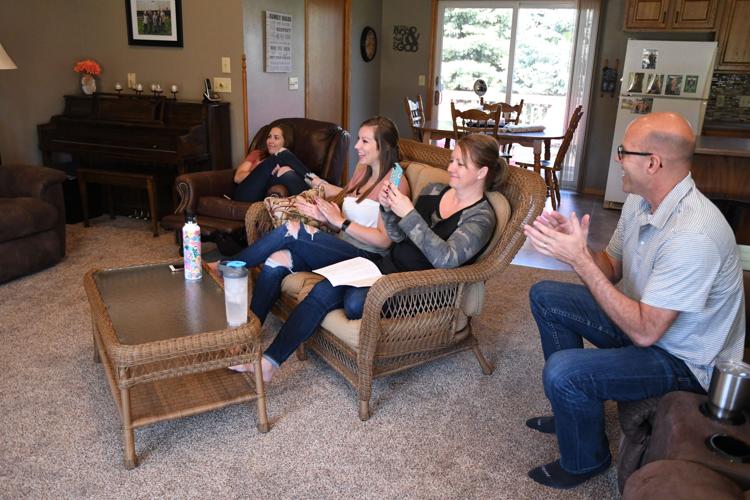 The university's goal in offering a virtual commencement on the same day graduation was originally scheduled was to provide students and families with a meaningful experience that honors students' achievements as graduates, said Brandon Huisman, Dordt's vice president of enrollment and marketing.
He noted that many seniors reaching out to Dordt in regards to its plans after the college chose in early April to hold online-only courses through the rest of semester.
"Dordt is unique in that more than 40 percent of our students come from more than 400 miles away," he said. "Many of these students are depending on their diploma to help them with their next step, whether that be employment or graduate school so for them the idea of coming back didn't make a lot of sense if it would be late summer or early fall."
Dordt's ceremony was to honor the milestone reached by 69 graduate students, 286 students earning bachelor degrees and 13 students earning associate degrees.
"We're really proud of them," Huisman said. "Some of these students are the first one in the family to graduate from college. Others come from a long line of legacy students. There are so many different stories at commencement and I think that's what we'll miss the most, not having them in person being able to gather on the campus green afterward to take photos with faculty, coaches, teams and all the roommate pictures."
Semester struggles
Wrapping up the semester, however, did come with its challenges.
"I love learning, especially learning in a classroom where students can have discussions and conversations and learn from each other, so doing homework sitting in my basement bedroom feels like I am missing out on those opportunities," said Dordt senior Anna Christians, 22. "Also, when I am busy I am often more on top of things. Finishing online means I have no other activities or responsibilities other than homework, so the fun and busyness of college hasn't existed and I have lots of time to sit and think about my homework. It's also hard not to think of all of the end-of -the-year things we are missing like a home tour choir concert, Ag Day, watching softball games, doing homework outside and graduation."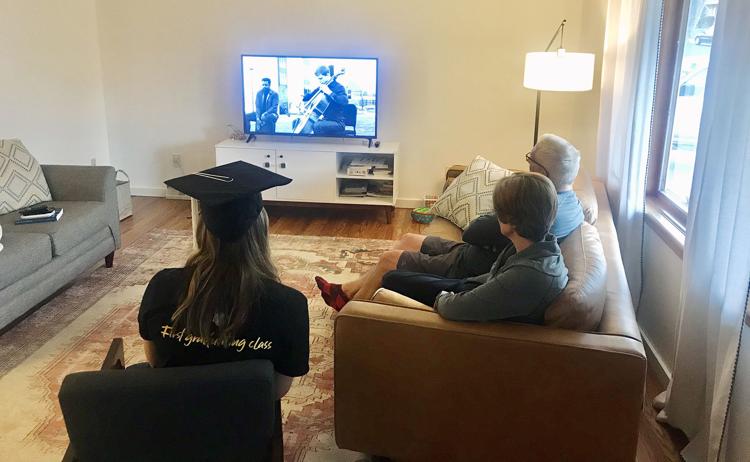 Fellow Sioux Center resident and classmate Kendra Wieringa had similar feelings.
"It was hard not to be bitter at first," the 22-year-old said. "But then I was just overcome with emotions on how thankful I was for my past four years at Dordt. The hardest part for me was just the feeling that I had the 'end of my adolescence years' just stripped away from me. I had no final and proper goodbyes to my friends and classmates, and I might not even see some of them ever again (until we move our own kids into Dordt someday). The hardest part for me is that I'll never have that pride of finishing my last class/exam/assignment ever and have my friends and classmates to celebrate with and hug."
As an elementary education major with middle school endorsement, Visser was in the middle of student teaching at Orange City Christian School when schools closed their facilities for the remainder of the year.
For the first couple of weeks during the switch to online learning, Visser helped grade the elementary student work as well as make extra videos to support learning. She was then allowed to take over teaching math to one of four grades her teacher oversees, which she did through May 6.
"All teachers might agree it's much less enjoyable because I wouldn't say the relationship isn't there but it's significantly less there than when we're face to face with the students," Visser said. "There's just something about math in general I enjoy where you can see when they get something. There's this 'ah ha' moment they have and we don't get to see that digitally. I missed the kids' day-to-day interactions and quirks too."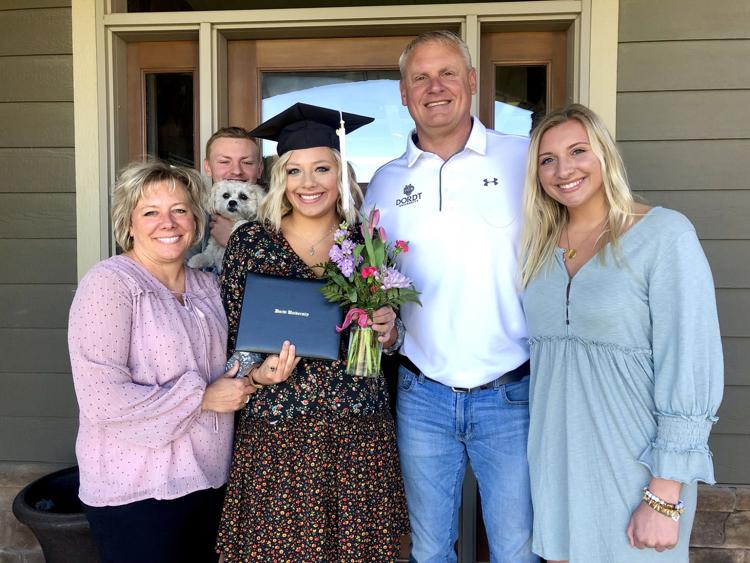 Defender Days
Beyond her virtual graduation, Visser looks forward to her planned July 10 wedding to classmate Michael Vander Waal, a move to Des Moines and returning to Sioux Center for Defender Days set for Oct. 16-17 during which Dordt has planned specific opportunities for the Class of 2020. Students will have the opportunity to reunite on campus and celebrate with the broader Defender Nation. Dordt will also recognize graduates and their parents at its annual President's Brunch the Saturday morning of Defender Days. The festivities for the Class of 2020 will culminate with a "year 0" reunion Saturday evening.
Christians, who is graduating with a degree in theology with an emphasis in biblical studies and missions and ministry, is planning to go into seminary at Western Theological Seminary in Holland, MI, next fall — but she'll put that celebration on her calendar too.
"Defender Days is the best weekend on campus all year," Christians said, "and now it'll be an extra special time for us to have a reunion with our friends and reminisce after being apart for five months."
Wieringa, who is graduating with a degree in business administration with an emphasis in marketing and human resources, will be in town for Defender Days as she will be working as a digital banking specialist/marketing with a new digital branch at American State Bank in Sioux Center.
"Faculty, staff and Defender Nation as a whole are putting a lot of thought into us seniors and genuinely care about us," Wieringa said. "They are doing everything they can to make things as special as they can for us and I appreciate that so much."
It was different not walking across the stage, she said, "but I know we still did it and will have so many amazing opportunities in the future still."