SIOUX CENTER—Music has always been a passion of Leendert van Beek's, ever since he was a young boy growing up in Ridderkerk, the Netherlands.
The 58-year-old recalled how as a boy, he'd spy the organ at his grandmother's house, and he'd play with it. It had belonged to his grandfather, an organist who had died before van Beek was born.
When he was about 8 years old, he began taking lessons from a local organist, and he'd continue to have lessons through high school with another instructor.
"I had a friend in grade school who was also interested in the organ and together we often attended recitals. Every Saturday, we would go somewhere and one of our dads would drive us and pick us up," van Beek said. "The Netherlands is a small country, relatively speaking. You could drive for a half-hour and pass 20, 30 churches, so there was always an organ recital on Saturday night somewhere. That's how I also trained my ears in music, by listening to a variety of styles."
And while most people think of organs as something for playing just hymns, the instrument has been popular in other musical periods in other contexts outside of church services.
His first organ instructor had him study the works of Johann Sebastian Bach from beginning to end. At first, he didn't care for that, but since then, he's gained a deeper appreciation for the works of Bach, who made a number of pieces to be played on organs.
The organ at his old church there was even built close to that period, in 1696. That organ, he said, required a certain style of playing.
But when van Beek moved on to university studies, he couldn't manage the time commitment that organ practice demanded, so his organ playing went on the wayside. From there, life moved on, but van Beek began to want to pick up organ playing again. And so, van Beek found another instructor in nearby Rotterdam.
One of the reasons he's enjoyed learning the organ so much is because of the variety the instrument is capable of, both in the physical differences among the individual instruments and the music made for them.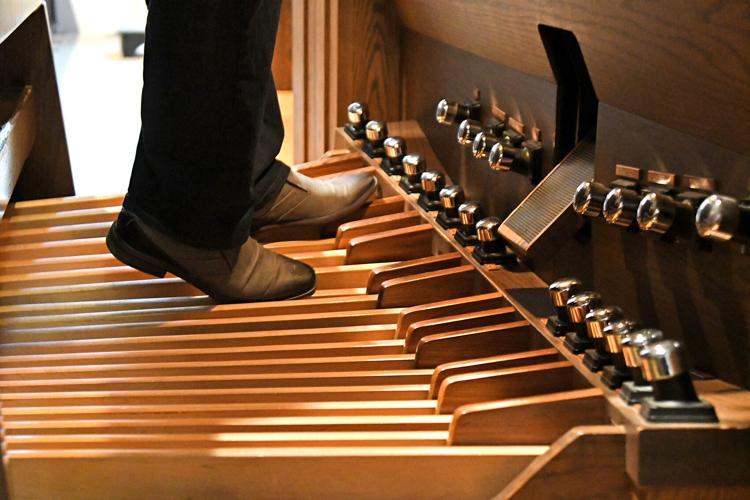 Van Beek has continued to play the organ after moving to Sioux Center in 2000 to work as a professor of language studies at Dordt University. He plays at several local churches: First Christian Reformed Church where he is a member, First Reformed Church and Bethel Christian Reformed Church.
The organ at B.J. Haan is one that he enjoys in particular.
"That one has a north German style. That's how it was built, with that in mind," van Beek said. "This organ was also built with a donor who had that idea of keeping the Dutch tradition. All the stops are in Dutch, so students who practice there have to figure that out."
One of the key things van Beek has learned through his years of experience and instruction is the importance of song selection and interpretation when playing in a church.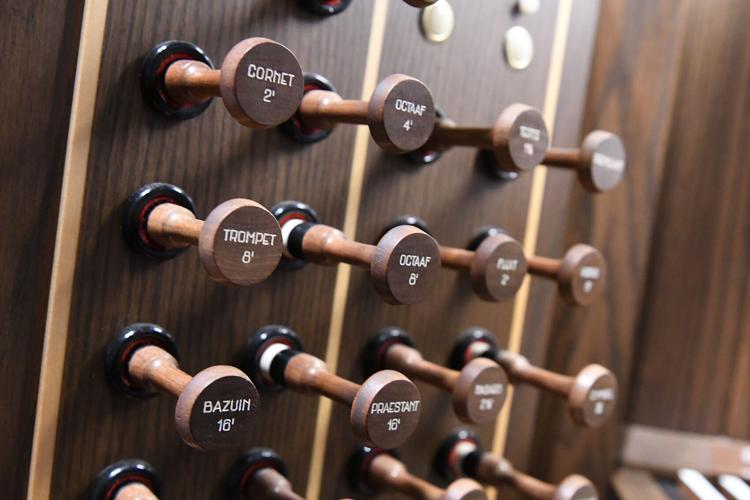 Since the organ can be such an expressive instrument, he reflects on the intended mood of the hymn or the Scriptural reading he's accompanying. If the piece is one of praise, then it might be better to play the organ a bit more exuberantly, while if it is more confessional in nature, then softer tones might be more suitable.
"You have to try to find a good, balanced combination," van Beek said.
To prepare for a church service, he'll practice for about two hours on Monday night, with additional practice runs as needed.
His playing has caught the attention of his students, too, and he has played at some of their weddings — fun venues to play at because it lets him play a different style of music.
Because of church gathering restrictions at the start of the coronavirus pandemic, van Beek started a YouTube channel at the request of some people who wanted to continue to hear his playing. The channel name is simply his own, Leendert van Beek, and has 24 different videos at the moment.
Another pastime he's enjoyed has been seeing old organs while on vacation, and there are some truly ancient ones still around in Europe. Years ago, that meant at times having to write letters requesting permission.
One of the organs he received permission to play is in Sion, Switzerland, in the Basilica of Valere. First built perhaps as early as the late 1390s and added onto in the 1400s, it's believed to be the oldest playable organ in the world.
As if the mountaintop church it's built into wasn't high enough, the organist has to play from a special balcony called a swallow's nest. Van Beek described the space as quite confined, with hardly enough room to do much page flipping. He said you couldn't have a fear of heights if you wanted to play that organ.
Of course, the organ is a demanding instrument to learn. Even in churches, organs aren't played as often as they used to, with pianos, guitars and praise bands becoming more popular. Van Beek has also heard of some churches whose organs have fallen in disrepair simply because they had no one left who knew how to play it.
In Europe, the issue of maintaining old organs is compounded by fewer people attending church. When it's a struggle just to maintain the church building itself, keeping the church's organ in good shape quickly falls down the list of priorities.
But there is still some interest from the younger generation here, it seems.
"Thankfully, I heard from Carrie Groenewold, the current organist here at Dordt, that she has a record number of organ students this year," van Beek said. "That shows there is an interest but we have to plug for it, promote it. And what better way to promote it than to play good music?"