SIOUX CENTER—Buildings old and new are coming together at Heritage Village in Sioux Center as volunteers continue to work on building a new Doc's Café and plan out other improvements.
Heritage Board member Larry Te Grotenhuis encourages the public to come see the progress at the village during Summer Celebration, June 1-3.
After 15 buildings moved between Nov. 20, 2021, to March 4, 2022, to the new Heritage Village location at Tower Fields at 701 Second Ave. SW, just one was missing.
Doc's Café, an old favorite at the former Heritage Village spot, had to be demolished back in March 2018 because the building was too far gone to repair and had begun to lean to one side, creating safety concerns. Many parts were kept, however, including the back bar, its booths and windows.
Work on building the new Doc's Café began May 2022. The idea is to have the building be a close match to the original 1940s Doc's Cafe previously located near downtown Sioux Center while providing more room and modern amenities, including handicap accessibility, heating and air conditioning.
It's a bigger building, measuring 30 feet wide and 44 feet deep, with large windows on either side of the door that sits in the middle.
Inside, there's a lot of work going on and left to do, but the goal is to have it ready for the public at the Harvest Festival on Sept. 15-16. New tin ceiling tiles have arrived and are waiting to be installed.
"It's not going to have all the smoke stains on it," joked Te Grotenhuis. "It's not going to be pure white, but it will be an off-white."
The flooring has yet to come, but the board has selected its desired 12-inch vinyl tile. Although they know the original color of the Doc's Café tiles, that particular shade of dark green is discontinued. Instead, they will go for a lighter shade that is available.
The interior walls have been primed and will be painted a beige or khaki color. Then signs from the old Doc's Café can be displayed on the walls along with other memorabilia from its past.
Te Grotenhuis said the Heritage Board would like to display items from other historical Sioux Center eateries, such as the Holland House or the Auto Dine, and anyone with items to donate are encouraged to contact someone on the Heritage Board.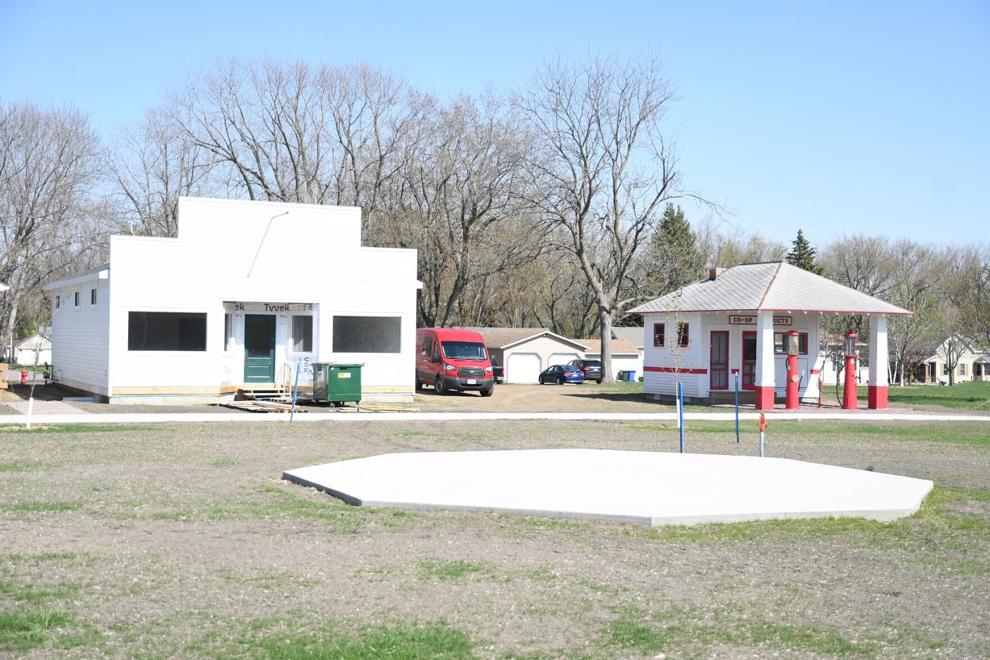 Four of Doc's original booths will line the south wall of the building. There will be room by the west window for a table for eight. On the other end, the north end, the old back bar of Doc's will be installed. There should also be enough room by its west window to fit a table for eight.
All told, Doc's should be able to comfortably fit 40 people.
From the bar, people should be able to get their fill of ice cream and taverns when it's open, with plans to have the building available to rent out for special occasions.
"We hope to be open a little more, maybe starting with one weekend a month," Te Grotenhuis said. "We'll have the buildings open for a self-guided tour, but somebody will be here and if somebody has questions or if they want to have a guided tour, we can handle that."
More groups have begun to reach out to the Heritage Board inquiring about using Heritage Village for events, including a tractor ride. Another group called to ask about using the village barn or gazebo as a place to host a bluegrass show in September.
"A lot of it is tentative, but some great things are beginning to happen," Te Grotenhuis said.
As for the gazebo, located in the middle of Heritage Village, the concrete foundation is poured. It should be done by the end of May or early June.
After the gazebo, the next big projects will be getting the De Ruyter Hardware building and the neighboring blacksmith shop enclosed.
"If you recall, the De Ruyter Hardware store downtown had a big 16-foot by 24-inch leaded glass window in two sections. That is in Minneapolis right now being refurbished," Te Grotenhuis said.
Once done, the plan is to honor the De Ruyter family and the store's longtime manager, John Van Engen, who died March 16, 2022.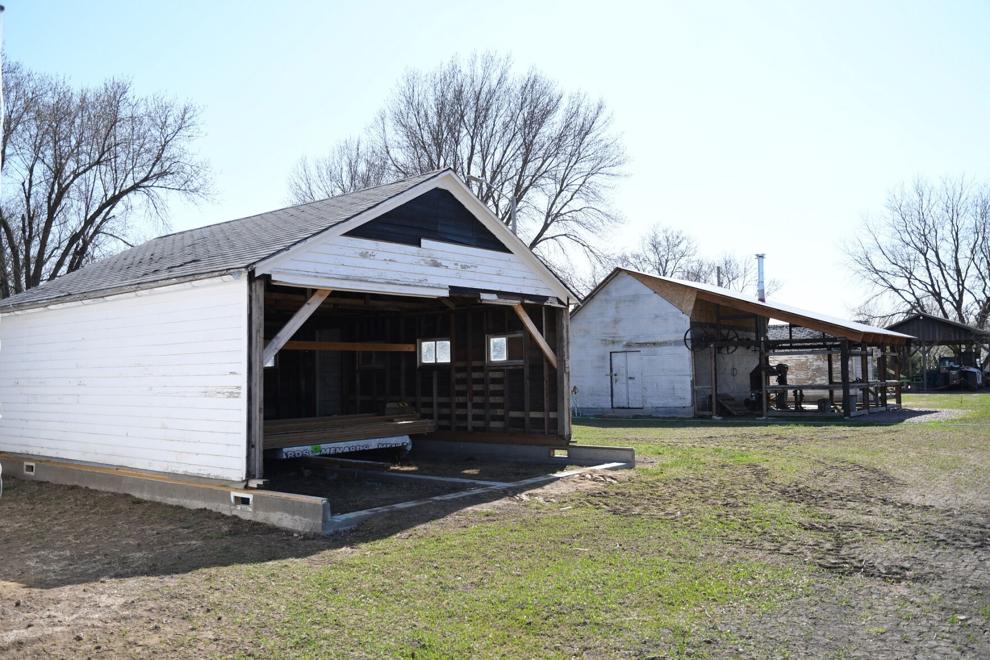 A new 60-by-100-foot machine shed will be built on the back corner of their property. On its west end. Some trees will have to be taken out as a result. The machine shed will be used to store Heritage Village artifacts that are now being stored at the former Sioux Center Municipal Airport.