SIOUX CENTER—When Kaleigh Van Middendorp gave birth to her first child March 14, the experience filled her with joy despite the physical pain she endured.
"I hadn't envisioned the 41 hours of labor, but the whole process is just what my husband and I wanted," she said of her daughter Cambrea's birth.
She credits that experience to two factors: choosing Sioux Center Health's birthing center and hiring a doula, who is someone who specializes in birth coaching.
"Every woman should have a positive birth experience," said birthing center coordinator Jennifer Van Middendorp, tearing up a bit. "I've heard so many women talk about how awful giving birth is, which makes me incredibly sad."
In her four years has birthing center coordinator, Van Middendorp's focus has been on educating her staff on how to support women and families, especially during childbirth.
The outcome is often a more natural birth.
"That should be the norm, not seeing birth as a medical procedure," she said. "The way we birth today is affecting our culture, it affects how we care for our children and the decisions we make in life. I want to fight for women to use their bodies the way they're intended to."
Choices
"My biggest push in everything we do toward that goal is to help women know they have choices. If a woman feels involved and empowered in the decisions being made before, during and after birth, the outcomes are always better," she said.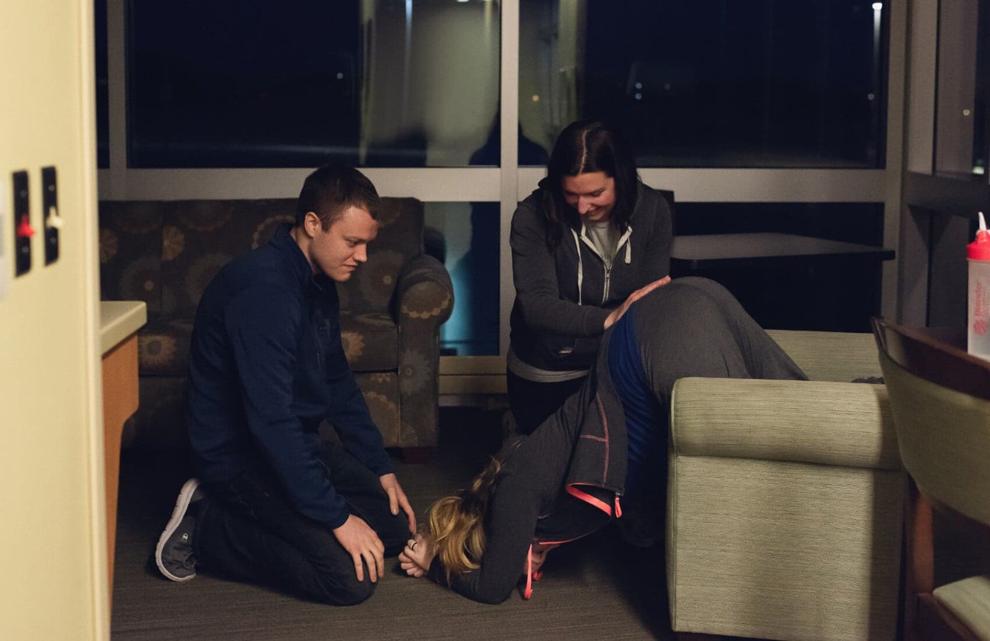 Answering every question Kaleigh and her husband, Brett, tossed their way throughout the pregnancy is one way the Hull couple felt supported. Kaleigh, a Sioux Center native, had often worked with Orange City Area Health System through her roles with Guiding Star Orange City, of which she became director about six months ago.
"Being high risk at the beginning of my pregnancy, I was aware that my original goal of a home birth might not be a possibility, so we wanted a birth center that would allow birth to be as natural as it could be," Kaleigh said. "Attending the child birth class at Sioux Center solidified our decision for us because they were so willing to answer and explain all our questions and they seemed to advocate for informed decisions, which other hospitals weren't doing. They even mentioned the idea of doulas, which made me proud."
Research has found that mothers who receive "continuous support" through labor and birth from midwives, doulas and other professionals are more likely to give birth "spontaneously" without medical intervention, less likely to use pain medications or have caesarians and more likely to have shorter labors and be satisfied with their births
There are currently three states that have passed legislation implementing third-party reimbursement for doula services through Medicaid: Indiana, Oregon and Minnesota.
Doula support
Kaleigh is a birth doula intern, having attended two births for the internship prior to her daughter Cambria's birth in March.
"I had attended three births without being a doula, which made me passionate to go through the certification," she said. "Knowing this was a hospital that supported what I was passionate about and would support me because I wanted a doula at my side really made me excited."
"Doulas are trained professionals who provide physical, emotional and educational support to mothers before, during and after childbirth," said Kari Beadner of Orange City, certified birth doula who supported Kaleigh.
The word "doula" means "servant" in Greek and suggests what they do. They "serve" a mother and do everything they can to help her achieve the birth she desires.
Beadner said doulas do not deliver babies, though they are present during births to provide support to the mother and family. In that sense, they are sometimes called birth coaches, though many also provide services after delivery.
Doulas are taught about the labor process, so they can teach their clients about it. They are taught physical techniques for reducing the pain and stress of women in labor — light massage, counterpressure and how to make adjustments in a birthing mother's position that can lessen discomfort.
"Doulas support couples to try to help them achieve the birth they desire," Beadner said.
Doula services
In two prenatal visits prior to birth, Beadner got to know Brett and Kaleigh, learned about Kaleigh's health history, discussed the parents' birth preferences and found out about their likes and dislikes as well as helped talk the couple through what to expect.
Beadner then was on call up to two weeks prior to the birth and was present during labor and delivery starting at home and then at the hospital.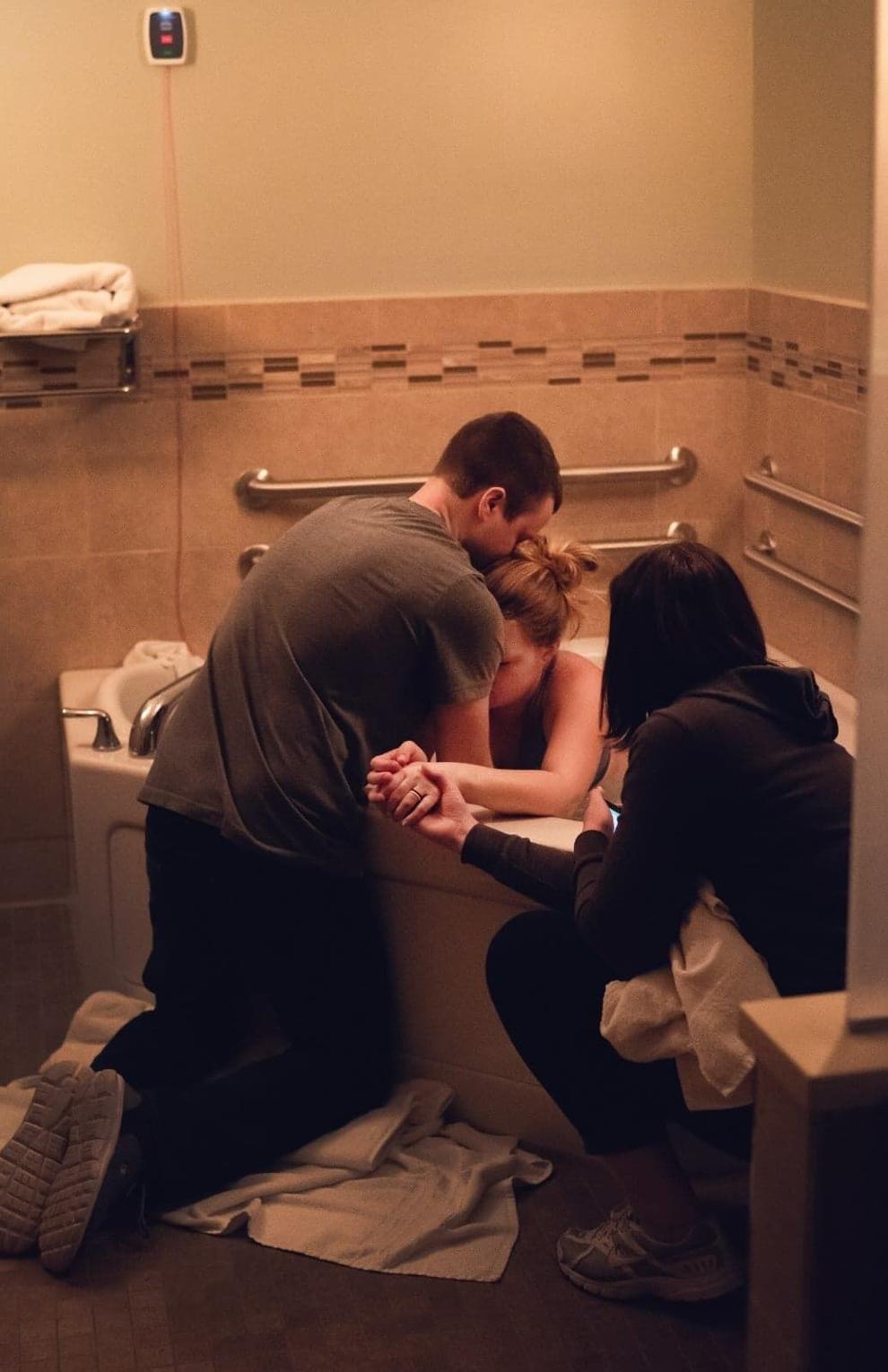 "My goal was to have natural birth, no epidural, and I don't think I could have met that without Kari present because at 38 hours I felt I was done," Kaleigh said. "The nursing staff and my doctor were so great at offering support and encouragement, but they couldn't be in the room with me always. And 41 hours is a long time. Kari's role offered that extra support needed when the pain and stress were at their peak."
"When a woman isn't supported through very tough parts, any lifesaver ring thrown her way she's going to take," Kari said. "Kaleigh had to make some choices and that's hard to do when you're exhausted and tired."
Her support was for dad, too.
"Doulas are for dads just as much as moms," Beadner said. "Women often assume their husband will coach them through labor and delivery but if you'd never played a game, how can you coach it? The doula is able to support and empower the dad to take care of his wife by giving him suggestions."
Kaleigh did receive an injection of pain medications to rest and labor down in preparation for pushing.
"I look back and don't regret our birth story," Kaleigh said. "There were hard parts, yes, but those were the natural part of the process, not hard because of all the medical aspects being put in our way. We were able to enjoy our birth, all its pain and joy."
Kaleigh's birth was one of 30 Beadner has attended — the majority of which have been in Orange City, a couple in Sioux Falls, SD, or Sioux Center and some home births — but this was the first she's attended at Sioux Center Health.
"Even I felt comfortable asking doctor questions, but I observed the doctors and nurses really respecting Kaleigh as a mom and making decisions. They were super supportive of that and letting her do what she wanted to do," Beadner said. "They're birthing center truly focuses on birth as natural, not medical."