SIOUX CENTER—Hauling several 5-gallon buckets of water to an old barn morning and evening hasn't been Matthew Bomgaars' favorite job in his years of raising hogs.
The 18-year-old rural Sioux Center youth, who will be a senior at Sioux Center High School this fall, has done so every year since the fourth grade as he prepares his swine projects for the Sioux County Youth Fair.
"You have to make sure the animals get fed and watered twice a day, which I always did before or after school and other activities, but this year it was something to do each day being at home all the time," he said. "Having 4-H projects gave us something to focus on since we didn't have school."
Matthew and sister, Josie, 14, who are members of Sioux County Pulse 4-H Club, have raised some of their hogs but also purchased some late March, never considering there might not be a county fair.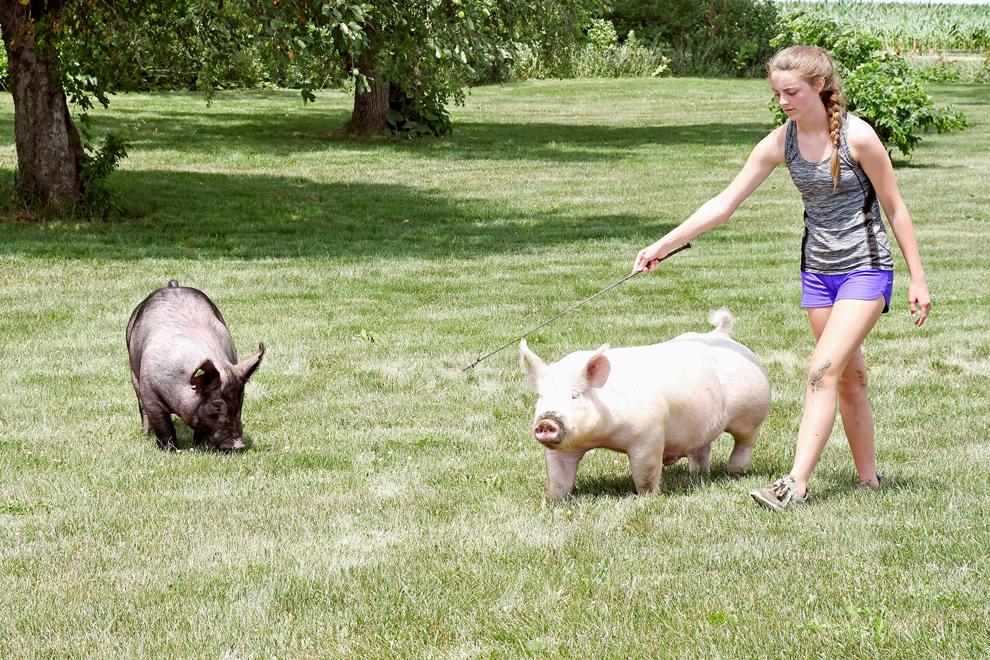 Finding out in June there would be a fair July 13-16 brought relief and excitement to the siblings.
"It was hard to know how serious the coronavirus was or how long it would last," Matthew said. "We just hoped there'd be a fair. With not having school and Josie's softball season being delayed, I think we've worked harder for it this year — been with our pigs a lot more each day than in previous years."
This year's county fair will look different, however, as the Sioux County Youth Fair Board and Iowa State University Extension and Outreach and FFA made changes to protect participants and their families from the potential spread of the coronavirus at the fairgrounds in Sioux Center.
A big note is that the general public will not be able to attend. Entertainment and activities for the general public have been canceled to reduce crowds; there will be no rodeo, greased pig competition or entertainers at the fair this year.
"It's going to be 100 percent 4-H and FFA exhibition shows or achievement shows this year," said Katie Moyer, the Sioux County 4-H youth coordinator for the Iowa State University Extension Services.
Static exhibits will be shown in a state fair style.
"That means the exhibits will be dropped off with their goal sheets which are their write-ups describing how they did it, what their goals were, what they learned and things like that," Moyer said.
Projects will then be scored the next day, and the judges will not meet face-to-face with the youths.
Livestock shows will remain face-to-face with youth and judges, but they will be done in a show-and-go style.
"The gist is that a specific animal will come in on the day of the show, get checked in and then they'll show, exhibit their animal and then leave the same day," Moyer said. "It won't be like a traditional fair where the animals all stay on the fairgrounds for the whole four to five days. Instead, they will only be coming for the show that they are in."
She added they might have to encourage families to stand farther apart along the fence and in stands, but the main idea is to give the 4-H and FFA youth as close to a normal county fair experience as possible with the existing state guidelines in place.
Those restrictions mean the Bomgaars' sibling's grandma from Dubuque won't be able to see them show at the county fair this year too.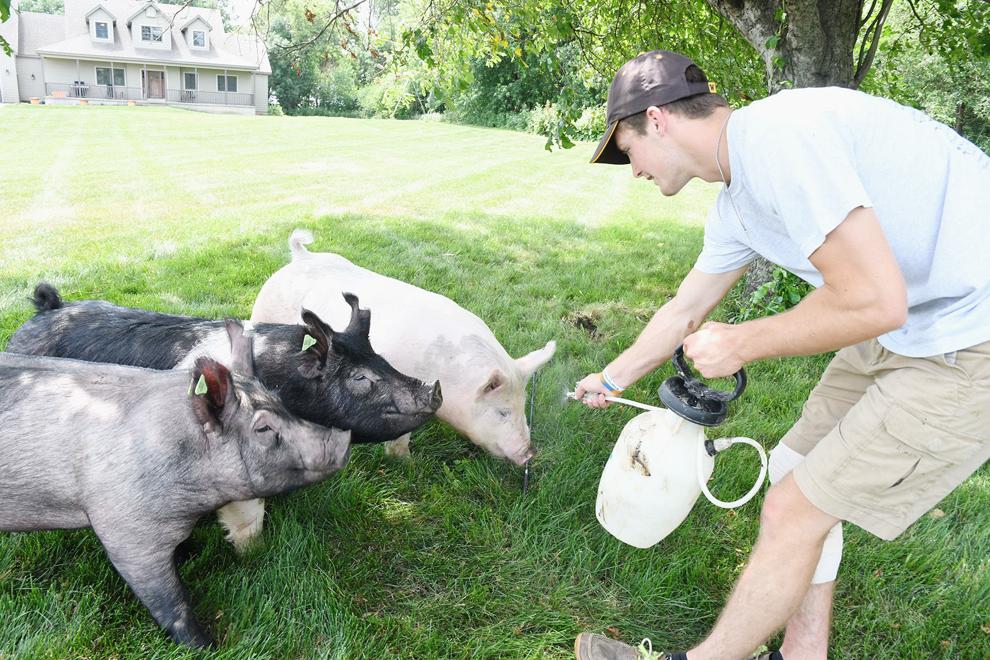 "When we see all the softball families coming to see their kids play softball but we can only have immediate family watch us show pigs, it's a bummer but it is what it is," Matthew said. "At least we get to show our pigs."
The county fair changes aren't the only ones on the calendar for the summer. While the Clay County Fair has been canceled, the siblings hope to attend the 2020 Iowa State Fair Special Edition 4-H Swine shows set for Thursday-Saturday, Aug. 20-22, but that's up in the air for Matthew as football practice might be starting then too.
It wouldn't have been his last year showing swine. Being involved in FFA — he's the president of Sioux Center High School's FFA chapter — Matthew knows he can still show swine for the next four years through FFA, "but there's something about the county fair that I didn't want to miss," he said. "It's more low key and important for all those other kids out there who have projects who might not go to these other locations."
It's also a time they get to see their friends.
"Getting to see our final product and other people's final product and hang out with people is part of the county fair," Bomgaars said. "Part of the fair experience as a 4-Her is having to get to the grounds early in the morning to care for your animals and then just hanging out at that fair. I'm going to miss that part this year."
Matthew credits his other siblings, Tommy and Kayla, for instilling within him a desire to be involved in 4-H. He doesn't get their help like they had his, but he's still thankful for what they taught him.
"I grew up helping them feed, wash and walk their pigs and watching them in the ring at the fair," he said. "What they did seemed like fun and I guess we got hooked."
He can't wait for swine show, which kicks off 7:30 a.m. Thursday, July 16 — almost exactly four months after school's announced they would close due to the coronavirus pandemic.
"It's been a strange year," Matthew said. "The fair isn't going to be the same, but it's huge that we still get something at the county level."