SIOUX CENTER—Just 10 minutes before school each Tuesday and Thursday sounds a bit different this month at Sioux Center Christian School.
Members of the school's jazz band are taking those moments to fill the hallways with music.
"The morning melodies are just one way the school is jazzing up what can be a mundane month," said Peter Kuipers.
It's also one way in which students are helping making the school's first Jazzy January a success.
Two performances by Kickin' Brass Band, a professional jazz group from Sioux Falls, SD, for the student body and a free performance for the public after school Tuesday, Jan. 7, kicked off the new focus.
Being the recipients of a $5,000 Conover Foundation Grant ultimately is what allowed music teachers Jill Friend, Kuipers and Rebecca De Vries to organize the initiative.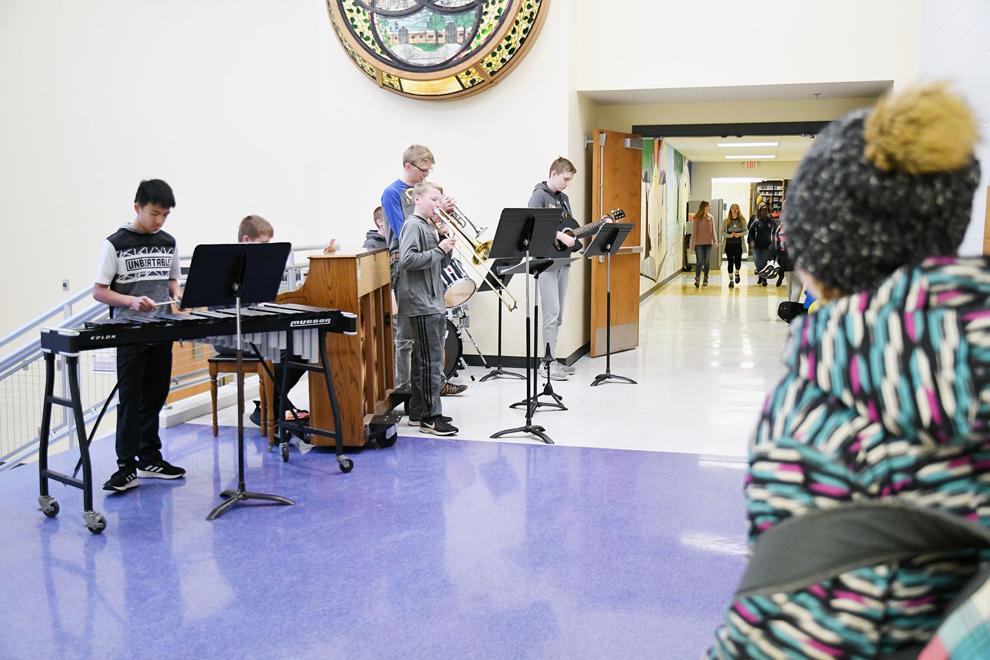 "Jazz can be a lot of fun," said Kuipers, who has done a jazz emphasis in January within his own classes before. "January can be a long month. Between that and the winter blues, having a Jazzy January seemed like something fun do to and the grant let us put a little more umph behind it, being able to do it department wide."
Kuipers himself didn't discover jazz music until he went to college and his band director encourages him to join the jazz band.
"I still wouldn't say I know a lot about jazz but I know enough to play some and know that its something more people should be exposed to, and why not at early age," he said. "Jazz is not something that you necessarily see on the street and don't hear it much if you're not looking for it. You don't run into it too much, which is a shame as jazz is an American thing.
"Now, if you don't know where to start, jazz can be a pretty intimating thing to listen to so my goal for most grades is to learn how to approach it, listen to it, hear that melody and how to improvise."
Jazz is a musical style that originated at the beginning of the 20th century in black communities in the Southern United States.
With it comes a history, rhythm and vocabulary each teacher is delving into in different ways during their general music classes. Each choir, band and orchestra ensemble is also working on jazz pieces.
Friend, who leads orchestra, said the vocabulary and teaching students to use jazz improvisation methods in their own music is a stretch of her own skills but also an enjoyable challenge.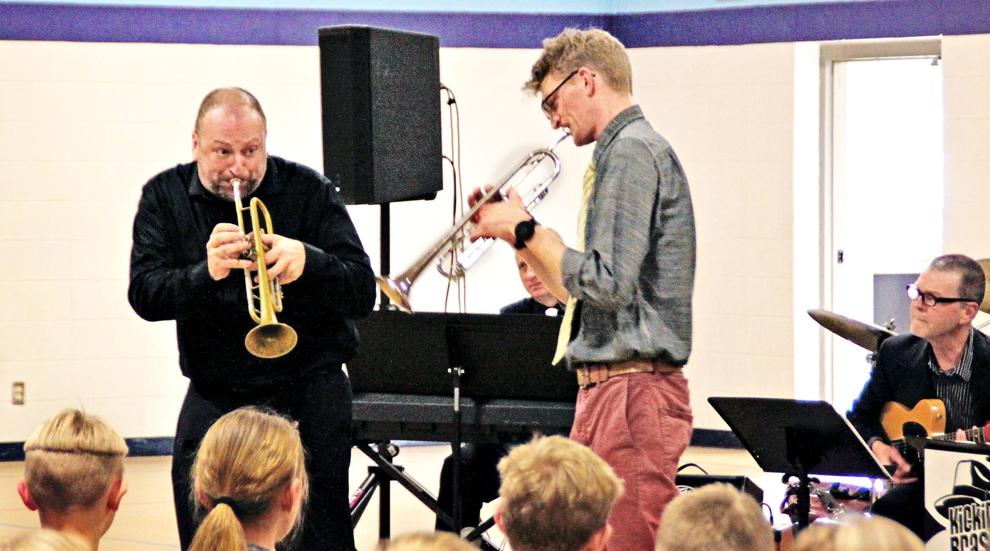 "I'll be honest, I'm not expert. It's something I've had to learn along with the kids," Friend said, noting the grant funding allowed her to purchase a method book for teaching jazz in orchestra. "Having this month-long emphasis is exciting for me because you get to certain points in your career where you don't really do new things so this is challenging me to do that."
Teaching improv can especially be hard.
"Jazz gives us a great jumping off point for teaching improvisation," Friend said. "It gives me as a teacher that incentive, some extra motivation."
Jazzy January will also include other special musical treats for the students. Sometimes it may be a person from the community invited to play in the hallways before school. On the calendar also are performances by the Dordt University's Jazz Band and Fourth Avenue Singers.
The Sioux Falls Christian High School jazz band may also stop in this month.
Families are encouraged to participate as well. The music teachers have created an "SCCS — new to jazz" list on Spotify, Google Play and YouTube. Families may listen to the song list and e-mail Kuipers noting their favorite song and they'll be entered to a drawing for a jazz CD or free digital downland.
"The purpose of the grant is to help fine arts go above and beyond what budget allows," Friend said. "It's given us the chance to dream big and think about something we couldn't do with our budget and help us jazz up January."