SIOUX CENTER—Mark Kinrade's man cave has more horsepower than most.
The walls of Kinrade's garage in Sioux Center are lined with art, advertisements, gas and automotive items along with some neon signs all work to complement the vehicles housed there: a 1967 Mercury Cougar, a 1969 Mercury Cougar, a 1977 Ford Cobra Mustang Cobra and a convertible 2018 Ford Mustang.
As fond of these kinds of cars as Kinrade is, the 65-year-old Maquoketa native made his living with Fareway for more than 48 years before retiring May 29. But before his life in the retail industry began, his first foray into employment came through his grandfather, Leonard Kinrade.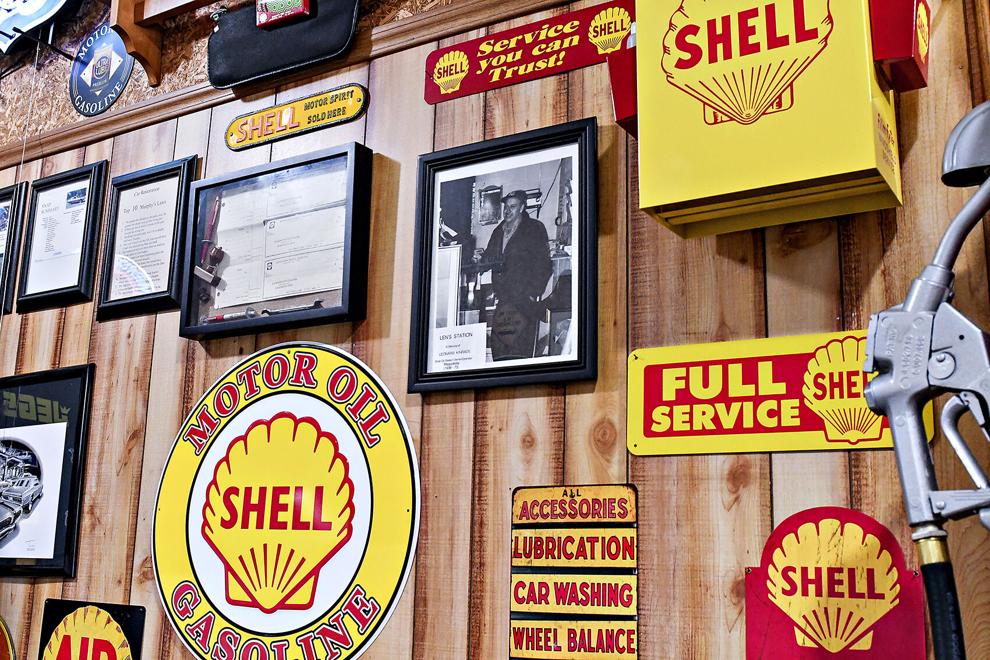 "My grandfather ran a Shell gas station; it was the family business," Kinrade said. "When I got old enough to have a job, I went to work for him and really enjoyed that. … His people skills were over the top good and he was an easy man to learn from."
Kinrade was 16 when he took that job. At that gas station, he pumped gas and tuned up cars among other duties. In addition to the perks of working with his grandfather, working with cars was definitely a draw for him.
It's because of this family connection that there are so many Shell items throughout his garage, as well as some things from his grandfather's service station that he obtained. In a nice display on the wall are some business checks, a check endorsing stamp and some pens from the business.
Like many other men in the car hobby, Kinrade began with a mission to get the same vehicle he had as his first car.
"If you've gotten rid of that first car that you really liked, it's always your dream to get one back," Kinrade said. "My first car was a 1967 Cougar, just like this one, except it was green. I always wanted to get another one back, so I did."
In 1998, he found it at Sioux Rapids through a classifieds listing in the Des Moines Register.
"It naturally wasn't in anywhere near this shape," Kinrade said.
Kinrade's work on his 1967 Cougar spurred his father, Jim, to get into the hobby himself. Together, they worked on a white 1969 Cougar that his father bought. It's now kept at Kinrade's garage.
"He was going to sell that one to do another project, and I didn't want to see it leave the family, so I bought it," he said.
Now at 86 years old, Jim still keeps busy with car projects.
"He's got a '55 Plymouth that he rebuilt in the last 10 years, and that's a pretty sharp car. He's got some buddies and one can do interior work, one can paint, one can do mechanic work, so it's worked good for him," Kinrade said.
At first, Kinrade thought it looked like too much work for his father, but as Jim told him, "All I've got is time." And he did indeed get it done.
Working with family and friends on projects is a big component of this hobby, Kinrade said, and it's moving on to the next generation through his son, Kirk. Together, they've worked on a white 1977 Ford Mustang Cobra II that will one day be Kirk's.
"It's into the fourth generation, I guess," Kinrade said.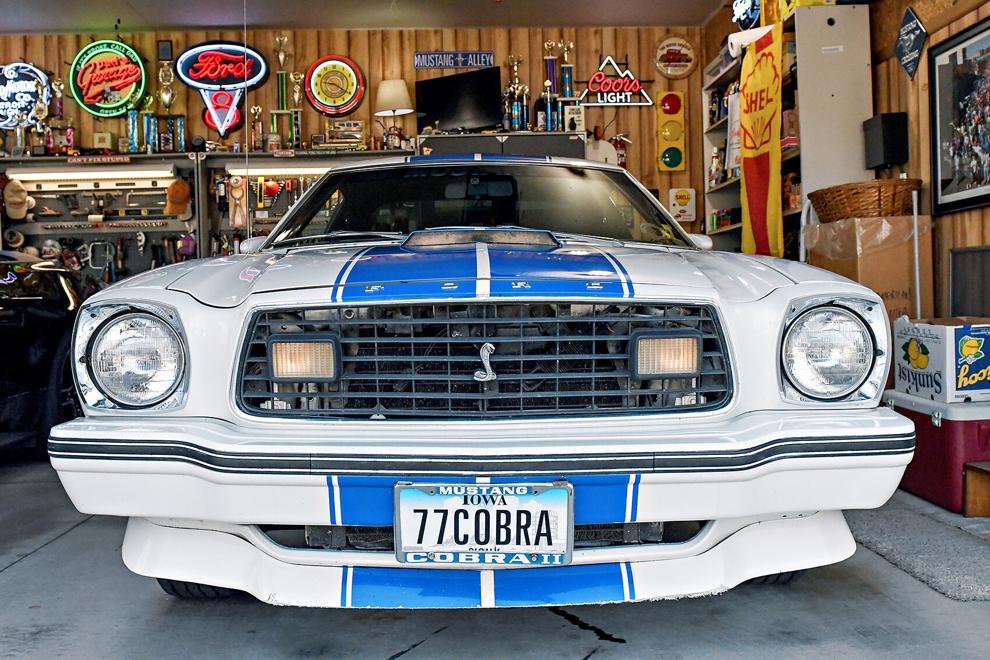 The idea to get a Cobra came after walking through the Sioux Falls All Ford Car Show one year with Kirk.
"He really gravitated toward one of these, so we hunted until we found one," Kinrade said.
As a young man, he had a Ford Cobra, a black one with gold stripes.
Although Kinrade is able to do some work on cars himself, there are limits to what kind of work he's willing to do himself.
"As long as it's nothing major; an engine rebuild, I'm not doing anything like that. Minor stuff. I've got a good friend with a lift hoist in his shop. When we've gotten to the point where you have to work underneath one, I'll go over there and have him work with me, which is really nice," he said.
At the moment, he's working on a 1983 Dodge Rampage.
"It's got some work to be done on it," he said. "Mechanically, it's pretty sound now, but it needs some paintwork."
Although he used to do more car shows, that's not something he does much anymore. Family life gets busier and so priorities change, but it remains a yearly tradition for him to attend the Sturgis Mustang Rally.
In addition to cars, he's acquired enough signs, ads and memorabilia through the years to nicely decorate his garage. Family and friends have helped contribute to his collection through gifts.
"You just look for some of these old signs to get started with," Kinrade said. "Then there are a couple guys who do some pencil art, and now I got some of that hanging on the wall and some old advertisements for '67 Cougars, when they first brought the car out."