MAURICE—A Sioux Center native is soaring to new heights. 
Dennis Muilenburg, who became president and chief executive officer of The Boeing Company July 1, 2015, returned to his native county last Wednesday to be the keynote speaker at the Sioux County Regional Airport grand opening ceremony.
"It's great to be back here and it's an honor to join you for this event," Muilenburg said.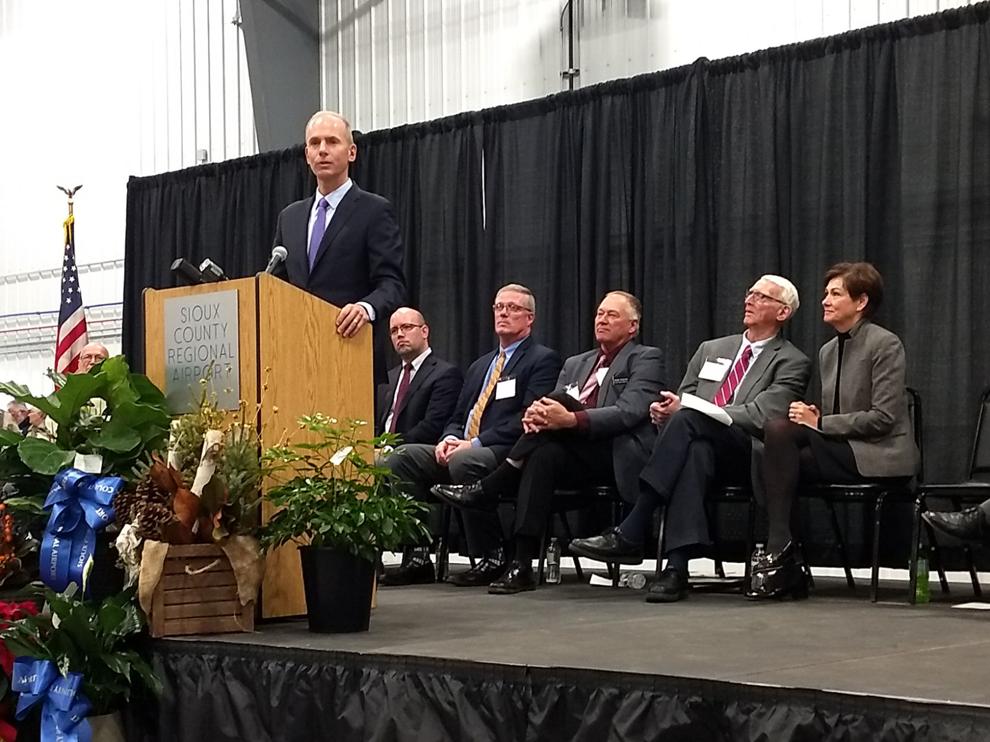 The 1982 Sioux Center High School graduate oversees the strategic direction of the world's largest aerospace company and top U.S. exporter, with more than 165,000 employees across the United States and in more than 65 countries.
Muilenburg is the first Iowa native to reach the position of CEO of the Chicago-based, $90.8 billion aerospace company, which is the leading manufacturer of commercial airplanes, military aircraft and defense, space and security systems.
It also supports airlines and U.S. and allied government customers in more than 150 nations.
"Boeing is the largest builder of commercial airplanes in the world," Muilenburg said. "We'll build more than 800 large commercial aircraft this year, which is an all-time record. Today around the world about 12,000 Boeing airplanes are in the air serving costumers world wide."
More than 2 billion people flew on Boeing airlines last year. 
The company also had a defense military business based in St. Louis, which builds fighter aircraft, tankers, rockets and space craft. 
"We have more satellites in orbit than any other company," Muilenburg said. "We're also in the process of building a rocket that's going to take humans to Mars."
That project is called the Space Launch System and is in partnership with NASA. 
"The rocket is about 38 stories tall, has a thrust that's 50 percent greater than the Saturn 5 rocket that took the Apollo astronauts to the moon," he said. "We have the first test launch of that next year. It's the rocket that will take the U.S. back to the moon to set a permanent base on the moon."
That, Muilenburg said, will be the launch point to go to Mars.
"The first person that's going to set foot on Mars is going to get there on this Boeing made rocket," Muilenburg said. "That's the kind of thing we do. To do that we need great people and great talent around the world. I'm proud of my connection, my roots here."
Muilenburg said Boeing has 35 companies in its supply chain based in Iowa, one of which is AIM Aerospace – Quatro Operations in Orange City. The company builds advanced composite material for commercial airplanes including the 787 Dreamliner, Boeing's most advanced twin engine commercial airplane. 
"We're working on a new, even larger twin engine plane call the 777 X and AIM is building parts for that," Muilenburg said. "Flight tests are next year with the goal to enter service in 2020."
Muilenburg is proud to work for Boeing company.
"But my roots are in being an Iowan," he said, noting after high school he pursued an engineering degree from Iowa State University. "When I was junior at Iowa State, I got a call from Boeing to do a summer internship in Seattle. I loaded up my 1982 Monte Carlo and drove out there. It was the first time I saw the Rocky Mountains and the first time I saw the ocean when I got to Seattle."
He earned a full-time job offer from Boeing upon his college graduation.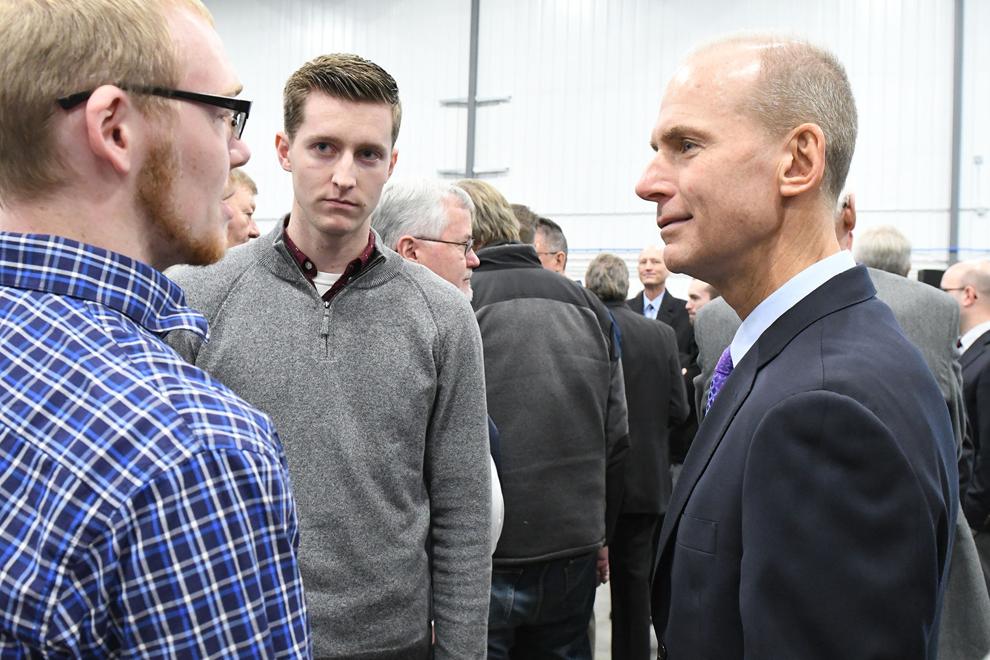 "I still remember my dad, who is no longer with us, encouraging us kids to follow our dreams," Muilenburg said. "I can still remember when I started working for Boeing as an engineering intern, dad would ask what I was doing. When I'd say engineering, designing and testing airplanes, that was different from farm work, but he seemed to understand.
"As I got to more management and executive positions, the nature of my job changed," Muilenburg continued. "Dad would still ask questions, but I can remember his saying, 'So what do you actually do?' He always reminded me to stay grounded and connected to the values we have. That's really what it's about. I grew up learning the value of integrity, hard work, community, partnership. No matter where you are in the world, those values can apply." 
Muilenburg still treasures those values in his CEO role.
"It got me to where I am today, " he said.