SIOUX CENTER—One family with Sioux Center roots hopes a piece of art reflects to other generations raised here the appreciation they have for the community.
Lorilynn Spronk of Raleigh, NC, formerly of Sioux Center, alongside her parents Willis and Jo Alberda of Sioux Center, spoke about the sculpture "The Birds" in Children's Park during a dedication ceremony Monday morning, July 27.
Sister and daughter Leila Viss, 55, of Centennial, CO, was present via FaceTime to witness the presentation.
Spronk presented to Mayor David Krahling a piece of paper bearing the words that will be on a plaque that soon will be placed next to the art: "'The Birds' with gratitude to the Sioux Center Community from the Alberda family, Willis, JoAnn, Lorilynn, Leila, and from our sculptor, William Leib."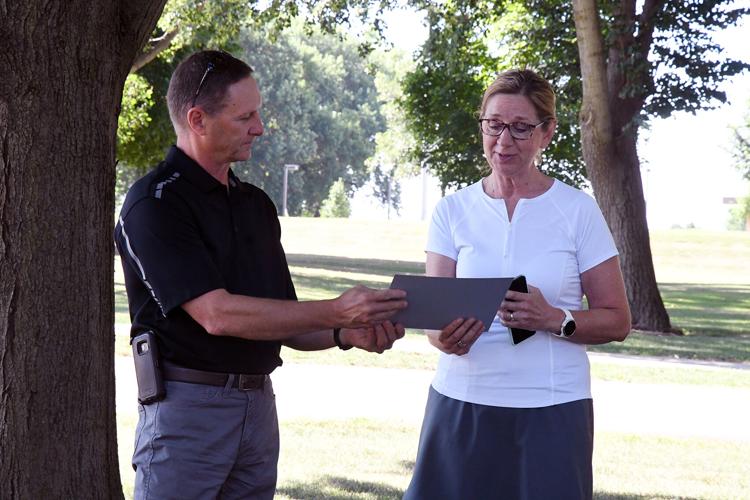 Willis Alberda said the family first came to Sioux Center from Manhattan, MT, in 1964, when Spronk was 3 years old. A year later Viss joined the family. Alberda was a member of the Sioux Center City Council for nearly three decades, and both he and his wife worked at Dordt.
"Those first 10 years we lived here, we'd always drive to Montana during Christmastime because that was home to my wife and I," Willis said. "About that 10th year, the girls said why can't we stay home for Christmas. That changed our plans."
Though Spronk said she's now lived in Raleigh for nearly 30 years after she graduated college, Sioux Center will always have a piece of her heart.
"Sioux Center will always be a home for us. I think so proudly of this community, of all that it is and was to us as children," she said. "We went to the Christian school here and local Christian high schools and then to Dordt. These were our formative years. We are who we are today because of where we grew up."
The sisters purchased the sculpture pieces to show their thankfulness to the community.
"I'm delighted you've chosen to honor the city and your time here with something the city and the entire public can enjoy," Krahling said. "Community can mean a lot of different things to a lot of different people at a lot of different times in there life so for a community like Sioux Center to be able to be what it was for you and to replicate that again and again and again is a pretty special thing."
Krahling appreciated the family adding more art to the community.
"Today hearing about how this community that gave you roots and wings to fly, that we can continue to do that for lots of people, for me the sculpture captures something very eloquent for many," he said.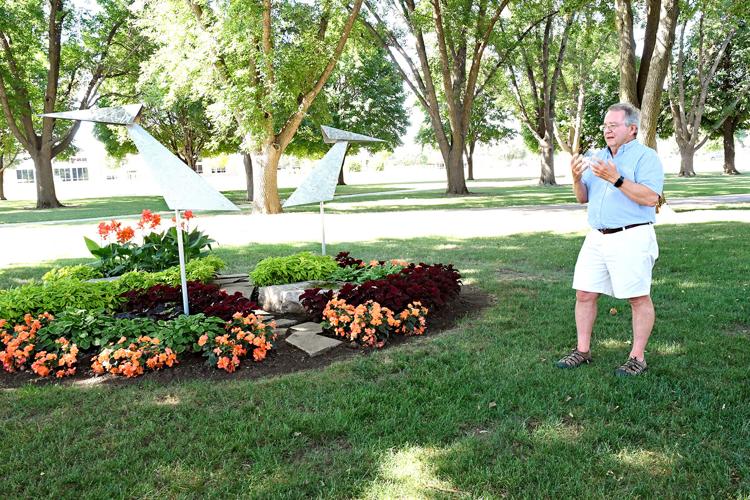 Artist William Lieb of Spirit Lake, who is a retired architect, said at the dedication ceremony Monday that he designed almost 6-foot aluminum bird sculptures to replicate the regal movements of a blue heron he observed outside his lake home about four years ago. He created four bird sculptures total after creating two smaller scale models. Two reside in Children's Park while the other two remain outside his home.
"Seeing these pieces here in the park setting is so fitting," he said. "This is something children of a Sioux Center family are giving to a community in a place where children can see it for generations to come."