This past week we received a personal invitation from an out-of-town church to attend their soup and pie supper.
The invitation surprised and tickled me. The card was not signed but it was from a member at Central Reformed Church in Sioux Center.
Included in the invitation was "what you might find:"
1. Pea soup made with pork hocks.
2. Vinegar upon request.
3. Real pie crusts.
4. "Mom's" recipe chili and taverns.
(Signed) Hope to See You!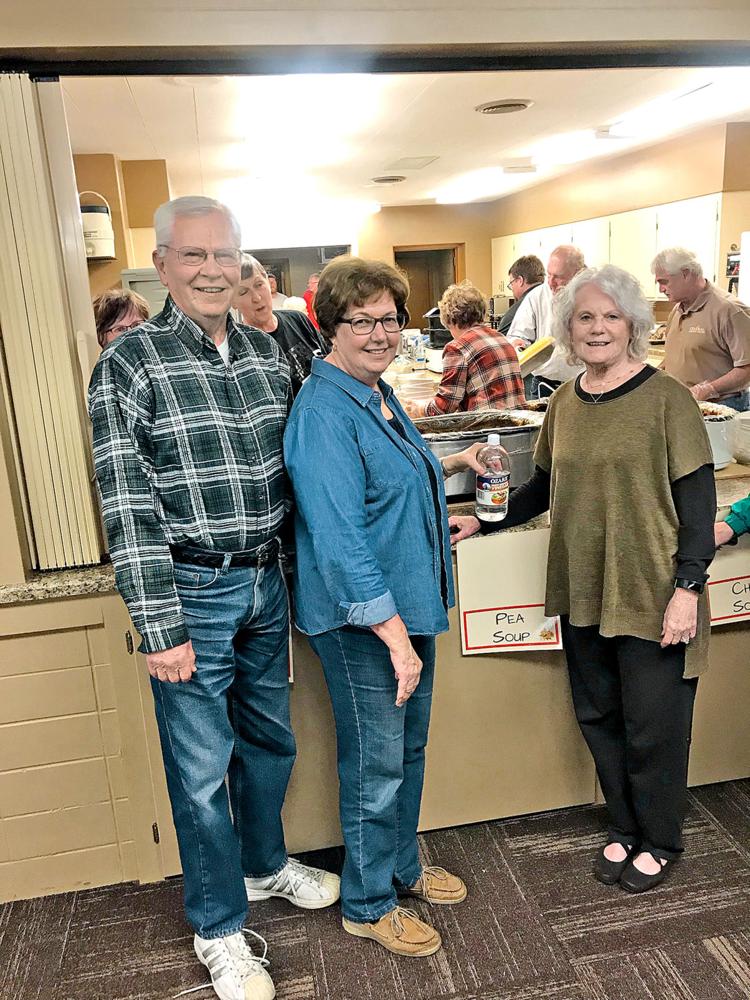 Peter and I never thought twice whether we were going or not. Of course, we were going! A friendly invitation and a list of favorite food; the temptation was there in black and white.
It's a rather long drive for a soup and pie supper when there was one being held right here in Sibley that same evening. The Sibley supper was, as usual, at the Christian Reformed Church. That congregation, as with many churches throughout N'West Iowa, has dwindled in size over the years with many members getting past the age of working a busy election night church supper.
Consequently, members of the church have recently partnered with ATLAS of Osceola County to supply workers. The ATLAS entourage also provides some of the food, most likely an array of pies and desserts; a real win-win for everyone including the community.
After nearly an hour Tuesday night we were finally driving into a filled parking lot located immediately next to the Sioux Center Co-op station. Central Reformed Church sits on somewhat of an island with the street on one side and the other three sides are filled with businesses. It made for somewhat cramped parking, but as Peter said, the location was probably a plus on Sunday mornings — ample parking spots.
We easily found our way into the church dining room, but that's where the "easy" was over. The line for picking up the food was a little confusing as we happened to enter the same time when there was no one in front of us to follow, but plenty of people behind us. Finally, as I was cautiously working our way toward the far end of the dining room I stopped a worker and asked where to go next and he quickly had us on our way again.
The first choice of food in the line was chunky hot chicken on a wonderfully soft, squishy bun. Probably from Casey's was Peter's guess! Next was what they called taverns. However, we former South Dakotans would call those sandwiches sloppy Joes or barbecues. Very good they were, I might add.
Then came the lineup of soups: vegetable beef, "Mom's" chili, split pea with a handy bottle of vinegar to the side to spice up the soup and then lastly, chicken noodle soup. They all appeared to be homemade.
Then came the drinks and pies! If you chose a fruit pie, you were offered a scoop of vanilla ice cream to deliciously top it off! Peter had what I'd call Dutch apple pie and I had one of my favorites — raisin cream.
The dining hall was a packed with people visiting and it was difficult to talk with someone even just across the table.
But it was fun meeting new people and making new friends.
We snapped a picture of the couple that invited us: Bill and Dixie Roelofs. It was Bill who had read my recent column about soup and pie suppers and convinced Dixie to send us an invitation.
I admit it was an exceptionally good supper with a differing menu than we usually have. I'm not a big fan of pea soup, but I did snitch a spoonful from Peter's bowl and admitted it was good, very good. The ham hocks were a flavorful addition to what sometimes can be a pretty bland soup.
Peter and I left our Sioux Center soup and pie supper very full and very satisfied!
Sorry that a few of you missed out this year, but there is always next year.
God is good.
---
Connie Wagner lives in Sibley. She is the co-founder of The N'West Iowa REVIEW and may be reached at cwagner@iowainformation.com.