Crafting wood carvings in the Iowa Great Lakes
Everything wooden in the home of Doug and Judy Duus came from the same place.
Any piece of wood furniture, the cabinets, the doors, even the cowboy characters carved from blocks of bass wood. They've all been crafted by the hands of Doug Duus himself.
Doug, 72, is originally from Tyler, MN, but has lived in the Iowa Great Lakes for more than 50 years. When he wasn't building furniture for his home, or the two houses he built himself as well, Duus spent 42 years working for Alliant Energy before retiring about 11 years ago.
While he did take wood working in high school, Duus said he was more into welding at that point. His brother was into carpentry and wood working, which provided a starting point for Doug though he mostly taught himself when it came to carving.
"I started with the furniture way back in '67 when I built a little toy box for the kids out of plywood and that turned out pretty good, so I just kept advancing from there," Doug said. "Everything you see in here that's wood I built. You can only build so much of that, so I started getting into carving for something to do and it's cheaper than building furniture, too."
It was in 1997 that Doug turned his attention to wood carvings. That first piece was a small mouse carved out of walnut.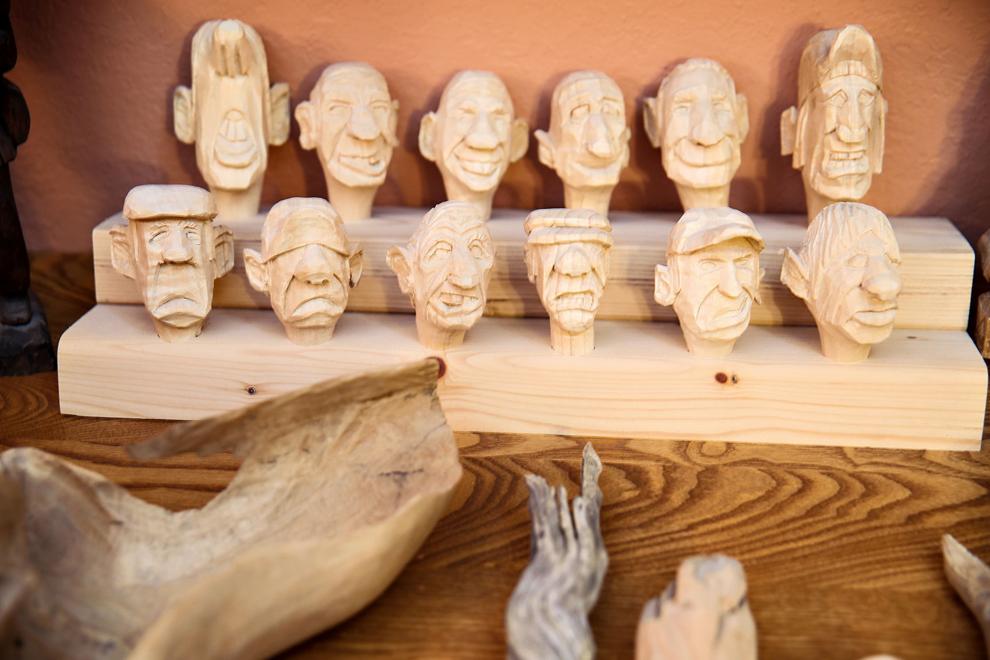 "That's probably the hardest one I could've started out with," Doug said. "I use bass wood the most - a lot of butternut too - it's a nice carving wood. Some of the wood is from trees I've taken down myself. There are bass wood trees here but not very good ones. The good bass wood is from Wisconsin and it's harder, nicer, crisper carving wood. All furniture I've made has all been trees I've taken down — ash trees — I used to make everything out of walnut and that was all trees I'd taken down."
Now hundreds of figures depicting Western and cowboy scenes, as well as Disney characters and traditional English love spoons adorn a guest room in the house as well as the workshop out back. Upon a closer look that pair of gloves or that pair of sandals on the floor are actually made of wood as well.
There is even a replica of the family dog resting by the fireplace.
The workshop itself is another thing Doug built. The Duus's built their current home in 1982 and in 2005 Doug decided he needed a place for his expanding hobby. What better place than amongst the trees in his own backyard? Thus it came to be that the workshop is also a treehouse extended out from the back deck.
"That's the best thing I ever did — it's my man cave. Especially in the winter it's nice to sit out there," Doug said.
They also spend winters in Arizona and Texas where Doug said he spends even more time carving.
"In winter I carve sometimes almost all day or sometimes just a couple hours," Doug said. "As far as how long one piece takes — it depends on how complicated it is. One that took really long is a horse with a cowboy on it jumping over a bull. All I had was a really fuzzy picture of it blown up to size and had to guess how the rest went."
Doug gets his inspiration for carvings from many places. Pictures from magazines get enlarged to scale. Western cartoon books. A souvenir from Alaska.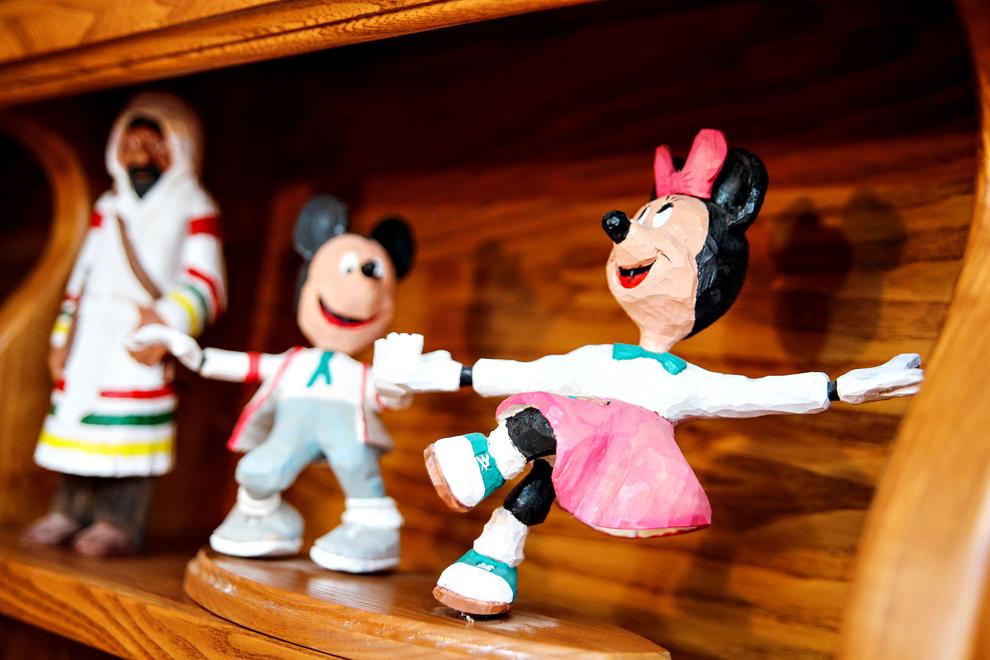 Judy's needle point pillow featuring Mickey and Minnie became a 3-D wood carving. It also involved getting into character so to speak as Doug had to assume the positions of the famous Disney characters to get the carving just right.
"That was a complicated one to make. I thought it would be a fun one to carve and to figure out how the legs would go I had to stand there like that myself and figure out how to carve it," Doug said. "I wished I was a good artist and could draw, then carve ideas from my own mind, but I'm not."
Wherever the ideas come from, Doug enjoys the process of completing new carvings.
And the treehouse workshop also doubles as a show room. Doug explained he'll soon have to expand the space.
The spoons take up a good portion of one wall, along with multiple shelves supporting numerous wooden Western figures.
"Everybody thinks I should paint all them spoons, and .sometimes I do. Sometimes I like them plain. Over in England they used to give a spoon instead of an engagement ring," Doug said. "I love carving those — they're so small and detailed they take awhile — they are one of the more fun things to carve because there are so many different kinds."
The tools Doug uses range from knives and gouges to band saws.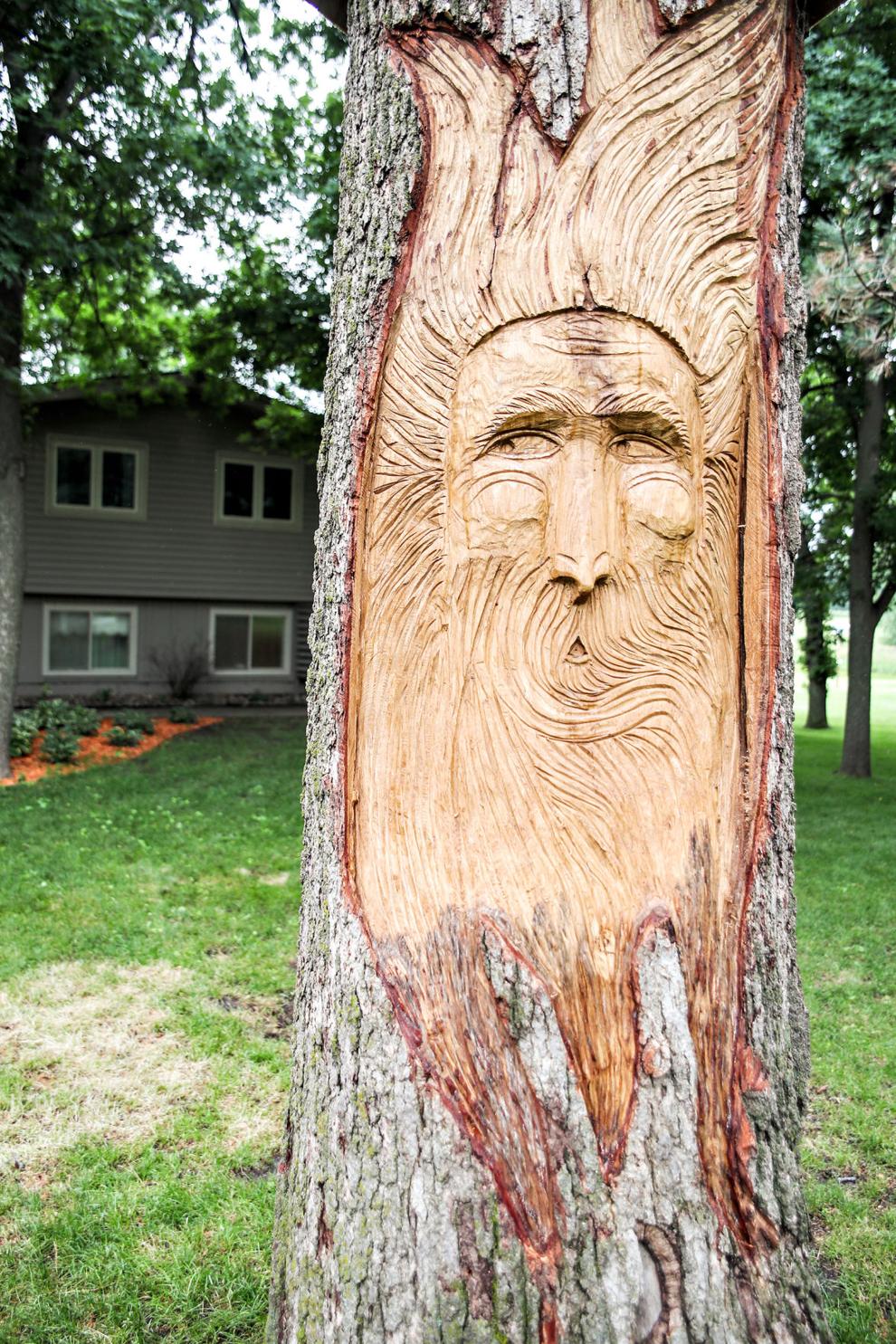 "After you get into carving you kind of just know what you need to do different things. You just grab the right tool you know is going to do the job. I usually saw them out as close as you can so I don't have to carve so much," Doug said.
On his newest project he's also had to break out a chain saw.
A dead tree needed to come down and Doug took the opportunity to try his hand at tree carving.
"It had to go anyway so before I did that I did a relief carving on there. I decided if the carving didn't turn out I could always just saw it off at the ground," Doug said. "It's the first one I've ever done. It's been kind of fun."
Since it did in fact turn out well, the next step is capping it off with a roof and shingles, and probably another relief carving on the house side of the tree.
Then it will be on to the next project as Doug continues to whittle away at his wood shop amongst the trees. 