Abbotts decorate home floor to ceiling for Halloween
Bernard the Butler greets guests with a ghoulish glare.
That's if they've made it past the skeleton swinging from the archway and the graveyard out front. Then of course there's Wanda the Witch looking to snare folks unawares in a giant spider web by the front door.
And if she doesn't there's always her fellow sorceress, Hagatha, just inside cackling and letting people know, "I never thought I would see you venture into this neck of the woods. Lucky me!"
Meanwhile Mr. Bones oversees it all from his perch on the mantel over the fireplace.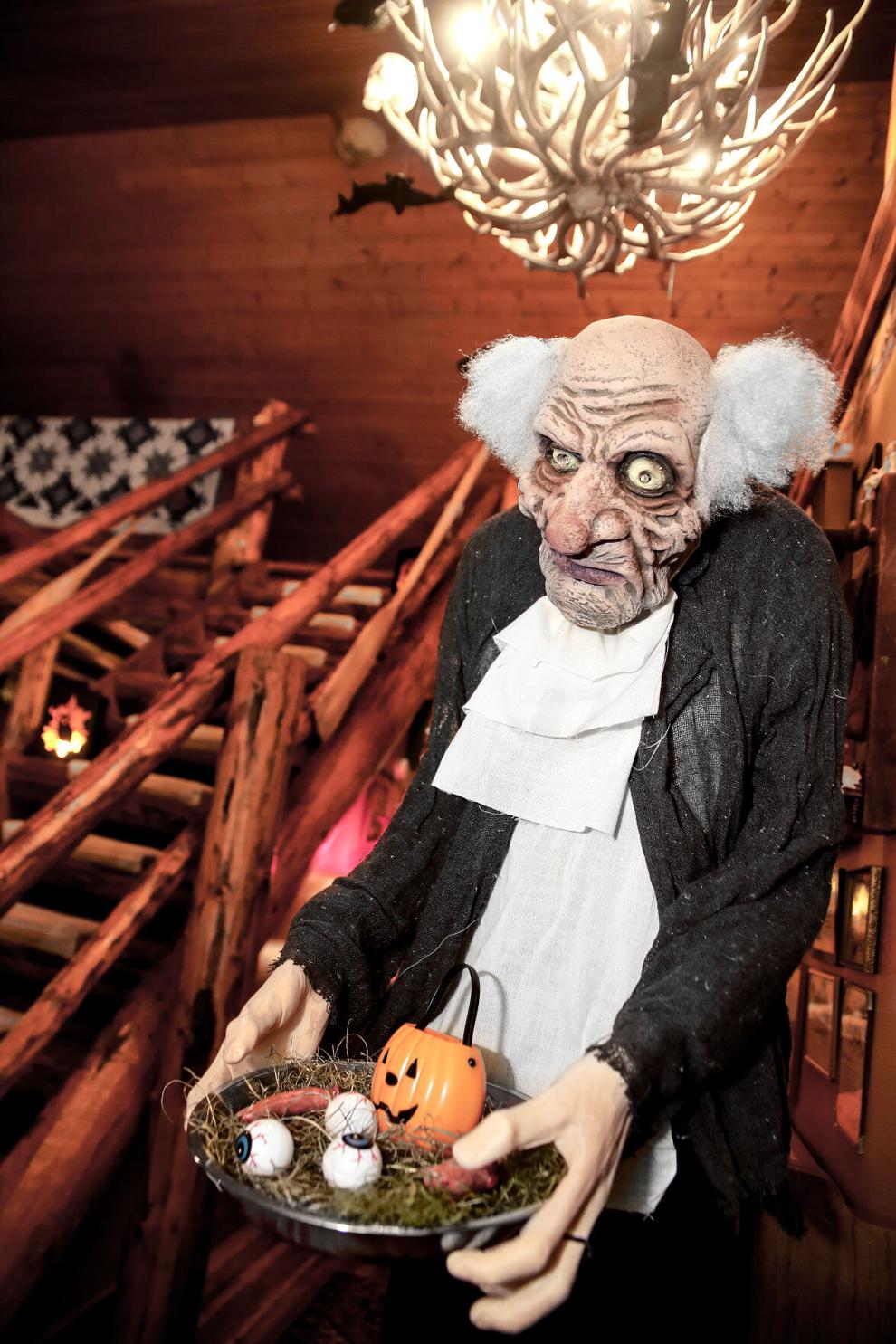 Welcome to the home of Steve and Mary Abbott during the spooky season of Halloween.
It's a transformation that gets underway in September when Mary starts unpacking all the decorations she's accumulated over the years — and the decorating process doesn't exactly stop until the middle of winter when the final Christmas ornaments are packed away.
"Usually I start getting just a few fall things out around the first of September then it gradually grows until by the end of the month it's all out," Mary said. "We don't have much Thanksgiving stuff — some pilgrims and a cornucopia — so it pretty much goes straight from Halloween to Christmas decorations."
But before jolly old St. Nick can make an appearance, it's Mr. Bones and friends who get their time to shine.
"I usually do the mantel first and the animatronics come last," Mary said. "So many things are battery-operated now so they're all on timers which is nice because you can set them up to come on at the same time every night."
Perhaps more importantly they also then turn off automatically at a certain time, otherwise the Abbotts and any guests would likely wake to the cackling of Hagatha and her crow companion.
"They're motion activated so we don't always have everything turned on because it's a chain reaction — once one starts they all go — and the crow here he's the instigator," Mary said. "We used to leave them on, but then he'd be crowing in the middle of the night."
The dining table is set up buffet-style rather than for a sit-down meal, but if the dishes are composed from the ingredients over at the apothecary table, guests may get queasy.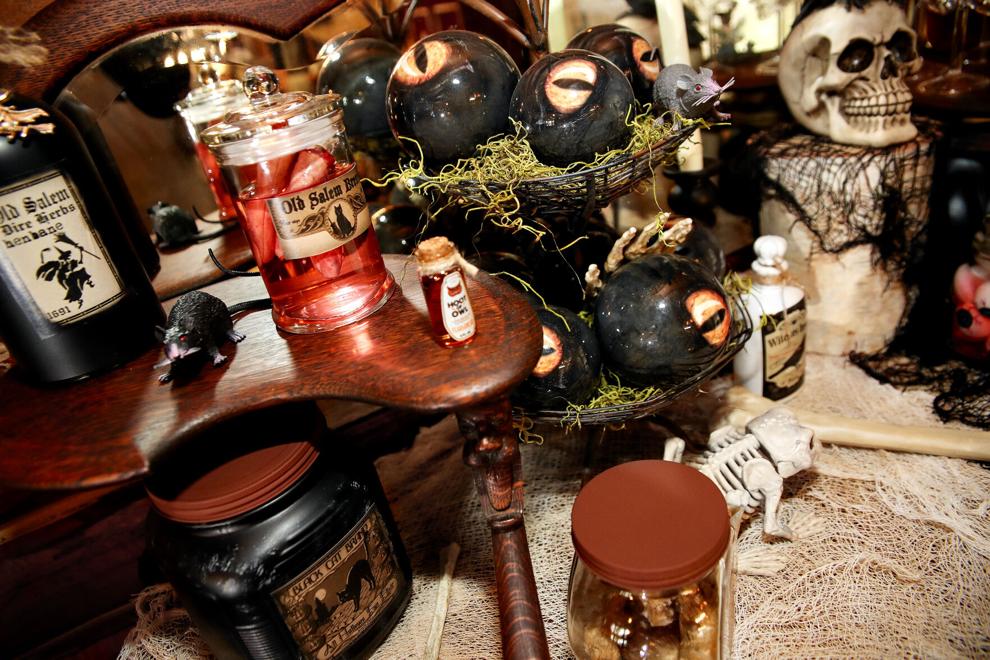 Cobwebs drape loosely over the sides as jars of fingers sit slowly pickling and eyeballs stare in all directions.
"A lot of this stuff I can pick up at the Dollar Store. The jars and labels I'll do myself. The same thing with the cobweb curtains. You just start cutting and ripping until you get the effect that you want," Mary said.
The creepy crawly vibes continue throughout the house.
Just steps down the hallway a ghostly figure recites "mirror, mirror on the wall" before the bathroom sets a scene straight from a scary movie.
Streaks of blood on the walls, mirrors, countertop, even the commode, suggest something sinister has occurred.
In reality they're simple decals that can be taken off and easily rearranged.
A coffin-shaped shelving unit made by Steve from old barnwood is probably the newest addition to the Halloween decor throughout the house.
"I come up with the ideas and he makes them happen," Mary said. "I had another idea to use an old broken window pane and it was perfect. We're always scavenging around and when you can make something out of nothing that's the best."
In the bedroom Mary jokily notes that a framed photo of a pair of skeletons on the nightstand is their "wedding photo" and fits in perfectly with all the ghostly themes.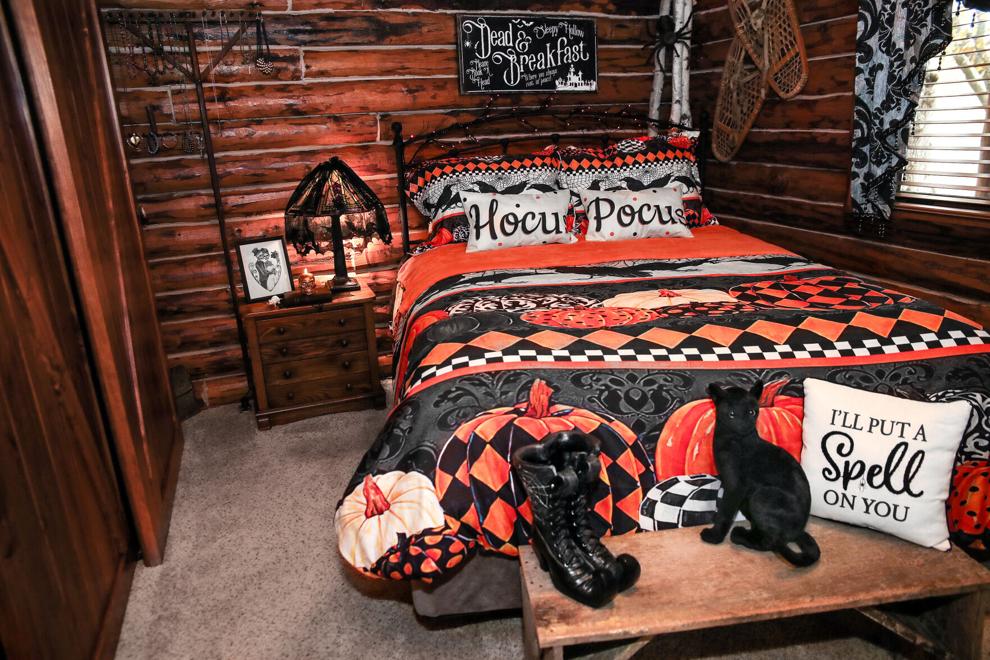 Outside another pair of witches watch over the outhouse and more stand guard on the front porch. One of them, Hilda, is simply a head inside a crystal ball, and is one of the oldest decorations at the home. Tombstones in the yard mark the demise of a few unfortunate folks.
"This is the most we've ever done outside," Mary said. "Hilda, that one on the table is our son's favorite and probably one of the oldest things we've got. You can't find stuff like that anymore."
Flea markets, retail stores, online shopping and plenty of catalogs over the years have aided the Abbotts in their stockpile of Halloween decorations.
For Mary it's been quite an evolution from simply painting spooky scenes in the porch window of her childhood home.
"My mom didn't do a lot of decorating so that's where I started," Mary said. "Each year seems to get bigger and bigger and now it takes about as long to get the Halloween stuff out as it does Christmas. It's not quite as involved but it's getting there."
"I always liked Halloween," Mary added. "When I was young I loved horror movies. Of course, those movies back in the 1960s weren't like the ones now. They were more like silent movies, things like 'Godzilla' and 'King Kong,' 'Boris Karloff,' and of course back then we had the original Munsters, the Addams Family, and there was this show 'Dark Shadows' about a vampire and I just had to watch that every time it was on."
She also certainly was spurred on by her brother, a fan of model monsters.
"He really got into building monster models, kind of like car models that you put together. He had Dracula, Frankenstein, the swamp monster, and this mummy and he would always put one on the table outside my bedroom at night to freak me out," Mary said. "In fact, he set the mummy there one night and I don't know how old I was but the windows were open and out of nowhere the wind came up and my curtains went straight out the door slammed shut and it sounds weird but I thought I could feel hands on my neck and I screamed out 'The mummy! The mummy got me!' So, the mummy went away the next day, but eventually I would end up playing with it!"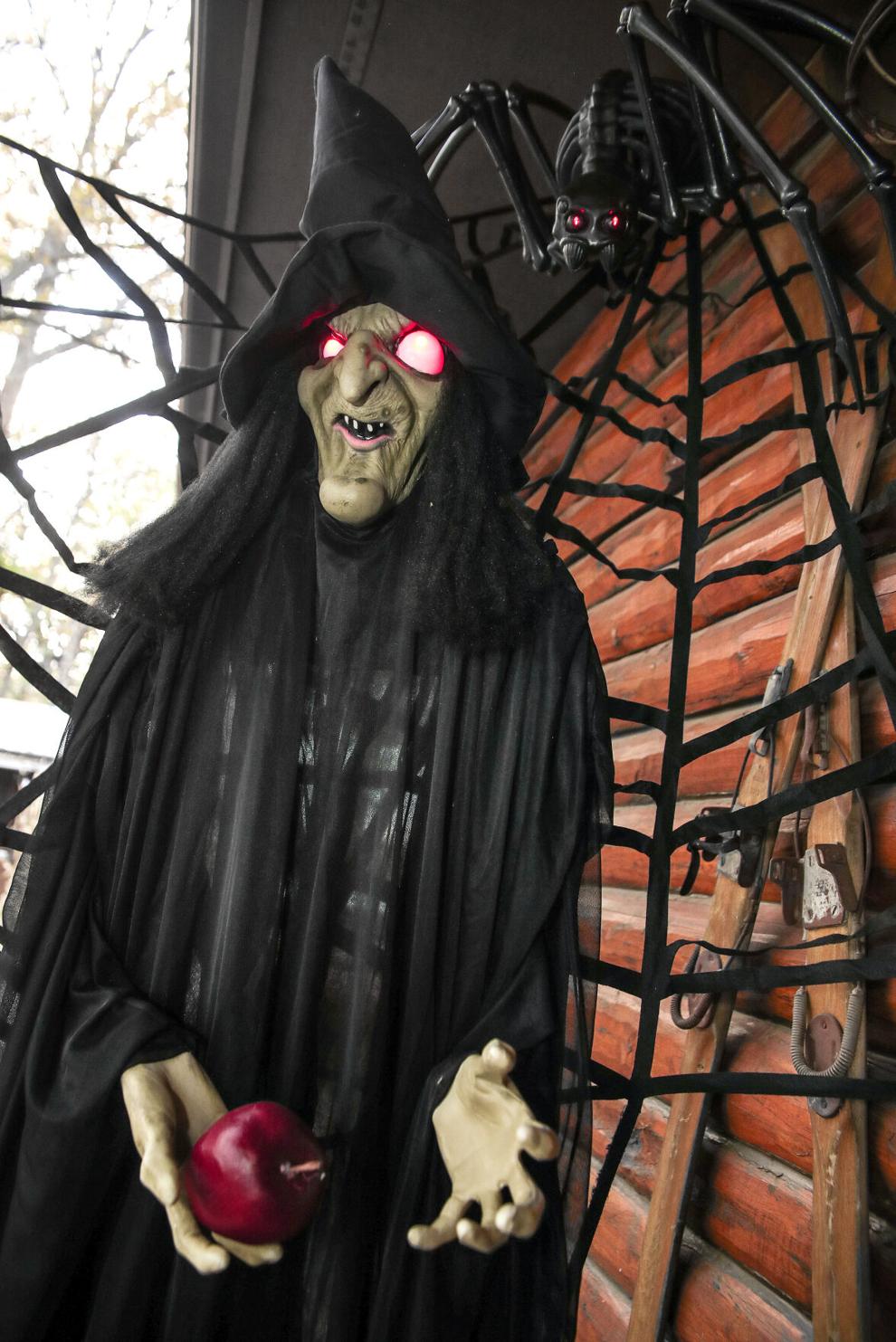 Those sorts of memories certainly come to life in the Abbott home.
And they've helped make new memories for her own children and grandchildren, which is what brings the most joy to Mary and Steve.
"Our granddaughter is six now, but she did not like Bernard the butler at first, but now he's got treats set out so she's warmed up to him," Mary said. "And she likes gathering up the rats and mice and little things and putting them in different spots, so now that she's gotten older she looks forward to seeing the Halloween stuff."
For herself, Mary enjoys a lot of the smaller knickknacks the most, while Steve's favorites are the big animatronic characters.
"With Halloween it's almost like visiting memories, just like Christmas, as we bring out stuff the kids liked or had at one time, and we always work those in somewhere so that's kind of fun," Mary said. "We've had a lot of stuff since the kids were small and so they reconnect with memories when they see it all set out."
But first-time guests beware, the witches are always watching who's come knocking at the front door.