Nystrom Orchard offers artisan apple experience
Fall is all about flavor.
One such flavor of fall is apples. And while it is hard to beat the fresh flavor of an apple just picked from the tree, Nystrom Orchard is committed to helping people explore a larger variety of ways to enjoy nature's fall treat.
They seek to offer a winery-like, artisan apple experience with a number of events they host throughout the fall season.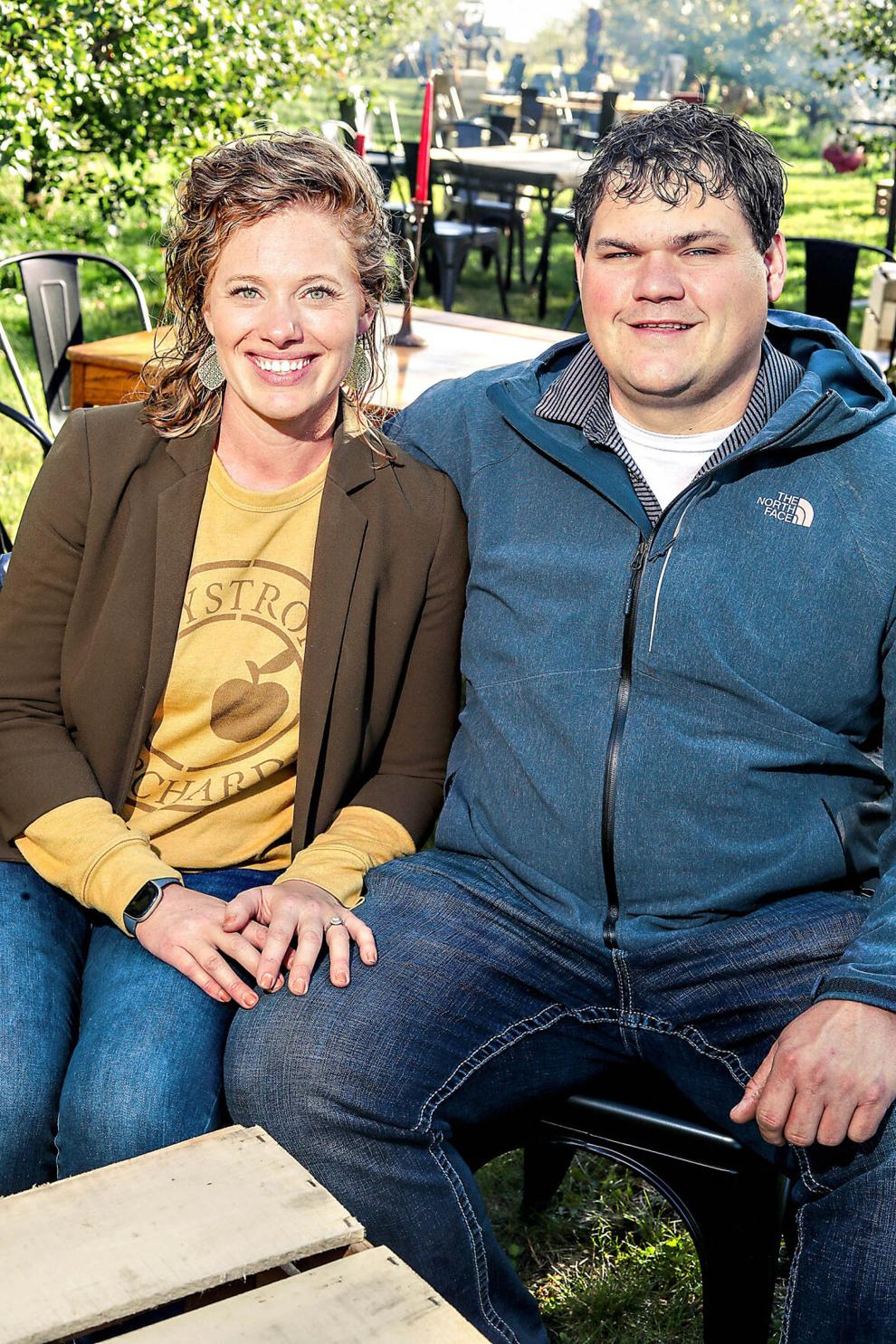 The orchard is located on four acres a few miles south of Worthington, MN, and features a couple thousand trees, according to Kia Nystrom, who lives on the farm and helps run the orchard with her family. They have 15 varieties of apples throughout the season.
They have a beautiful shop where people can buy pre-picked apples along with Kia's homemade Dutch apple pies, apple crisps, fresh caramel apples, apple sauce, apple cider and other products grown and made on the farm.
Visitors can choose to pick their own apples and the Nystroms host activities and events for families and kids such as a scavenger hunt through the orchard.
But it's at their gourmet events that they really show off the spectacular flavor and fresh taste of their apples when combined with other locally sourced produce and food.
They host three different types of events during the fall — Tasting Through the Orchard, Artisan Apple Tastings and Cider Weekend.
The Tasting Through the Orchard events bring attendees right into the orchard. Sparkling lights are hung among the trees. People are taken on a journey through the orchard as a number of different stations are set up with mini plates of gourmet food. From a Honeycrisp autumn chopped salad to orchard beef wagyu angus burgers to Dutch apple crisp and hot apple cider the taste of apples is diverse and beautiful from the first bite to the last sip.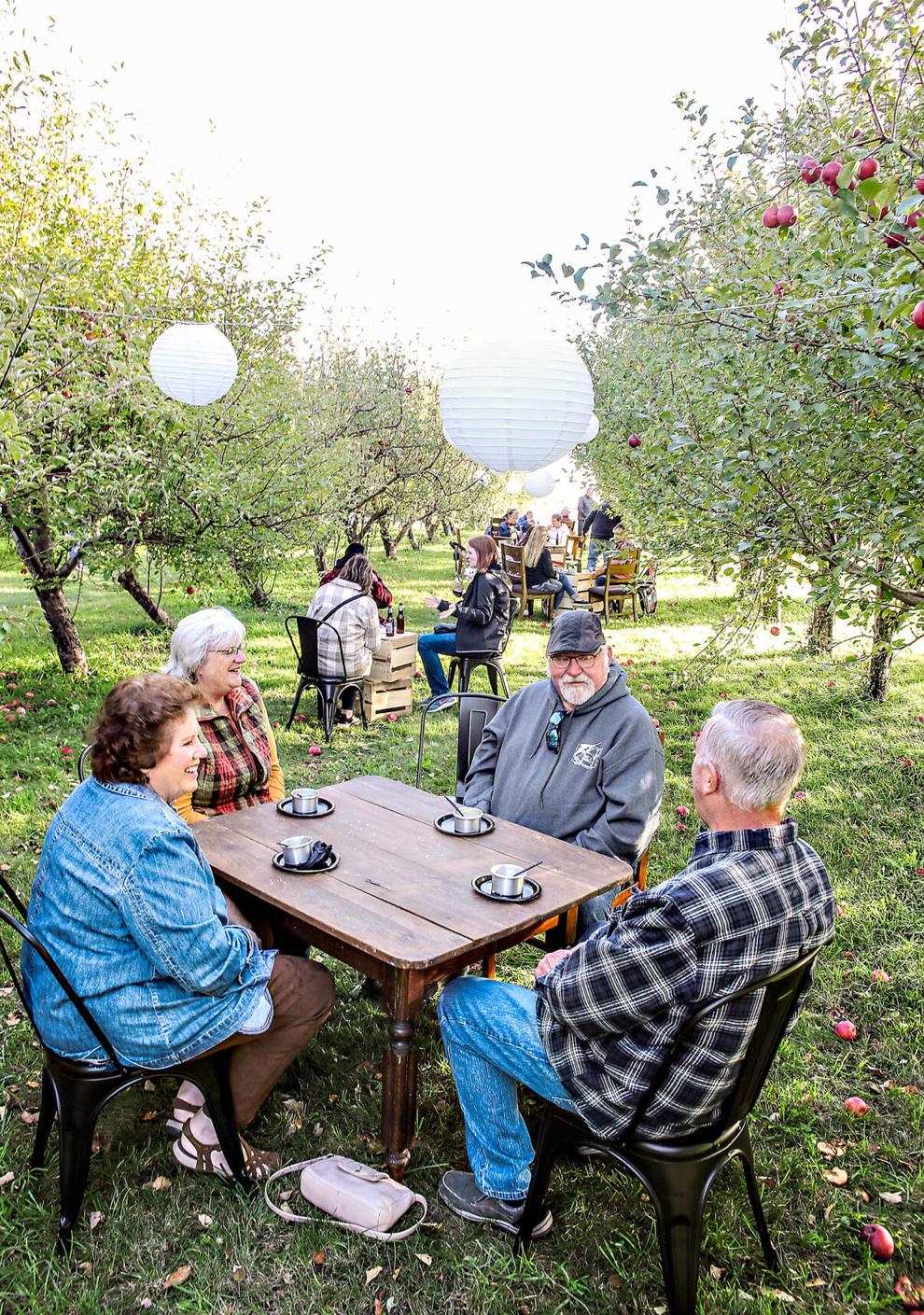 Live acoustic music and heaters are set up in the center of the orchard with tables and chairs so that people can sit and enjoy the fading light, magical atmosphere and truly excellent food.
Artisan Apple Tastings take place in the apple shed and guests get to enjoy a full menu with a number of courses that also seek to highlight the family farm's products.
Cider Weekend is when the orchard turns into a brewery type atmosphere when they cold press eight varieties of apples into nonalcoholic cider. Guests are able to have a winery tasting or brewery-like experience as they get to try flights of different types of cider.
Through it all the apple reigns supreme.
And the Nystrom family knows apples.
They've been growing them for five generations.
"No one knows the exact start date of it in the family. My husband, Aaron, is the fourth generation and our kids are the fifth generation," said Kia.
It all started with Peter Gus around 1920 who decided to start his own orchard as a bit of sibling rivalry.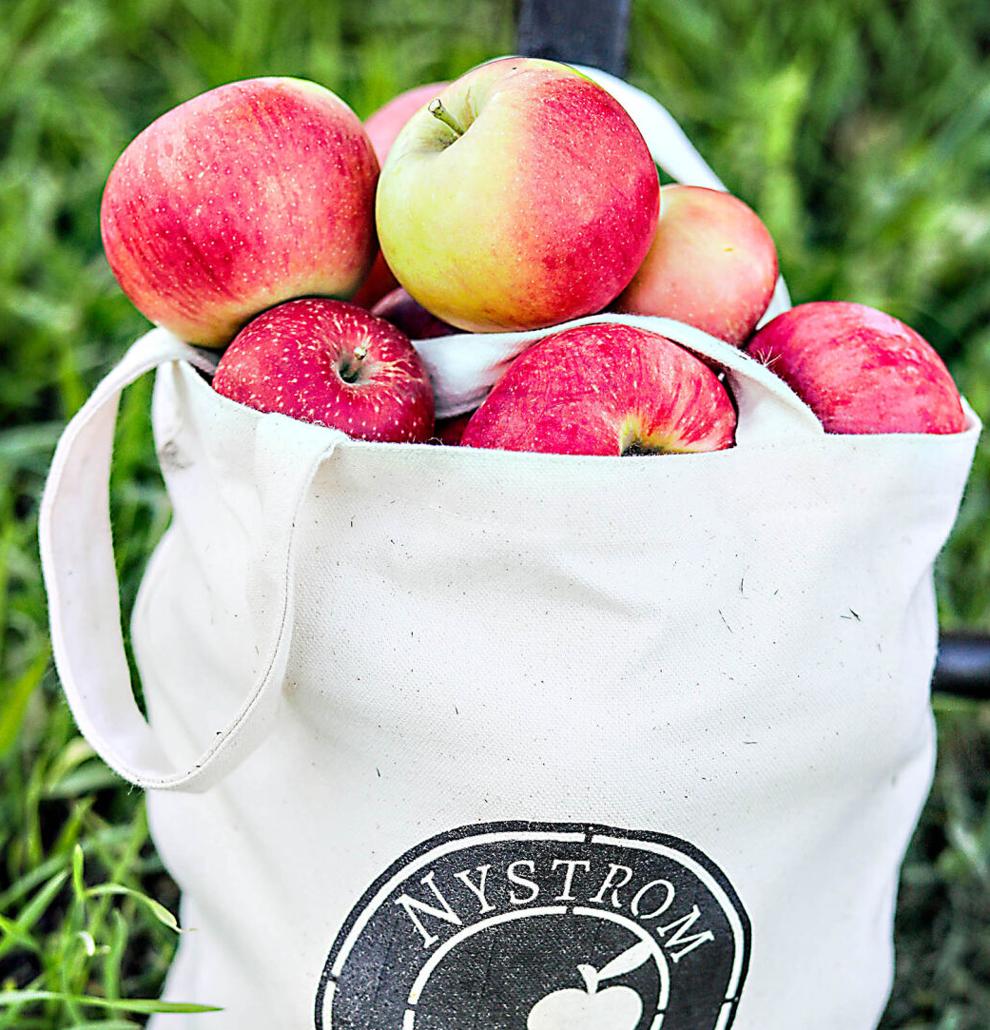 "He was a brother to the man who ran Nystrom Brothers Fruit Farm south of our orchard and when he was cut out of that operation, he started planting apple trees and melon. There are stories that during the slow years during the Depression he would sell them in town and that they lived off the produce that they sold in the summer and fall," Kia said.
The second generation to inherit the farm was Peter's son, Arvid. He didn't have a fruit stand like his dad and to Kia's knowledge, he had people from the Hutterite community come and pick apples.
Marvin and Jean, were the next generation and would sell bags of apples that had already been picked. But when it was time for the torch to pass to the fourth generation, Kia and Aaron had big dreams for the orchard and the farm. They rolled up their sleeves and put in years of hard work.
"Marvin passed away of brain cancer when my husband was in high school so my husband started coming home every weekend when he was in college to try to figure out how to get the farm and orchard going again," Kia said. "We started dating in college in 2004 and we would come back to Worthington every weekend for years. We moved back in 2010 and by 2012 I started saving my money to do something more."
Her goal was to make the experience of visiting an apple orchard more akin to visiting a winery.
"I felt like we had really good apples, but when you came into the old shed we had and just bought a bag the experience was lacking. All it is is a bag of apples — there was no sort of brand or experience and we lost out on teaching people about where their food comes from and forming a deeper connection to the people — that's what was missing."
The orchard still has the original apple trees that are about 100 years old and they continue to pick from them every fall, and in 2012 they started expanding the orchard and planting 100-200 trees every year.
Things got their start at the orchard sort of by accident.
"Through my day job, one of my customers asked me if we ever hosted anything out here and asked if we could host her and six of her friends. We had apples, cheese and wine. We'd never done anything like that," Kia said. "We posted a picture of it on Facebook and a few other people asked us to do it. Then we donated some of the same type of events as fundraisers and we were able to raise a lot of money and we decided that we had something here."
They've been hosting events for a few years now and it means a lot for Kia and Aaron to realize their dream is coming to life.
Their goal with the events they host is to expand people's minds about the varied ways apples can be used to create wonderful food, but also shine a light on local produce and teach people more about where their food comes from.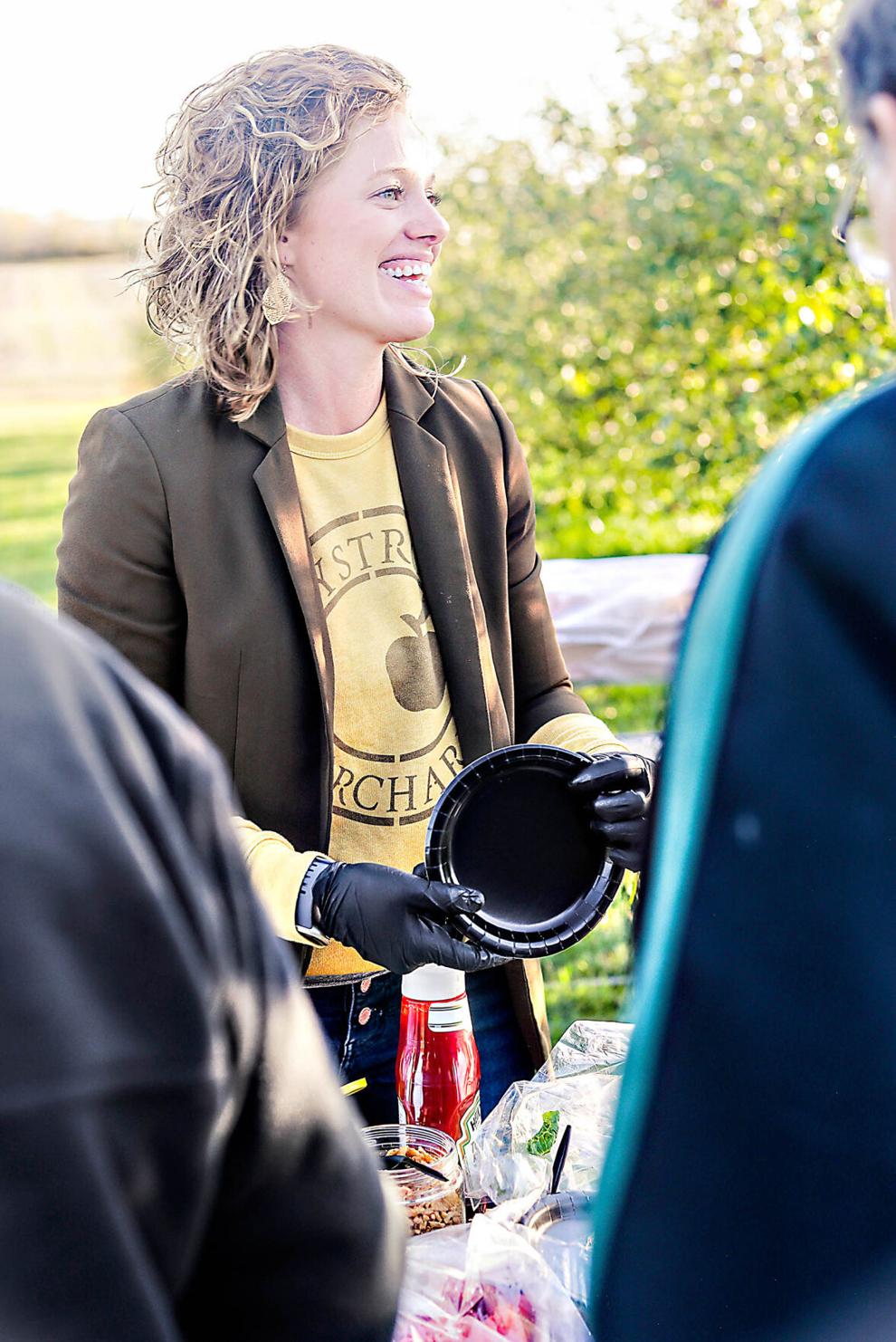 "I love how I feel we connect with the customer and I get to share my passion for apples and how much goes into growing them — it's not just a transaction," Kia said.
"I also love the sheer joy I get to see on other people's faces as they are enjoying the orchard as much as I do and it means a lot that people have invested their time and their hard earned dollar and came to spend it at our orchard. We are so grateful for that."
They Nystrom family invites you to enjoy the flavor of fall by buying a ticket to one of the orchard's events, grabbing a sweatshirt and the family to go pick apples on a sunny day or simply stopping in to indulge in some wonderful apples at Nystrom Orchard this fall.