Okoboji students rock 'n' roll
Once upon a time at Okoboji Middle School in Arnolds Park, a couple eighth-graders decided they wanted to perform a song.
It was the year 2018, and the idea was for Gwen Gehrke and Carter Lambert to sing "A Million Dreams" from the musical "The Greatest Showman" at the regional competition for Iowa Rocks Talent, a statewide program for musicians ages 21 and under, organized by the Iowa Rock 'n Roll Music Association.
That idea took a turn and the duo eventually became a trio as Lexi Duffy entered the picture.
"I'm not sure but somehow I magically fell into the mix," Duffy said.
Whether it was through idle conversation in the band room, or pure coincidence, nobody is quite sure.
"She just kind of showed up!" Gehrke said with a laugh.
What was sure was that this newly formed band needed a name and they settled on something from a certain musical they all enjoyed.
"It's a reference to a musical we all fell in love with - 'Hamilton' - and the song is 'My Shot,'" Duffy said. "It's about not throwing away your chance and we applied that to the three of us."
And so they settled on the moniker of Triple Shot.
Figuring in the fact that three-part harmonies would play a big part in their musical repertoire, the name certainly fit on more than one level.
In addition to vocals, Gehrke plays guitar, Lambert plays bass, and Duffy is on the keys.
Things worked out well at that first regional competition and the group advanced to the Iowa Rocks Talent finals in Arnolds Park last Labor Day weekend.
But they wanted to kick things up another notch.
Enter the fourth member of the group, drummer Carley Wells.
"We were missing that certain aspect we needed to take it to another level, and that was Carley," Duffy said. "So Triple Shot became Triple Shot - plus Carley."
Quadruple Shot doesn't quite have the same ring to it, so the original name would stick.
After playing together for the first time at the finals of Iowa Rocks Talent last year, they've stuck together and decided to make another run at the competition.
They advanced past the regional stage last spring and will once again compete at the finals this Labor Day weekend in Arnolds Park.
Now composed of three sophomores and one senior, Triple Shot has experience under their belt, and the added benefit of being friends who are involved in several school activities together.
It should come as no surprise that many are musically related — concert band, jazz band, choir, vocal jazz and musicals, to name a few.
When it comes to making music together, they agree that the relaxed atmosphere during their time together makes all the difference.
"There's no pressure. It's a really chill environment where we can just make music," Gehrke said.
Duffy added that it allows them the space to "do what we love just for the sake of doing it. We can try new things and make mistakes. If it works great, and if not we can laugh and move on."
When they practice, each member of Triple Shot brings their own distinct musical tastes and background to the table.
Whether it's classic rock, pop, country or Broadway, all have a place in the band's repertoire.
"We have such a wide variety of music we all like. I like country and it's fun to bring in our own tastes," Gehrke said.
One cover they've all enjoyed playing so far has been Coldplay's "Viva La Vida."
It is one they've tackled since the beginning and enjoy for its harmonies and the way it builds and tells a story.
"It's cool knowing how far we've come with that one and how it sounds now," Duffy said. "It's continued to develop and every time we play it has a new aspect."
They've also crafted a medley called, "The Hitmaker," that covers just about every one of their musical influences and throws in a bit of "Barbie Girl" and a snippet of the aforementioned musical "Hamilton" for good measure.
They also dabble in making original music.
Lambert, who has taken to writing musicals in his own time, enjoys the process of crafting a song.
"When you're writing a song it's cool to tell a story, try to make it sound cool and just try to find the best words to fit a scenario that fully tells what that story is trying to convey," Lambert said.
They're looking forward to putting it all together for another performance at Iowa Rocks Talent.
"I'm just excited to get to spend time together and make music and memories together," Gehrke said.
Duffy looks forward to seeing if any other bands return from last year, and just getting a sense of what other people their age are doing in the world of music.
Having been on this ride once before, the members of Triple Shot don't expect many nervous moments. Well, maybe a few.
"The butterflies will always be there, more or less, but you just think — Am I nervous? Yeah, but do I really care? No. — It's an adrenaline rush," Lambert said.
Gehrke says that being a big perfectionist gets her worried about making a mistake, but with her theatre experience, she enjoys being on stage.
The upperclassman in the group, Wells says she still gets nervous for state jazz competitions, but not so much otherwise.
When asked about whether she gets nervous on stage, Duffy replies simply, "yes, extremely!"
Meet the Band
Carter Lambert
16, sophomore: bass, vocals
"I've always been in a musical family, so that's always been something that has happened," Lambert said. "I joined the things in school — choir, the musical, band, marching band, jazz band — I can play drums and guitar and bass. I just kind of do all of them."
When it came to Triple Shot, Lambert would have to pick just one.
"Well we already have a drummer and a guitarist, so I went with the third one," Lambert said. "I probably enjoy vocals more than bass guitar, but it does add another sound to things — the low stuff — and I'm a bass in choir so I can relate."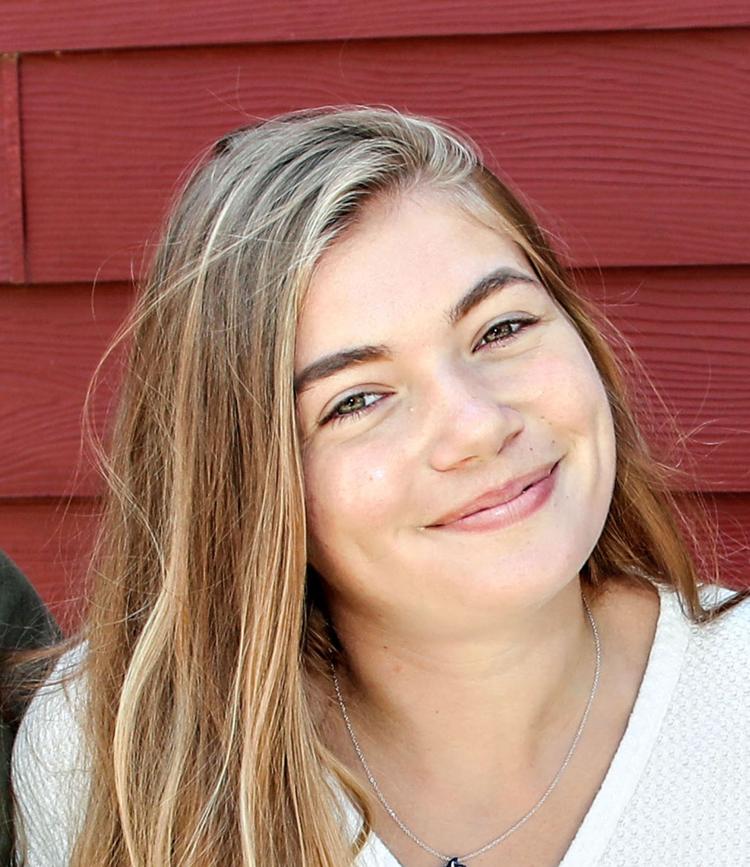 Carley Wells
18, senior: drums
"I started playing drums when I was 7," Wells said. "My sister got the Beatles Rock Band game for her birthday and hated the drums so she made me play them! So I played that a lot and then my dad said we had an actual drum set upstairs so I started listening to Beatles and Rolling Stones and stuff, he was the one that got me into it."
Wells says she's involved in just about everything besides sports. For her, it's always about the drums.
"They're high energy and after awhile when you're playing a really fun gig, you don't even think about it anymore. It just takes over - that's my favorite part," Wells said. "And I love playing with these guys [Triple Shot]. It's so fun and carefree.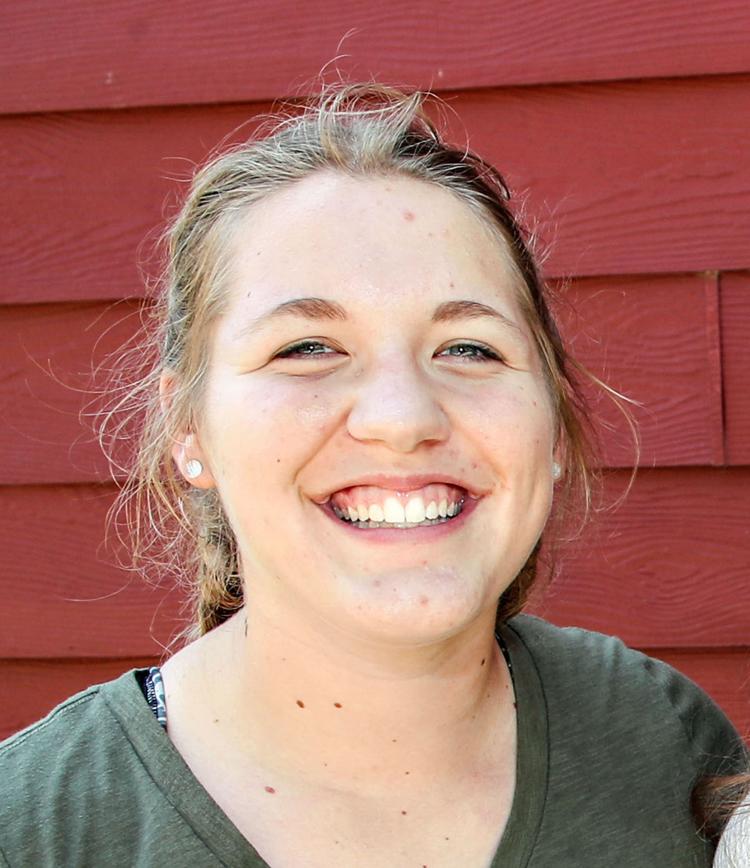 Gwen Gehrke
15, sophomore: guitar, vocals
"Music has always been in my family," Gehrke said. "My mom was in a family band growing up, so I've been raised off that. I've always had a passion for music and try to be as involved as possible."
That means joining band, marching band, jazz band, choir and vocal jazz. For these groups, Gehrke plays alto or tenor saxophone.
The guitar has been largely a self-taught journey for Gehrke starting with a YouTube class in seventh grade.
"My grandpa continued to encourage. What I like is the fact that there are so many different styles you can play on the guitar," Gehrke said. "You can play rock like we tend to play or whatever you want and it can change at the snap of your fingers."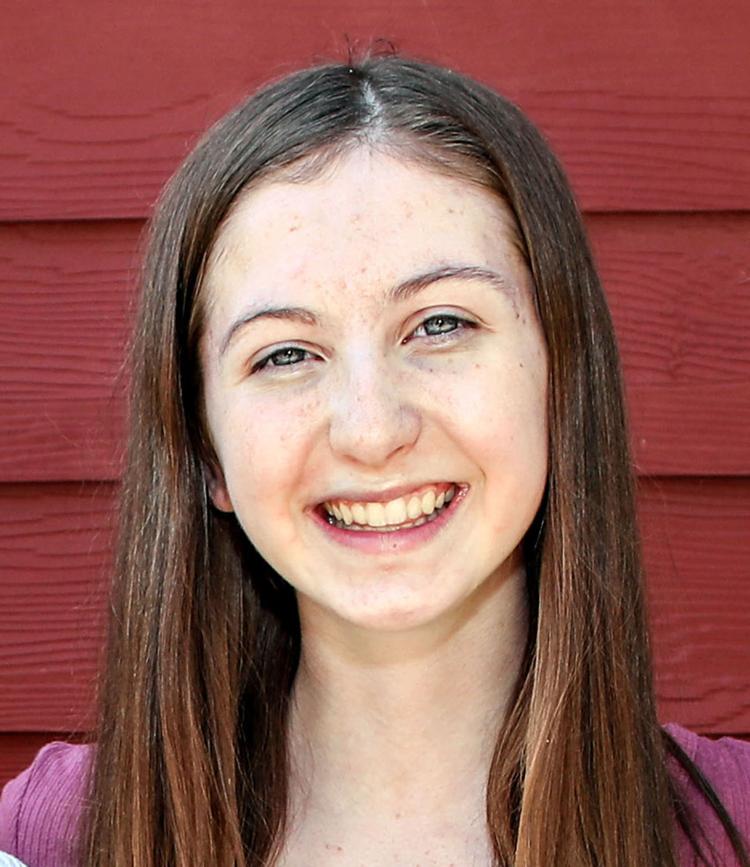 Lexi Duffy
15, sophomore: keyboard, vocals, percussion
"I started with piano lessons in elementary school," Duffy said. "Then I got into the fifth-grade band and the whole music world fell on me and that's when music started to become fun too. I was with others my age and see them enjoy music and become immersed in that world."
Duffy is a percussionist in school band as well as playing piano for jazz band.
"I like the freedom of adding little piano riffs, which is cool to be able to do, especially with our originals and see how they add to the songs and change them," Duffy said. "I like being able to add my own element"