O'Farrell descendant is back in the kitchen baking pies
O'Farrell Sisters has an O'Farrell back in the kitchen this summer.
Sharon London decided to come back to bake pies for the restaurant this summer. She is the daughter of Ferne O'Farrell who was one of the original O'Farrell sisters.
When you taste a bite of banana cream pie, it will taste pretty much the same as it did back in 1947 when Edna Mae, Arlene and Ferne, who were only in their 20s and early 30s, began the O'Farrell Sisters legacy.
The original location for the restaurant was at the bridge on Highway 71 between East and West Lake Okoboji. The sisters moved the business to its current location in 1959.
Sharon grew up 100 feet from the O'Farrell Sisters location and still lives within walking distance.
"It's a nice commute in the morning," Sharon said with a laugh.
And it's nice to be back making basically the same pies she's been making since she was 13 years old. She even makes them on the same butcher block countertop that Edna Mae used more than 50 years ago. It's been where the O'Farrell girls have been making pies for decades.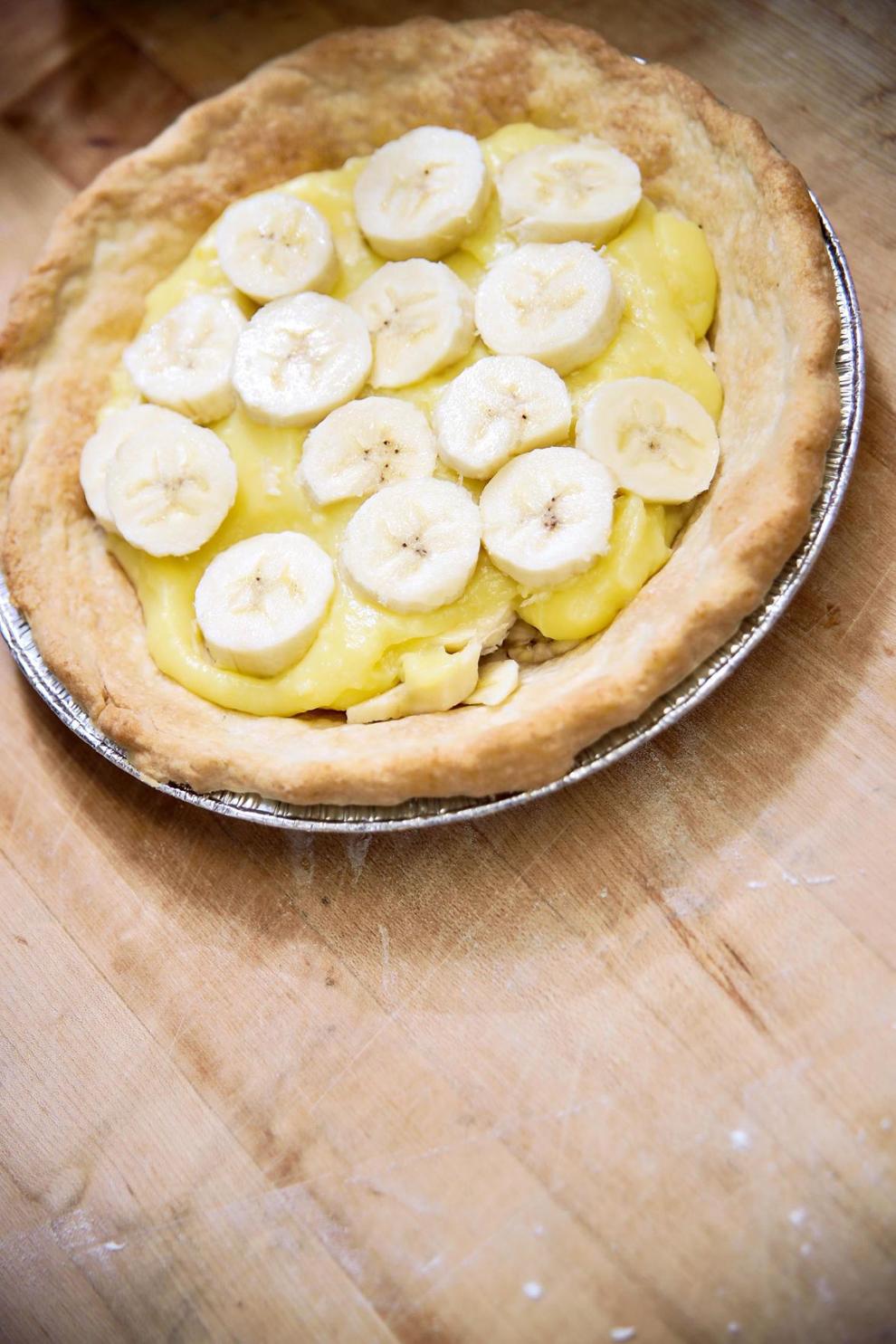 "I started making pies when I was about 13 years old. I stirred the filling and that was all I was allowed to do," Sharon said. "But I make pretty much the same variety of pies today as we did back then with the same recipes. Edna Mae and my mother taught me how to make these pies and I've added some new varieties. Each generation adds to the list."
The best-sellers have changed some over the years though.
"I remember that custard pie used to be a huge favorite," Sharon said. "Hands-down our favorite pie today is the banana cream with the coconut cream pie in a close second."
Pretty much every day this summer, Sharon is up and at the restaurant by 7 a.m. to combine flour and sugar and all things good to create pies just as good as her mother and Aunt Edna Mae made for nearly 30 years.
She makes anywhere from 25-30 pies a week on average to serve in the restaurant plus an increasing number of to-go pies. Sometimes she bakes an addition 2-3 pies for to-go orders. That adds up to an addition 15-20 whole to-go pies a week.
It's a game she's excited to be back in.
After being away from Okoboji, Sharon came back to run O'Farrell Sisters in 2005 after if was purchased by Butch Parks.
The original O'Farrell Sisters sold the business to Sharon's cousins — the second generation of O'Farrell Sisters — in the late 1970s. They ran the business for 25 years according to Sharon before they decided to sell.
Parks bought the restaurant in 2004 and knew that he wanted an O'Farrell back in the kitchen so he called Sharon.
Sharon came back and did it for a few years before pursuing other business opportunities. She's been semi-retired, does some bookkeeping and works at the Iowa Rock 'n' Roll Museum a few times a week.
But at age 77, she isn't ready to hang up her pie-making apron just yet.
Once again, she got the call that they wanted an O'Farrell sister back in the kitchen to bring some of that O'Farrell magic to the place. The magic of pie.
"I guess I needed an outlet for pie making," Sharon said with a laugh.
Sharon's also enjoyed seeing familiar faces this year and meeting new ones.
"What's really amazing are the connections here. I meet people who are fourth or fifth generation who are still coming back to this restaurant to eat pancakes and pie," Sharon said. "It's quite something."
And people are certainly enjoying the pies this year.
"Why are my pies so good? Practice. I've had a lot of practice," Sharon said with a laugh.
In fact, we tried to calculate just how many pies Sharon has baked in her life and it is easily in the thousands.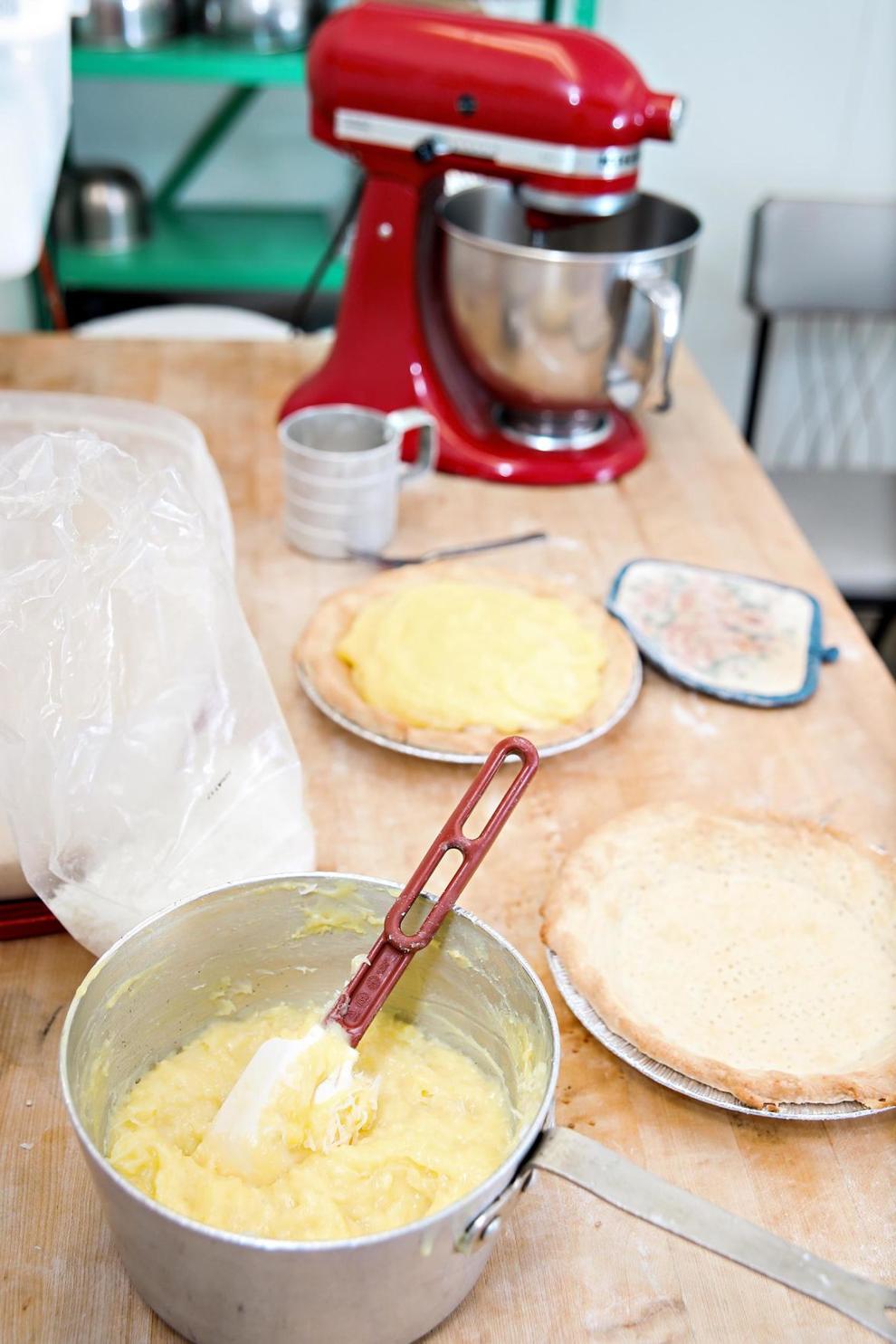 So even though she is supposedly semi-retired, Sharon is busy as ever, and she's happy to keep on going that way.
"I plan to keep on baking pies for as long as I am able and for as long as they want me to," Sharon said. "It makes you feel so good to take those pies out of the oven. It's a pride of accomplishment and they are just so pretty. The compliments I receive after people taste my pie also really makes me feel appreciated."
At least for the foreseeable future, there will be an O'Farrell back in the kitchen at O'Farrell Sister whipping up pies just like they made back in 1947. 