7 delicious ways to start the day
It's often said that it's the most important meal of the day. Perhaps that's part of the reason breakfast food tastes so good. And maybe that's why so many people will eat it any time of day, morning, noon or night. There are plenty of great options for delicious breakfast dishes all around the Iowa Great Lakes. Here are a few of our favorites.
---
1. O'Farrell Sisters
712-332-7901  |  1109 Lakeshore Dr., Okoboji, IA
An icon of Lakes area dining since the 1940s, O'Farrell Sisters offers breakfast all day every day during the summer.
The menu is stocked with breakfast and brunch staples including the Bene Trio, which includes three takes on Eggs Benedict with a traditional, Florentine and a Pulled Pork Benedict, all smothered in Hollandaise sauce served alongside hash browns.
Kitchen manager Melanie Clemen is pretty sure it's the sauce that seals the deal with this particularly popular dish.
"I think it has to do with how we make our hollandaise sauce," Clemen said. "Everything in our style of cooking here is homemade right in the kitchen. We just have some pretty dang good food!"
---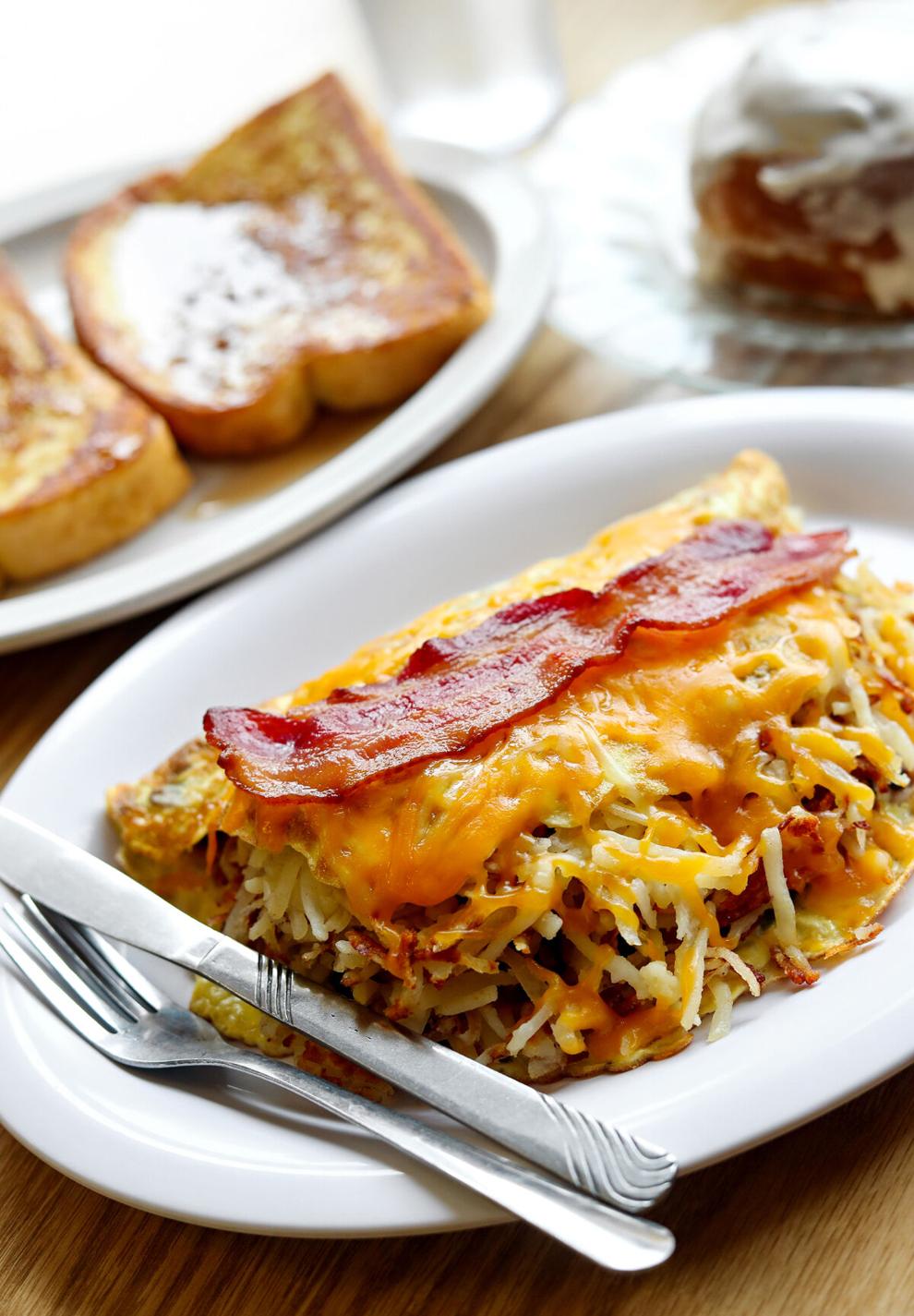 2. The Koffee Kup
712-332-7657  |  43 Okoboji Grove Rd., Arnolds Park, IA
It's hard to miss with its bright red paint job right on the main thoroughfare through the Iowa Great Lakes.
And once customers step inside The Koffee Kup they'll often be coming back again and again for great homestyle breakfast food.
That is, after all, their specialty, according to owner Mark Erickson.
"All we do is breakfast food," Erickson said. "It's pretty much a good old-fashioned breakfast place. It's just something everyone likes to eat."
And here the staples rise to the top.
The "Boji" Omelet is probably the most popular and most unique on the menu.
A two-egg omelet filled with ham, onions, green peppers, mushrooms and topped with a slice of bacon, this dish has a surprise waiting with hash browns stuffed right in the middle of the omelet itself.
Thick cut French toast is great for those looking for something on the sweeter side, or perhaps you'll want to go with one of the ever-popular cinnamon rolls.
There's no wrong choice when it comes to breakfast at The Koffee Kup.
---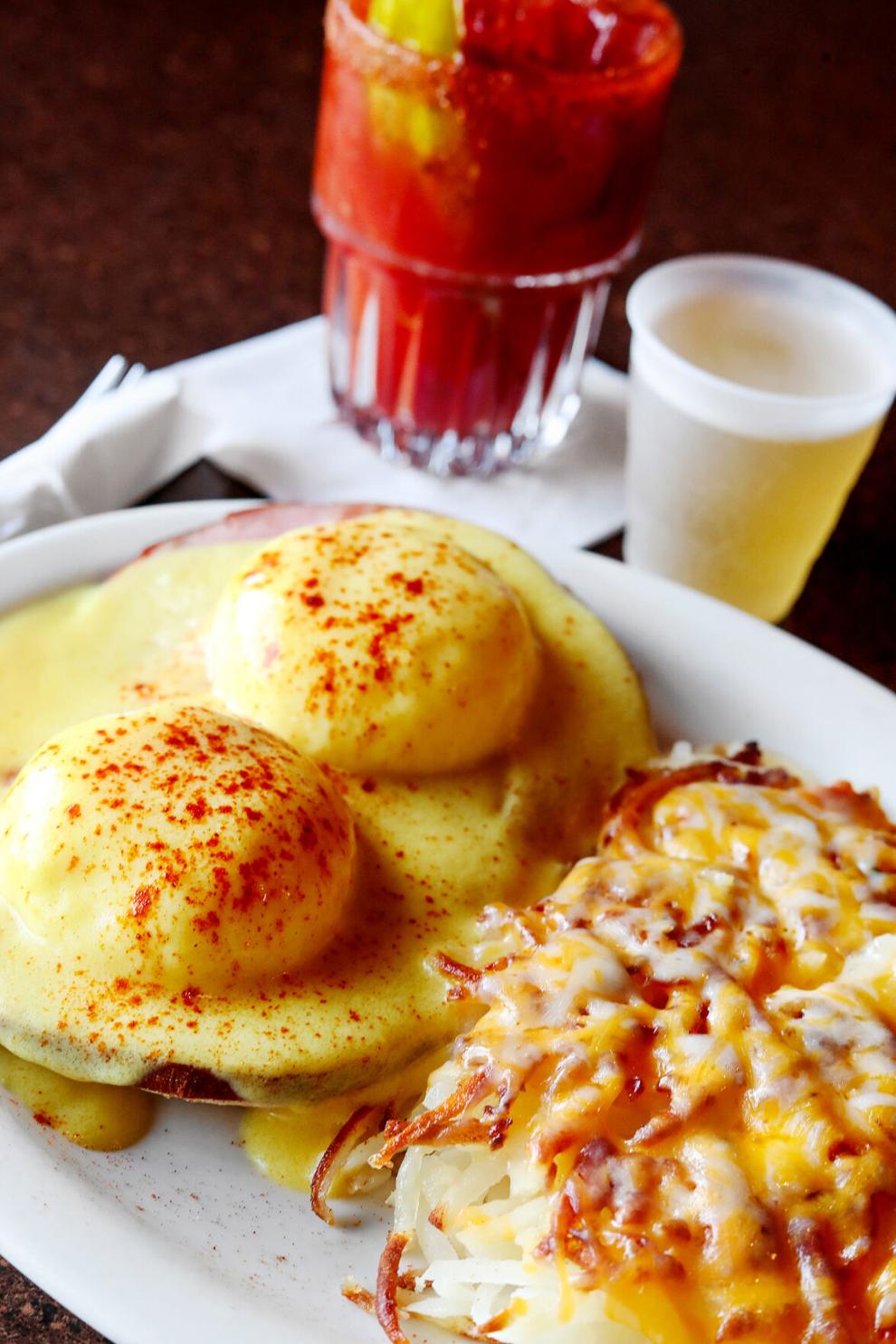 3. The Hutt Bar & Grill
712-332-8074  |  250 S. Highway 71, Arnolds Park, IA
Breakfast at The Hutt Bar & Grill has been a staple of their menu since they first opened eight years ago just across the highway from Arnolds Park Amusement Park.
Offered every Saturday and Sunday morning, the breakfast menu hits all the traditional staples of the most important meal of the day with pancakes, omelettes, French toast and more.
The Eggs Benedict is a traditional take on the popular dish with two poached eggs perched on top of English muffins and a thick slice of ham then covered in Hollandaise sauce.
Adding cheese and onions to the hash browns on the side is a popular choice.
---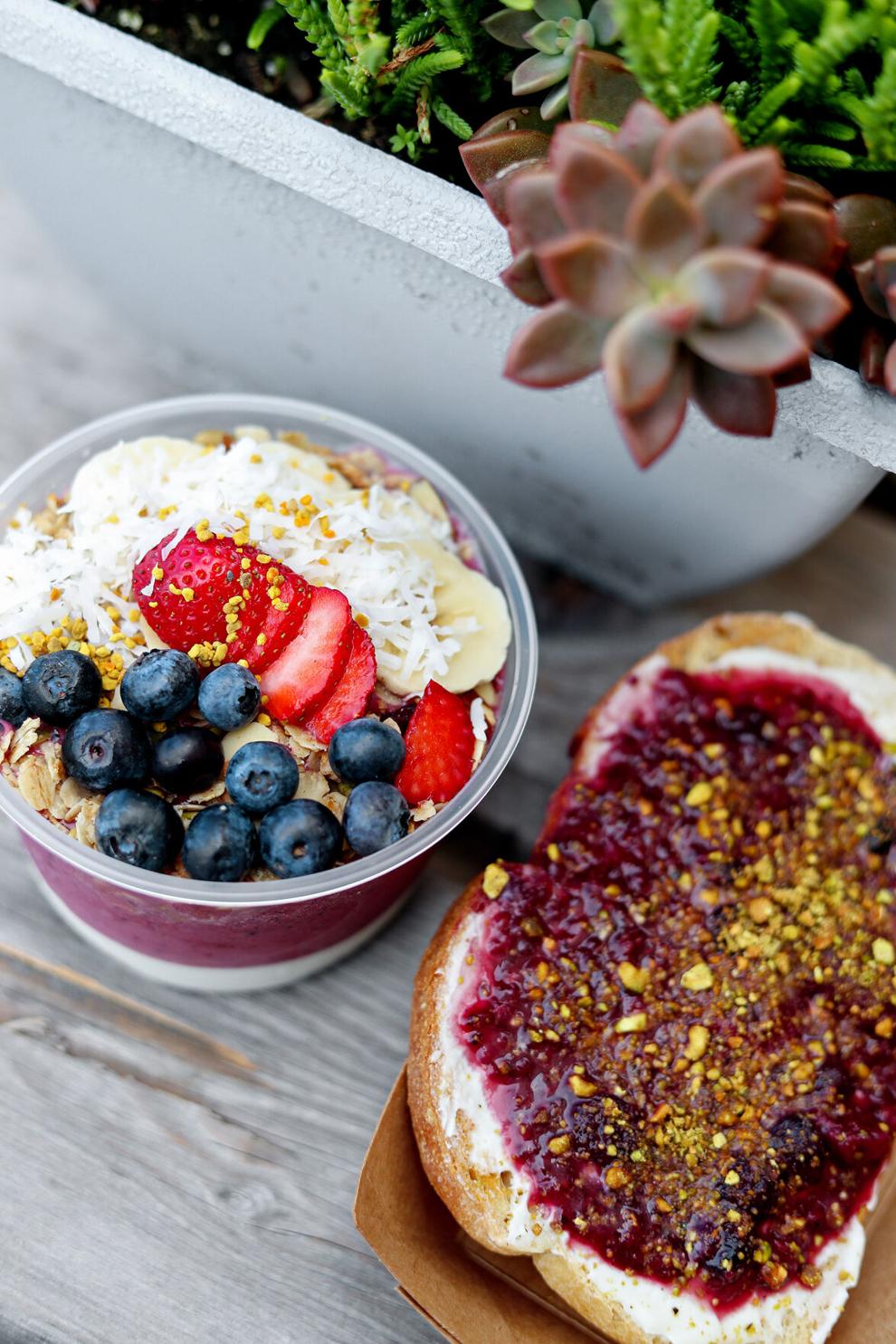 4. Nektar
712-330-7719  |  612 Highway 71, Arnolds Park, IA
Fresh ingredients for a fresh take.
That was one of the main goals when Nektar owners and longtime friends Alexis Powell and Karina Van Wyhe were dreaming up the menu for their food truck endeavor.
Nektar is now heading into its fifth summer operating from a converted camper from May through September.
On the menu the smoothie bowl may well be the star of the show.
"Smoothies have been popular forever," Van Wyhe said. "When we were putting together the menu we wanted something a little different and fresh is the big thing. A lot of smoothies are big sugar-laden mixes. We wanted to do it fresh, so the only kind of sweetener we use is orange juice and coconut milk."
The base of the red smoothie bowl, the most popular, is the smoothie itself, which contains strawberries, blueberries, raspberries, blackberries and bananas.
Homemade granola is then sprinkled over top followed by more fresh fruit.
It's all topped off with the superfood garnish of bee pollen and coconut shavings.
When visitors want to take it up a notch from the entry-level "red" they'll want to give the "Bliss Bowl" a shot.
This particular bowl adds two more layers: a chia seed pudding followed by Greek yogurt.
---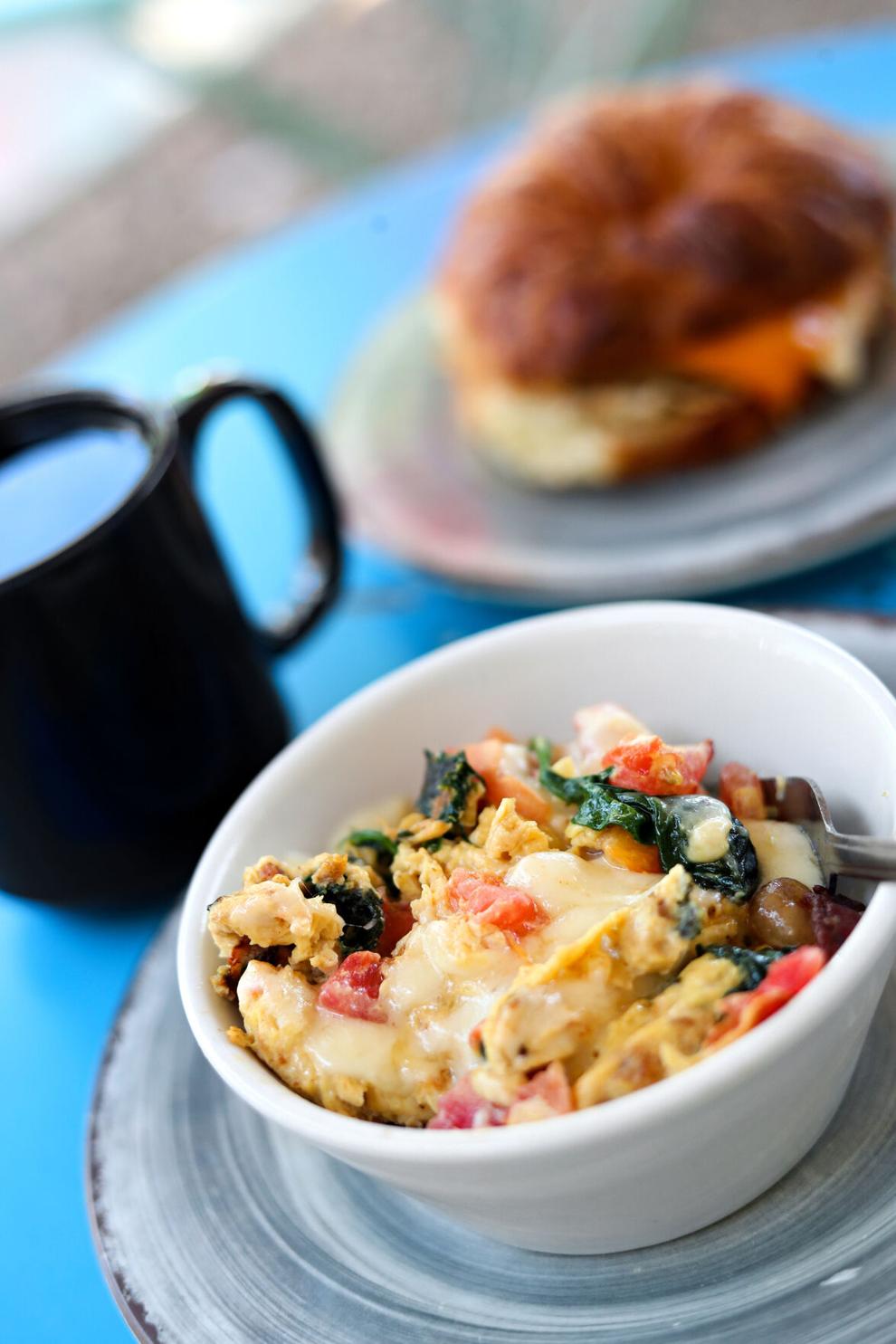 5. Arnolds Perk
712-332-6232  |  140 Broadway St. Arnolds Park, IA
Coffee may be the name of the game, but there is plenty to eat for breakfast right alongside that latté or cappuccino at Arnolds Perk.
Breakfast bowls and the power breakfast sandwich top the list when it comes to choices for the first meal of the day, or second or third, since it can be ordered all day.
The spinach, bacon and tomato breakfast bowl combines those three ingredients with swiss cheese and an egg scramble in one tasty dish.
Guests can choose from four breakfast bowls and are also welcome to build their own.
With the breakfast sandwich customers get a choice of bacon, ham or sausage as well as cheddar, swiss, provolone, pepper jack or mozzarella cheese along with two eggs inside their choice of bread.
Big fluffy, flaky croissants, sourced from a local bakery, are the most popular choice.
---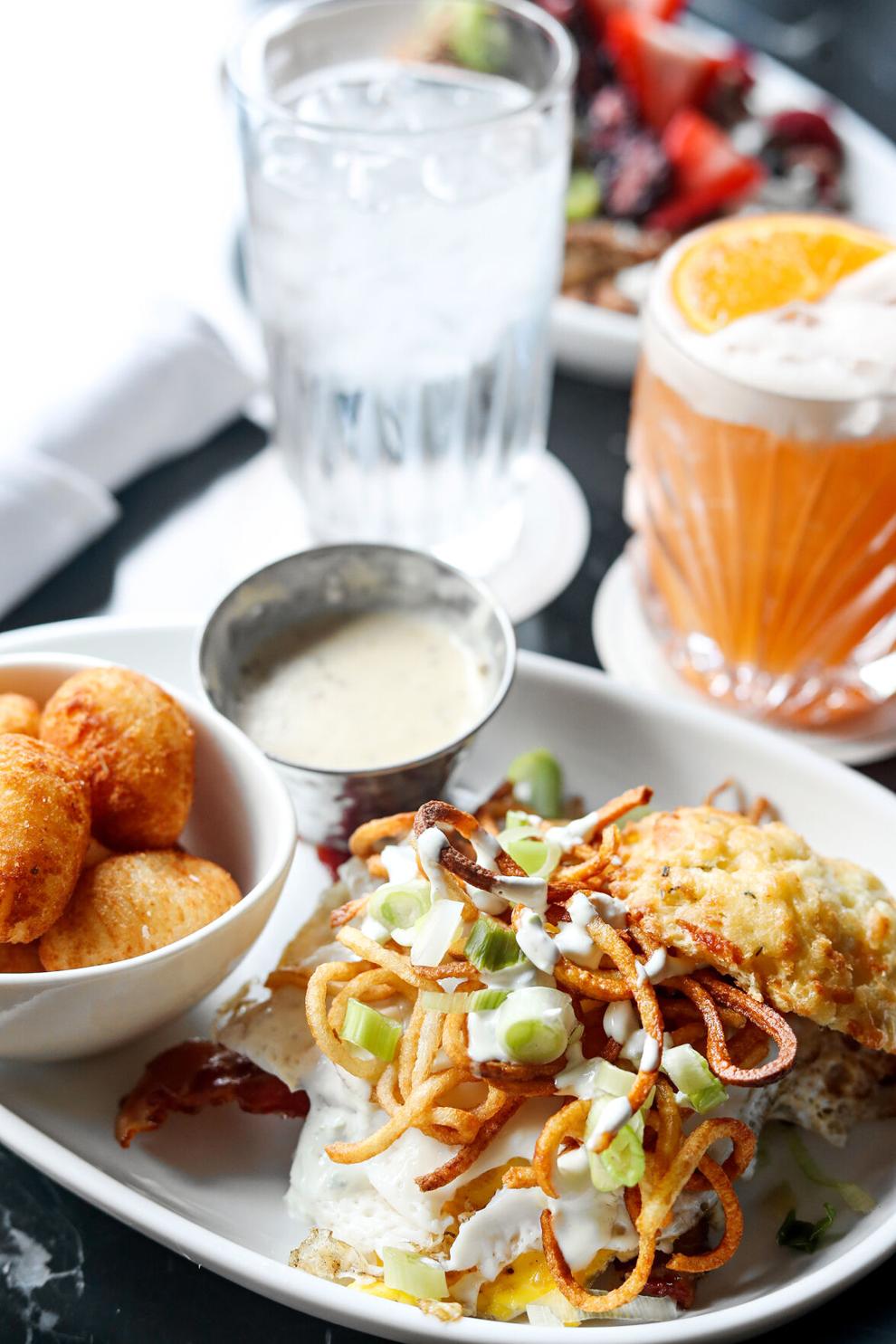 6. The Beach Club Lounge
712-337-6400  |  15 Dam Rd., Arnolds Park, IA
Breakfast takes a bit of a different turn at The Beach Club Lounge with a weekend menu offering Caribbean flair.
It's the restaurant's take on French toast that chef Tanya Moffitt enjoys the most.
"That one really stands out with the whipped cream and candied pecans, the whole thing is pretty good," Moffitt said.
Sweet Cuban Toast takes two slices of French toast and layers strawberries, raspberries, kiwi, blueberries and blackberries on top along with candied pecans and whipped cream.
Guava butter and rum infused maple syrup take it up yet another notch.
The Miami Hangover combines a variety of flavors in one delicious package.
Piled into a Manchego cheese and herb scone are two fried eggs, Gouda and white cheddar cheese, scallions and candied bacon, garnished with potato straws and served with a pepper cream sauce and choice of side.
---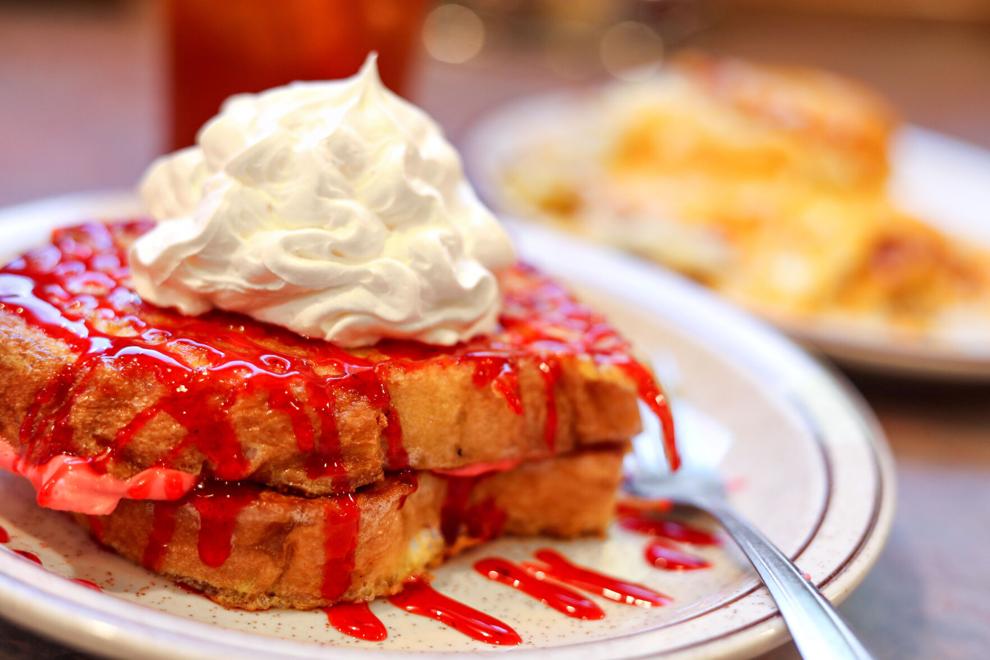 7. The Family Diner
712-336-5422  |  1604 Hill Ave., Spirit Lake, IA
Owners Matt and Darlene Hall have been making breakfast for residents of the Iowa Great Lakes since 1990 and certainly have it all figured out when it comes to the most important meal of the day.
It's a menu they offer all day long and that is chock full of classic favorites done to perfection.
Their namesakes, Matt's Deluxe Omelet and Darlene's Deluxe Omelet are probably the most popular items on the menu.
"Those are our signature omelets and just something we came up with over time," Matt said. "We've been doing this for 30 years or more and they've just stood the test of time I guess."
On the sweeter side of things there is the stuffed French toast, which includes strawberry cream cheese stuffed between the two slices, which are then covered with strawberry puree and topped with whipped cream. And that's just the tip of the iceberg when it comes to the delicious breakfast choices at The Family Diner.