Mary Skopec serves as steward of Iowa Lakeside Laboratory
The great outdoors can be a great classroom.
It's the mission and passion behind the Iowa Lakeside Laboratory — providing people a place to study, explore and enjoy the outdoors year round.
And the person at the helm of this special place is Mary Skopec.
Iowa Lakeside Laboratory was founded in 1909 by Dr. Thomas MacBride and colleagues from the University of Iowa for "the study of nature in nature." The 147-acre campus features 37 buildings and gives college students, scientists, writers, artists as well as local and summer residents the chance to explore and study nature.
Lakeside Lab is owned by the state of Iowa and is operated by the Board of Regents. It's located on Little Millers Bay on West Okoboji Lake.
It's a place that has been a part of the fabric of the Iowa Great Lakes for 114 years and it continues to serve its original purpose. Whether you are a scientist studying diatoms, a three-year-old learning about frogs, a writer inspired by the environment or even a retired resident looking to learn more about bur oak — the Iowa Lakeside Lab is a place everyone can come to learn and grow.
Mary Skopec has served as the executive director of Iowa Lakeside Laboratory for seven years.
When she moved here to take the executive director position, Mary was by no means a stranger to the Lakes area.
"My parents had a place on Big Spirit Lake when I was growing up. So they had a summer place and we would come up and fish and go sailing and I learned to water ski on Big Spirit Lake," Mary said.
Studying the waters of the Iowa Great Lakes wasn't anything new to Mary as she had been monitoring them and other lakes and waterways throughout Iowa for many years as the state coordinator with the Iowa Department of Natural Resources' water quality monitoring program. She worked with a program called IOWATER where they would train citizen volunteers to take basic water quality measurements and report those.
When the position of executive director at Iowa Lakeside Lab became available she knew she was ready for the next stage in her career.
"I had a foot in education while living in Iowa City. I would teach classes and, you know, you just get to a point where you're ready to take the next generation and give them opportunities and help them. So it was the perfect time to find something else," Mary said.
As the executive director Mary does a myriad of things.
"I do a little bit of a lot of different things. One is obviously the college classes. I essentially am picking the classes, hiring the faculty, recruiting students to come take those classes, trying to find new and different classes that we can offer," Mary said.
To expand their reach, Mary says that Lakeside has been looking beyond the science and exploring other disciplines that might benefit from taking classes in an outdoor classroom.
"I think we've always been really well grounded in the biological sciences, but we're looking for ways to expand that into writing about the environment or including art or thinking about sustainability classes and how that relates to business," Mary said.
Students come from all over the world to study at Lakeside, and while they are taking these classes they not only get a fun, educational experience, but also gain some skills that will help them when its time to start job hunting.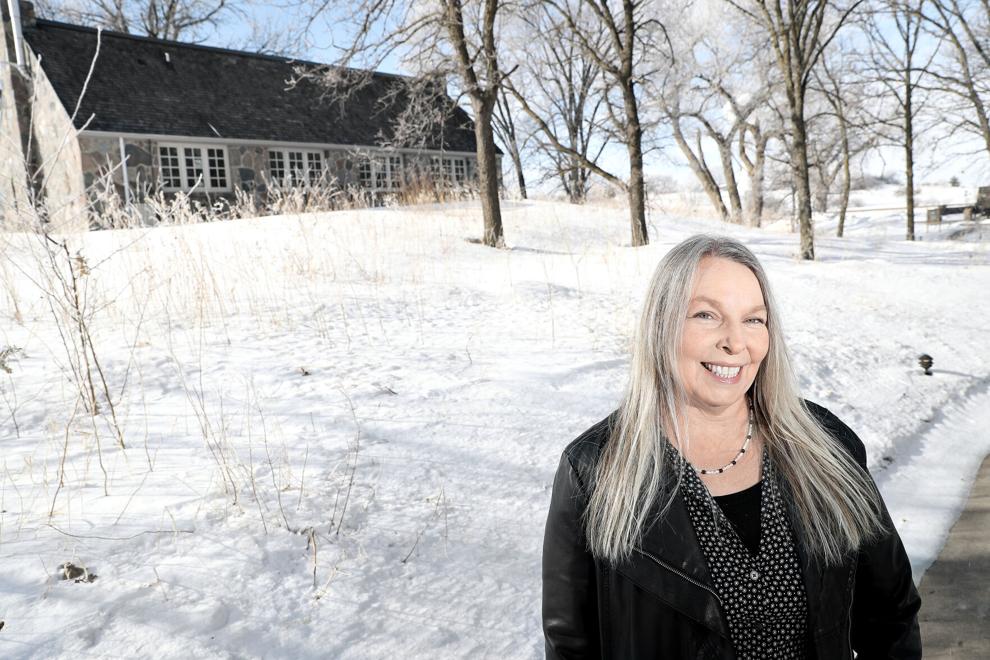 "We've really positioned ourselves, I think to be what we call developing career ready skills," Mary said. "You think about your typical college student ready to graduate, maybe hasn't done anything practical in their time. And they come up here. We had 35 interns last year doing everything from public health assessments to marketing, communication, obviously a lot of the sustainability and
environmental science kinds of things. They all want to do research. We give them some opportunity to get their feet wet with research, but really giving them practical skills that they can take into their career and hit the ground running. We really see ourselves as augmenting what they've learned in college to again take it to the next level."
The educational opportunities that Iowa Lakeside Laboratory and Mary seek to offer go well beyond just college students. They offer up a lot of opportunities for kids in grades K-12 to utilize the Lakeside campus as an outdoor classroom and offer summer camps each year. They also offer a number of classes aimed at adults on specific topics such as Science on the Menu where there is a dinner and a lecture.
"I see Lakeside as being kind of the cross between an education facility, state park and museum. We have, I don't know how many miles of trails and people can come walk through campus, the buildings," Mary said. "We have 26 historic buildings on campus, and we give people opportunities to come see the facility, learn about what people are doing in the environment with our lecture series. There's all this other outreach that we're trying to do at the same time and it's just a great resource for the community."
One of the other benefits that Iowa Great Lakes region receives from having Iowa Lakeside Laboratory right in its own backyard is the opportunity to learn so much about topics affecting this specific location.
"Not many communities have people that are wanting or have the scientific capability to tackle their questions and issues. We can pull in faculty to do research about a number of issues," Mary said. "In the last year, we had faculty looking at bur oak blight and understanding why our bur oaks are dying. We also have water quality experts and fisheries experts."
On top of everything else, Mary is also planning and executing a big capital campaign to ensure the 114-year old facility can receive the upgrades, renovations and updates that it needs.
Mary is committed as a steward of Iowa Lakeside Laboratory to ensuring it remains a sparkling jewel in the crown of the Iowa Great Lakes for the next 100 years.
"I'm a lifelong Iowan, and I love to walk out in the prairie at different times of the year, and I see all these different butterflies that I haven't seen for a long time. And I see we've got mink running along the shoreline and to see the eagles and the owls and the hawks. There's not a lot of places where you can go and just see this wildness and preserved in such a beautiful way," Mary said. "So I'm so excited to be the next caretaker, and my goal is to leave it better than I found it so that in 30 years, somebody else is like, 'Oh my gosh, the crazy cool things that we're seeing because this place has been preserved. "'
Dr. Thomas Macbride's dream of giving students and scientists a place to study nature in nature is still alive and well today at Iowa Lakeside Laboratory thanks in large part to the efforts of Mary Skopec and others who have come before her.
Make sure you take some time to go and explore this wonderful place. In addition to just enjoying spending time in a beautiful place, Mary is willing to bet, you might just learn something while you do. 