West O Beer expands philanthropic efforts
Water and community. The main ingredients for brewery success.
And as West O Beer approaches its 10th anniversary, they're taking their investment in both to the next level through their Taproots initiatives and Blue Taps = Blue Water program.
For owner Matt Matthiesen, water quality has always been at the forefront of their mission.
"That started right away and was the main reason we chose West Okoboji," Matthiesen said. "The water source we know was going to be good and we always talked about the importance of water, but I don't think we realized quite how important it was. Over the last 10 years it's been a learning curve in terms of how far we would take it, and the answer is all the way. Without the water, we have nothing, so we've got to make a commitment to water quality efforts."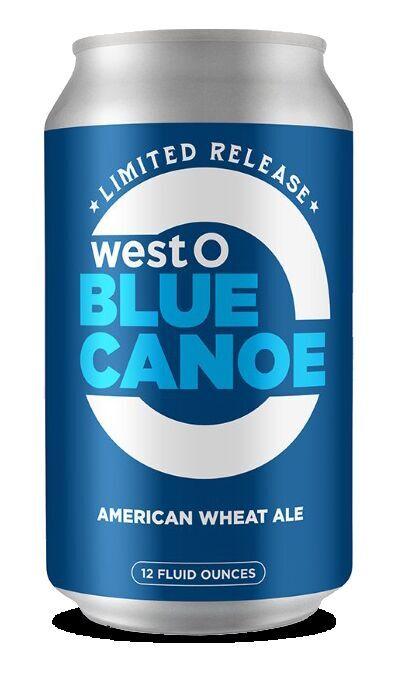 The recently unveiled Blue Taps = Blue Water program is perhaps the most ambitious of the brewery's efforts on that front.
West O, along with Doll Distributing, will donate a portion of the proceeds from every beer poured through a blue tap to initiatives protecting regional waterways.
The plan is to start the program in northwest Iowa, then branch out to central and eastern Iowa hopefully by next fall.
The key will be getting the messaging out to sales staff, bartenders, servers and consumers about the story behind the blue taps at their favorite local establishments.
"Caretaking will be important to make sure it's done right," said Joe Tiefenthaler, director of the philanthropic initiatives and the Taproots program. "None of this happens without partnerships and we have Doll Distributing matching our donations here in northwest Iowa. A lot of the material for Blue Taps is developed with the messaging about why it matters. Why drinking our beer can do more, besides it just being really good beer."
While Blue Taps will eventually spread across the state, the majority of the Taproots programs will stick to West O's own backyard.
They identified the sectors of water quality and conservation, community-focused initiatives and lakes area living as areas to focus their efforts.
"Taproots came about in a strategic planning session to build on our mission and values and focus on how we can more deeply engage with the nonprofit community and businesses," Tiefenthaler said.
Under the Taproots umbrella are the "On Tap," "On the Ground," and "On Us" programs.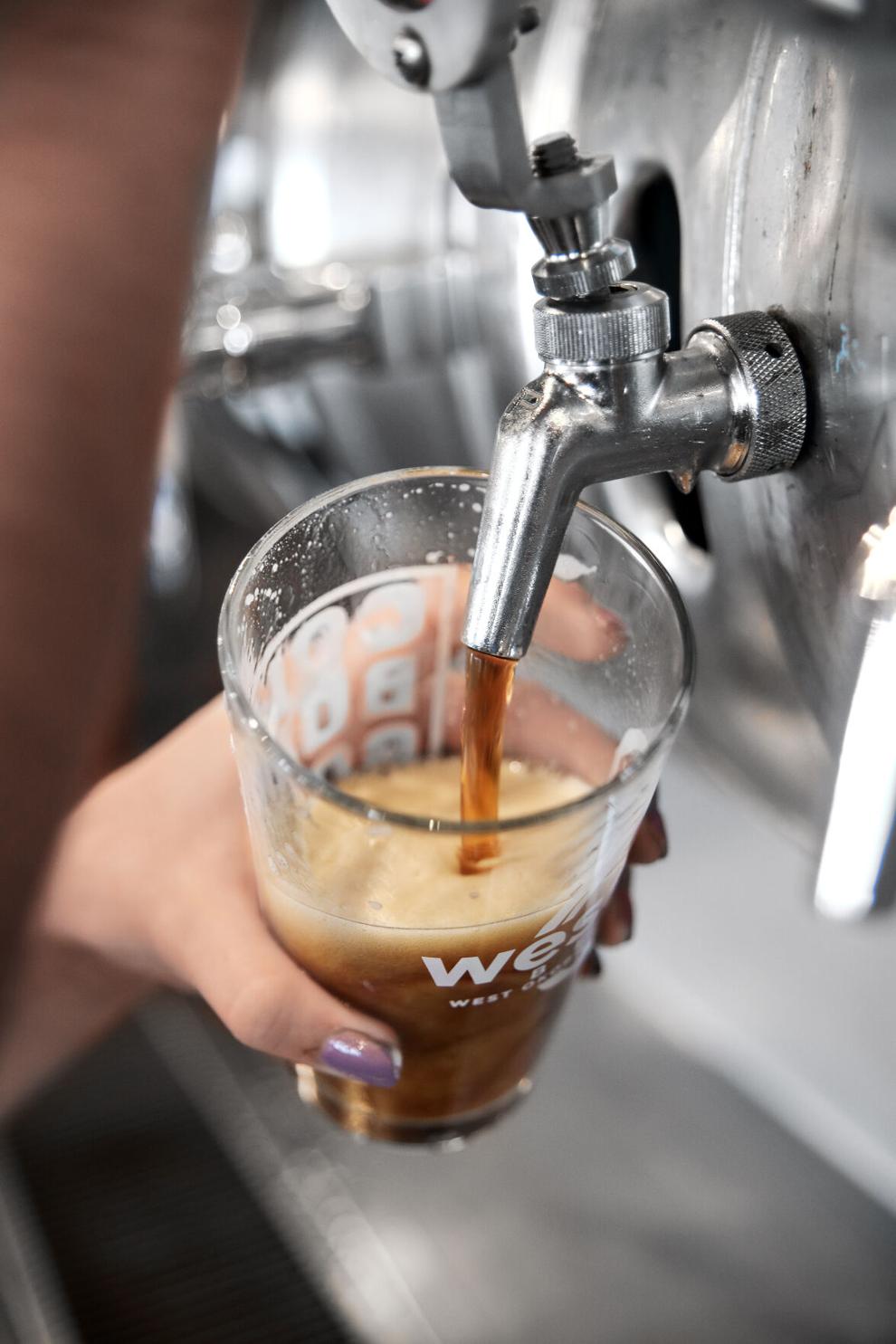 "On Tap" is a collaborative effort brewing limited release beers in conjunction with area fundraisers.
The Legend Shandy helped steer customers to fundraising efforts by Arnolds Park Amusement Park to restore the iconic Legend roller coaster.
A portion of the sales of Blue Canoe, an American wheat ale, supports Keep Okoboji Blue's water quality efforts in the Iowa Great Lakes.
"We've been working with the amusement park, now that the roller coaster has been rebuilt, on shifting focus to another fundraising project so that beer will be re-imagined," Tiefenthaler said. "And even this afternoon Keep Okoboji Blue is coming in to talk about what they have next for their program. We get two very different entities for fun collaborations that amplifies what they're doing and amplifies us for sure as well."
"On the Ground" is all about getting out in the community.
"That literally means being out on the ground. Maybe it's being at a golf tournament, or a beer sponsor at a fundraiser. Simply getting out away from the brewery and supporting folks," Tiefenthaler said.
"On Us" focuses on one nonprofit each month, dedicating 20 percent of one day's sales that month to that particular entity.
But the benefits go way beyond the bottom line.
"Even more importantly that nonprofit is here on site, talking to the community, mixing with brewery regulars. We've got people in here specifically to support that organization, people that just happen to come on that day, all mixing together and talking and building relationships," Tiefenthaler said.
The program focuses on intentional work to maximize their efforts and that of the organization being highlighted each month.
"We have that conversation of how can West O best help. I come from a nonprofit background and understand the importance of that amplification," Tiefenthaler said. "For some folks it was this one night a month. Others were doing a rebranding, and for others it tied to year-end giving. With some it didn't quite matter and we could put them wherever on the calendar."
The American Legion was tied in with Veterans Day. Keep Okoboji Blue timed theirs with end of summer cleanup efforts.
Last year "On Us" raised more than $14,000 across nine events.
"Some of that is just 20 percent of those close out checks, and some of that is from one generous donor who decided to cut a large check," Tiefenthaler said. "In at least one case someone just happened to be in the brewery that night and ended up becoming a major donor to that organization. So, the impact is more than just a portion of the proceeds. It's making lifelong relationships in the Lakes area."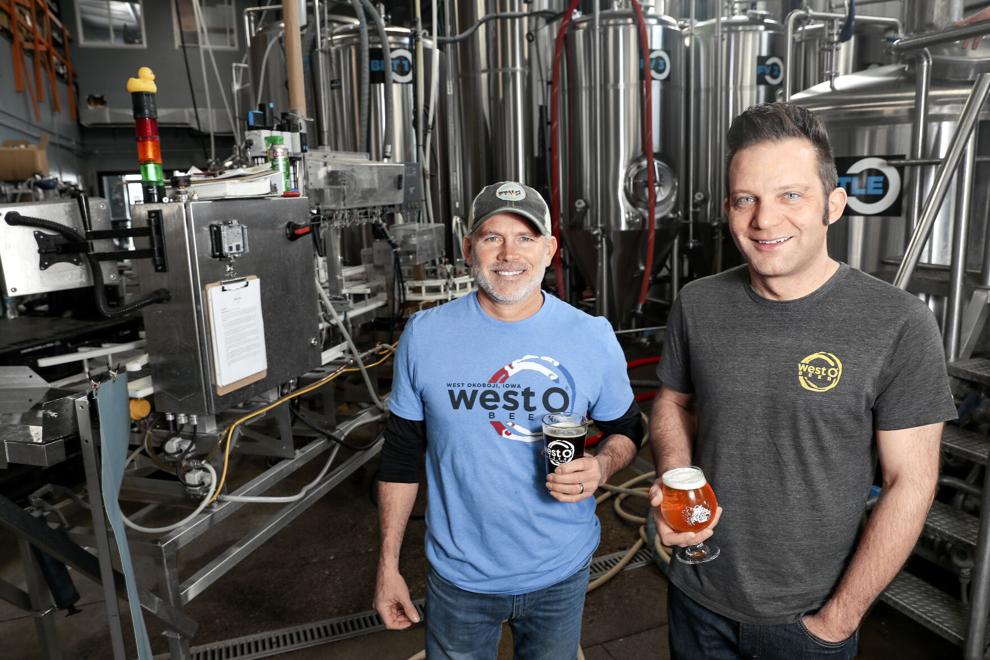 Every month of 2023 is full, and the brewery is already talking to organizations who want to be on the 2024 calendar.
"We have Okoboji Foundation this year as a presenting and matching sponsor, so they come in with all their networks and resources, and we have Lakes News Shopper as a sponsor. It's a growing program and we've been really excited about how it's unfolded," Tiefenthaler said.
The month of April will highlight Kiwanis, and specifically toward their bicycle program for families in need.
May will feature Boys Town and the Blue Water Bash event hosted each summer in the Iowa Great Lakes.
In June, OkoboTree, a project through Spirit of Okoboji, will showcase its endeavors to extend the longevity and beauty of trees in the area through visual art and preservation, and could involve a bike ride around the lake to see some of the completed artwork.
July features Youth in Philanthropy — West O began sponsoring a scholarship for a participating student last year — and August will highlight a partnership with Lakeside Lab to sponsor a water quality intern during the summer months.
And while "On Us" has certainly brought new folks through the doors of West O, Tiefenthaler noted the impact of many of their longtime customers in getting the program off the ground.
"We had this assortment of regulars who saw what we were doing and from the beginning said they wanted to sponsor one of those nights," Tiefenthaler said. "As local businesses they said they loved what we were doing and wanted to contribute, so our core base also was committed from the very beginning."
"We have seen a lot of new customers and get a lot of 'thank yous'," added Matthiesen. "We want to bring everything we're doing to the next level, reach more people, network more, and continue to grow. You might think after 10 years we have it all figured out, but we're always working and evolving. Craft breweries live and die on their water and their community and we're leveling up our commitment to those two things that have helped us survive and thrive."
To that end, West O will be celebrating its 10th anniversary over Memorial Day weekend — a milestone Matthiesen almost has to pinch himself to believe.
"It's a little surreal and doesn't feel like 10 years," Matthiesen said. "It's been a little bit of a roller coaster especially with COVID throwing everyone for a loop, but this year I think we're really set for a big year."
There are plans to build a private event space on the second floor of the brewery.
Potential parking expansion is in discussion.
And not one or two, but three new beers — "10," a blend of imperial barrel aged stout and barley wine, an anniversary edition of 10 foot 10, and an imperial version of their popular Coco Stout, "King Coco" will be released to celebrate a decade of brewing in the Iowa Great Lakes.
"A huge thank you has to go out to the local community for all their support, we wouldn't be here without them at all," Matthiesen said.
Water and community.
Roots that run deep at West O, and throughout the Iowa Great Lakes.