Pickleball's popularity expands in Iowa Great Lakes
Pickleball fever has a firm grip on the Iowa Great Lakes.
While the sport originated in 1965, it has seen a recent explosion in popularity across the country with the northwest corner of Iowa being no exception.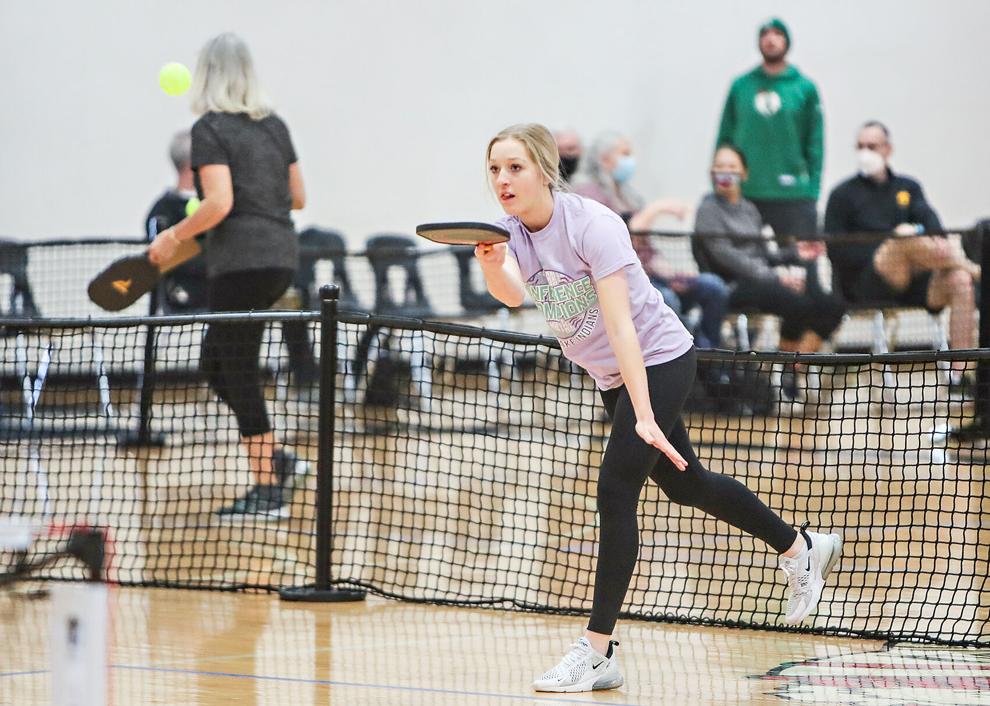 Rachel Fisher, the athletic director at Spirit Lake High School, helped start the Lake Okoboji Pickleball Club and is enthusiastic about the growth of the sport in her hometown.
Getting Started
"We all played pickleball in PE class growing up," Fisher said. "It was always competitive and we did tournaments once a year that were a big deal."
After not hearing much about the game for awhile after high school and college, Fisher and several friends and co-workers at Spirit Lake High School picked up the pickleball paddles once again.
"We started playing as more of a social thing, for fun, and eventually got more competitive and serious about it and the next thing you know we're buying all the equipment for it and playing in tournaments," Fisher said.
In fact, Fisher has traveled to tournaments in Omaha and Sioux Falls, Minnesota, and as far as Las Vegas along with her doubles partner and school superintendent Dr. David Smith.
"It's crazy how big the sport is now. It's growing so much nationally and locally," Fisher said. "The number of people trying to go pro and getting sponsoring by equipment companies keeps growing. Prize money keeps growing. Pickleball was actually featured on ESPN for the first time this year. I think it was the same day as the Super Bowl, so I'm not sure a ton of people watched it, but it just shows how big it's getting."
On the local level the sport has seen a surge too.
The Bedell Family YMCA has hosted pickleball games for several years and new courts were constructed at Speier Park in Okoboji just last summer.
"We have a really solid group of people locally into the sport," Fisher said. "If you want to play you can get a group going any day of the week. The games at the YMCA really helped people get involved and started before we had any outdoor courts and sparked a lot of interest."
Popularity
Though the sport has been around for decades and seen steady growth, it's popularity has exploded recently.
Fisher believes there are plenty of reasons for the surge.
"I think people are finding that it's a mixture between a great social outing and I would say it's a great workout," Fisher said. "There is a whole pickleball community of people that are super nice and supportive and always wanting to learn. Getting a great workout while doing something fun and competitive — I think that's a huge thing. It's just booming everywhere."
A major bonus is that pickleball is a sport accessible to just about every age bracket and skill level.
Fisher noted that at the tournaments she participates in there are brackets all the way up to age 75+ and they're always full.
In the Lakes area the recreational opportunities to enjoy the sport continue to increase.
There are the twice daily games to be had Monday through Friday at the Bedell Family YMCA, courts at Spirit Lake High School and now the courts at Speier Park.
"As someone who is recreationally minded and with two young kids I just think it's awesome there are so many opportunities for them to be active," Fisher said. "We're so grateful for the group that raised the money for the courts at Speier Park. Those courts are awesome. People drive that road all the time, see those courts and want to check it out. It's a cool way to meet new people you might not meet otherwise and you know they're cool if they like pickleball!"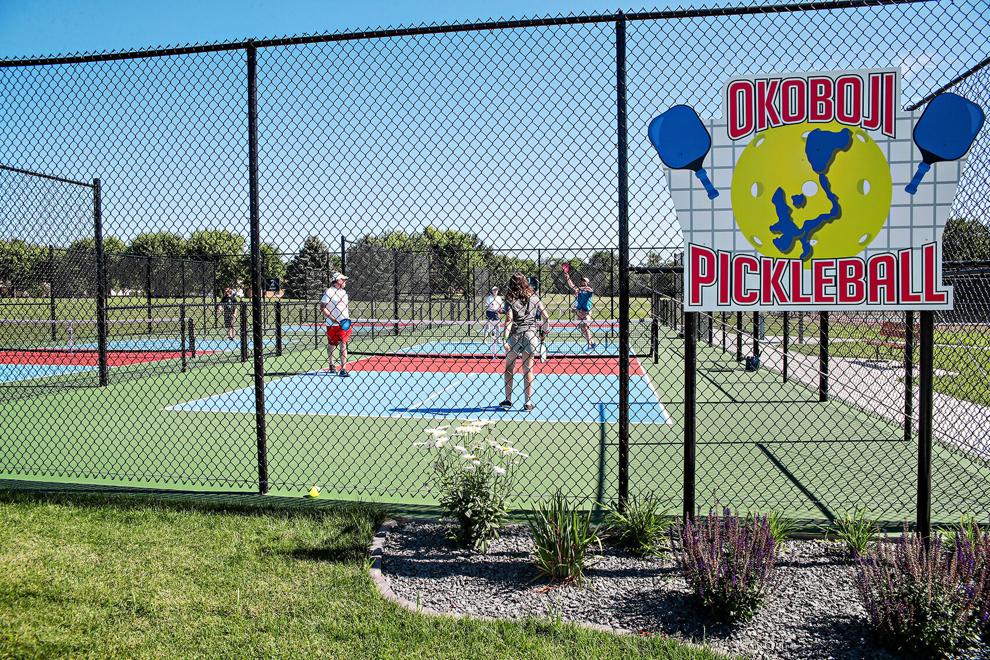 Join the Club
Fisher helped form the Lake Okoboji Pickleball Club, a local group of the sport's enthusiasts who had already been playing the game together for quite some time.
"We kind of learned as we'd gone to tournaments that everybody had their local clubs — they'd sign up and say I'm so-and-so, part of this club, and we didn't have that. We had a big group that played — we just hadn't formalized anything yet."
Their first time promoting the club was through its first tournament, held a few months ago during the University of Okoboji Winter Games.
The group decided just a few short weeks beforehand that they would give it a go, hoping to register 40-50 people.
Closer to 100 people ended up playing, filling every bracket and age division.
"It was a huge success," Fisher said. "We had so many compliments afterward. The sport is growing so much. Everyone wants to play in tournaments and with COVID and not being able to have outdoor tournaments [this time of year] in the Midwest, the opportunities are limited right now. We had people from Nebraska, South Dakota, Minnesota and Iowa signed up. It was pretty awesome and we're trying to find creative ways to make it bigger in the future and we're planning to have 2-3 tournaments this summer."
Anyone interested in the sport locally is invited to join the club.
Fisher is particularly hopeful in
promoting it among local youth.
"We want them involved as much as possible and realizing it's more than just a game they play in PE class," Fisher said. "I really wouldn't be shocked if it became a sanctioned sport some day. The fact that you can tape down lines in any gym and make a pickleball court makes it easy for schools to provide and another factor that makes it such a popular sport."
For Beginners
Again, pickleball's accessibility makes it extremely popular.
The only equipment required is a paddle and a ball.
Then it's as simple as finding a friend to play with and a place to go.
"Really you just need the paddles, a ball and some friends that want to get some exercise and learn the game," Fisher said. "I think it's best to learn in doubles. If you have four people and want to go out to the school or Speier Park and learn the game there are so many people that would love to take 10 minutes out of their day and teach you the game."
If the weather is uncooperative for an outdoor match, there are always opportunities to play at the YMCA.
"They play at 8 a.m. and noon Monday through Friday all year round," Fisher said. "People are always willing to let people join them even if they haven't played and are willing to help you learn the rules. Just like any sport or activity the first time you might not think you're very good but every time you play you're going to get better and fall in love with the sport."
Participants can take it as seriously or as casually as they want.
For some, like Fisher, pickleball is a great competitive outlet for a former college athlete.
For others it's a simple and fun way to get some exercise. It can also serve as a great social outlet and stress reliever.
"They're all spectacular reasons to enjoy pickleball," Fisher said. "Obviously I'm very biased, but I just think it's an awesome sport."