Take a stroll through Windom from end to end and chances are good you'll walk past one of David Strom's past or present art studios.
While he currently works at his home studio as well as a relatively new and spacious location along the highway, Strom, a lifelong resident of the southern Minnesota community, has painted, drawn and made art in locations all around town over the years.
It all started with a trade and a friend with a very appropriate name.
"It was probably fourth or fifth grade and a friend named Art who would do my history projects if I did his art projects," Strom said. "That's when I first knew art really paid!"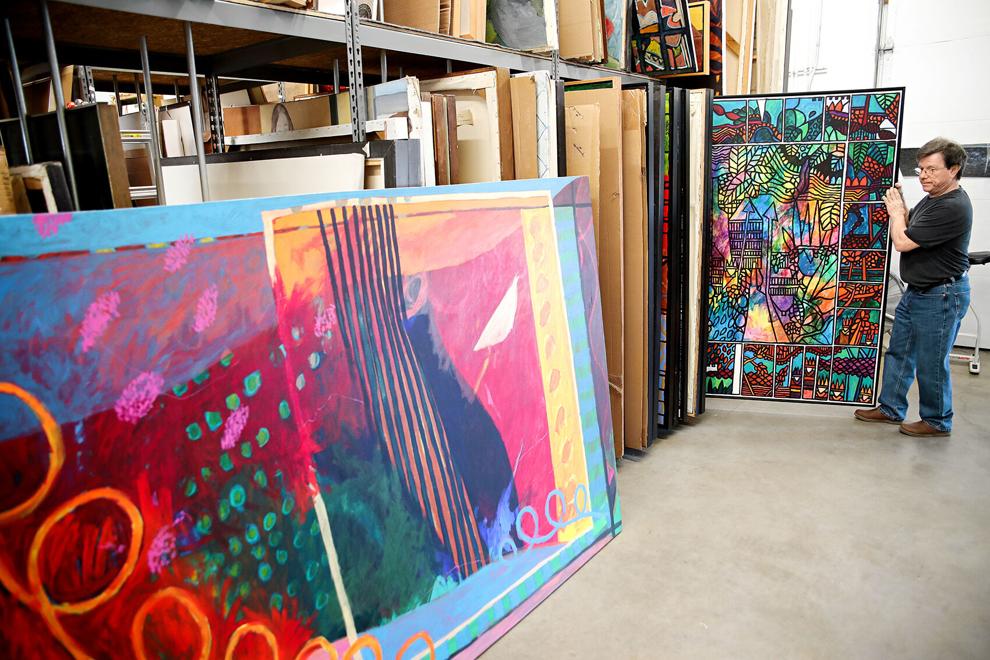 Perhaps technically his first studio was similar to any young aspiring artist and was simply anywhere he could find room to work.
"I always had a drawing board on my table. I was always working on a drawing, but never finished any of them. I still haven't!" Strom said.
Encouraged by junior high and high school art teachers as well as local artist and mentor Bob Remick, Strom continued his artful pursuits and soon knew it was something he would pursue more seriously than just a fun hobby.
At this point, from about 1965-68 he even had his first dedicated studio space above his parents' grocery store in downtown Windom.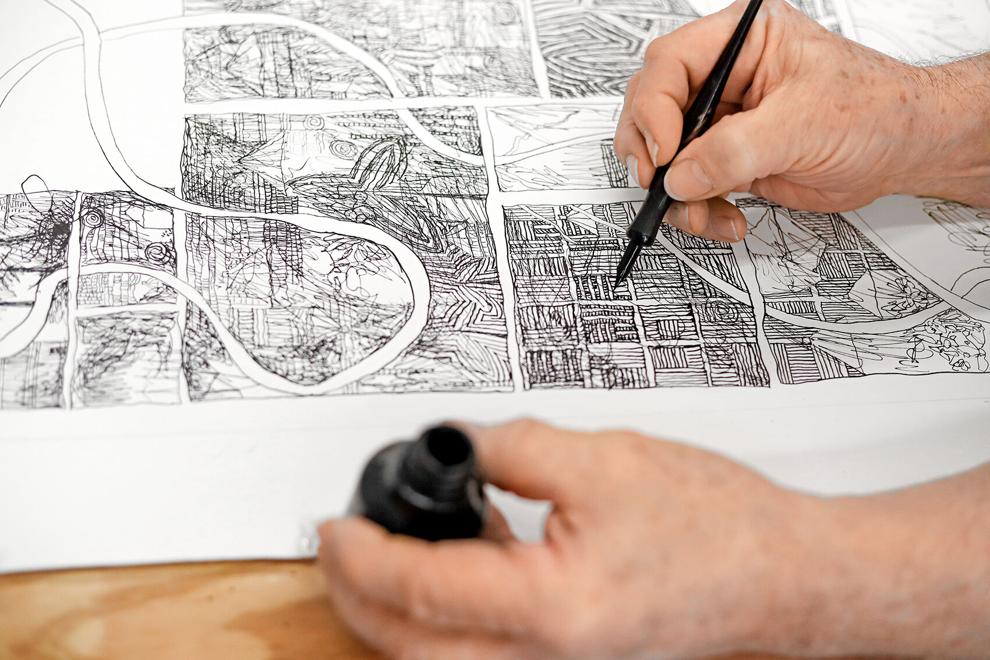 "I knew by about 10th or 11th grade I wanted to be an artist," Strom said. "The summer of my junior year they had a workshop at the Minneapolis School of Art, which has since turned into the Minneapolis College of Art and Design, and I went up and spent about a month there. It was the best summer ever."
The summer almost led to Strom having a string of studios in New York rather than southwest Minnesota.
"I talked with a lot of people that all said if you wanted to be an artist you wanted to go to New York and Cooper Union, so I thought sure, why not, it's a free school if you're accepted," Strom said.
So he took a flight, stayed with a great aunt, took the entrance exam and got a feel for the city.
And to his surprise he was accepted.
"I think that year they accepted 66 students out of maybe 1,200 applicants," Strom said. "But being a small town boy from Windom a little unsure about the big city - it's a free school but you still have to live somewhere - then I got a scholarship to the Minneapolis School of Art."
In more familiar territory, Strom started his college career with what he described as probably his worst studio in a small room in the basement of an old, brick house converted to a dormitory.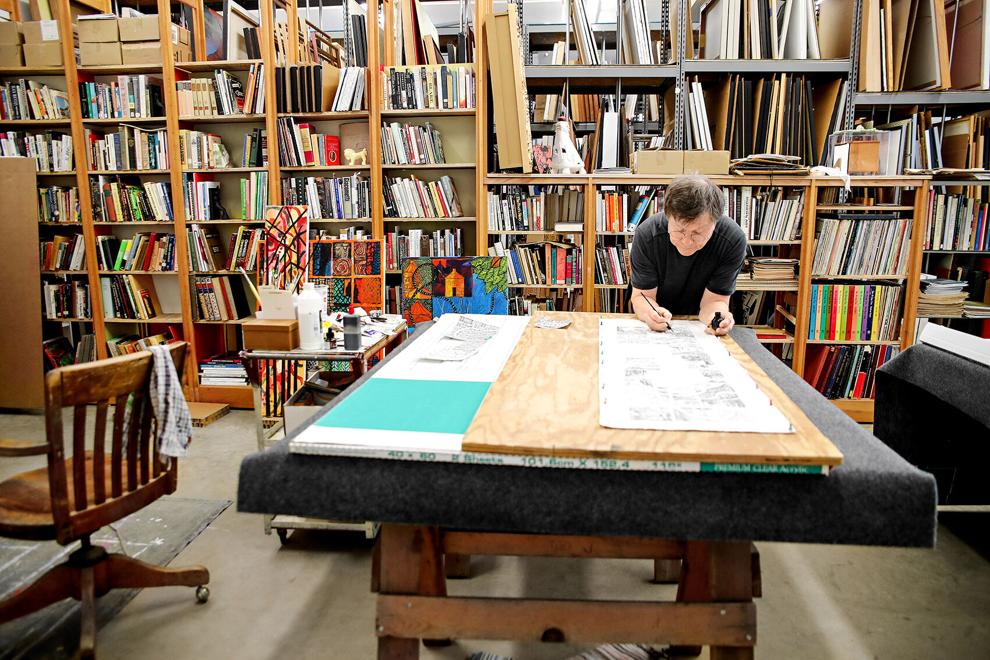 He took a step up in studio space when he took a job as caretaker in one of the original Crosby mansions in the neighborhood of the college, living on the second floor and continuing his art studies.
In 1973 he moved back to Windom after graduation and his parents allowed Strom to convert their garage into a studio.
After working for him for awhile, Strom's dad suggested opening a roadside market, which in a way could be seen as yet another studio.
He sold bedding plants in the spring, then fruits and vegetables in the summer and fall.
And he had a lot of time to draw.
"Conversations at the Roadside Market" was born from that time frame, as were his first of many jungle-themed drawings.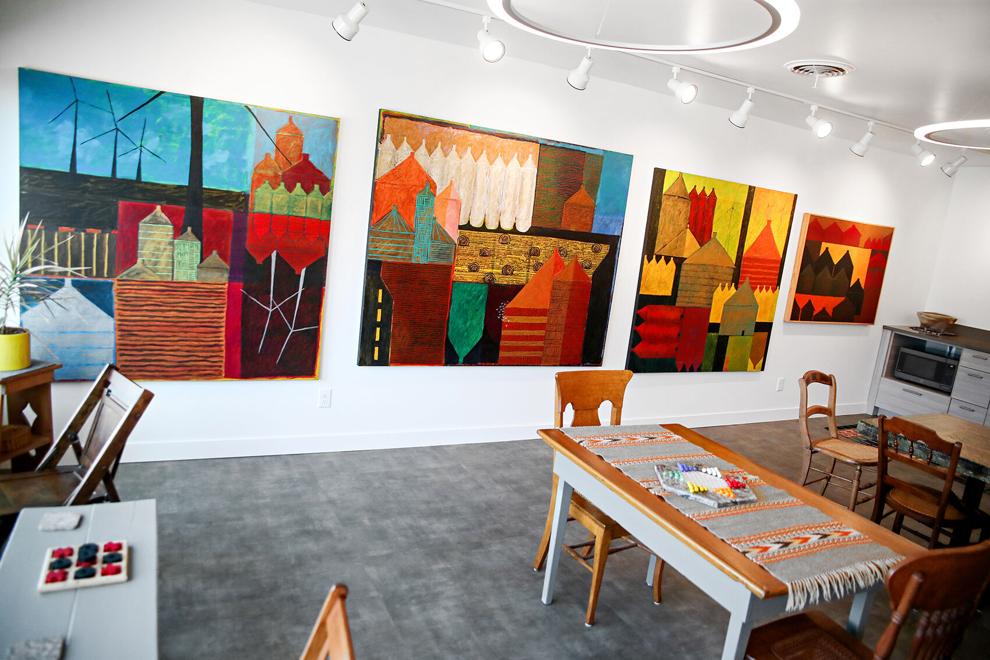 "That's when I did all the portraits for 'Conversations.' Those came about because I had bought a quart of ink when I was in high school not knowing how much that really is and all through art school I never used it, so I got back into it," Strom said. "People would come and sit and I'd do their drawings."
Perhaps being around plants and vegetation each day inspired his imagine and his second avenue of artwork.
"At the same time I did a bunch of what I call jungle drawings," Strom said. "I was making up a jungle space and a story to go along with it. The story was how I was driving around northwest Iowa and southwest Minnesota and took too many left turns and all of a sudden was surrounded by warriors who hauled me off to their jungle fortress. I did a portrait of their queen and she loved it and made me official jungle photographer."
It was during this time that his future wife Marilee stopped by and as Strom says it, made the mistake of bringing him an ice cream cone at the market.
They were married in 1978 and soon after bought an old bank building in downtown Windom where they began First Floral Hallmark.
Of course there was a room above the store that became a studio.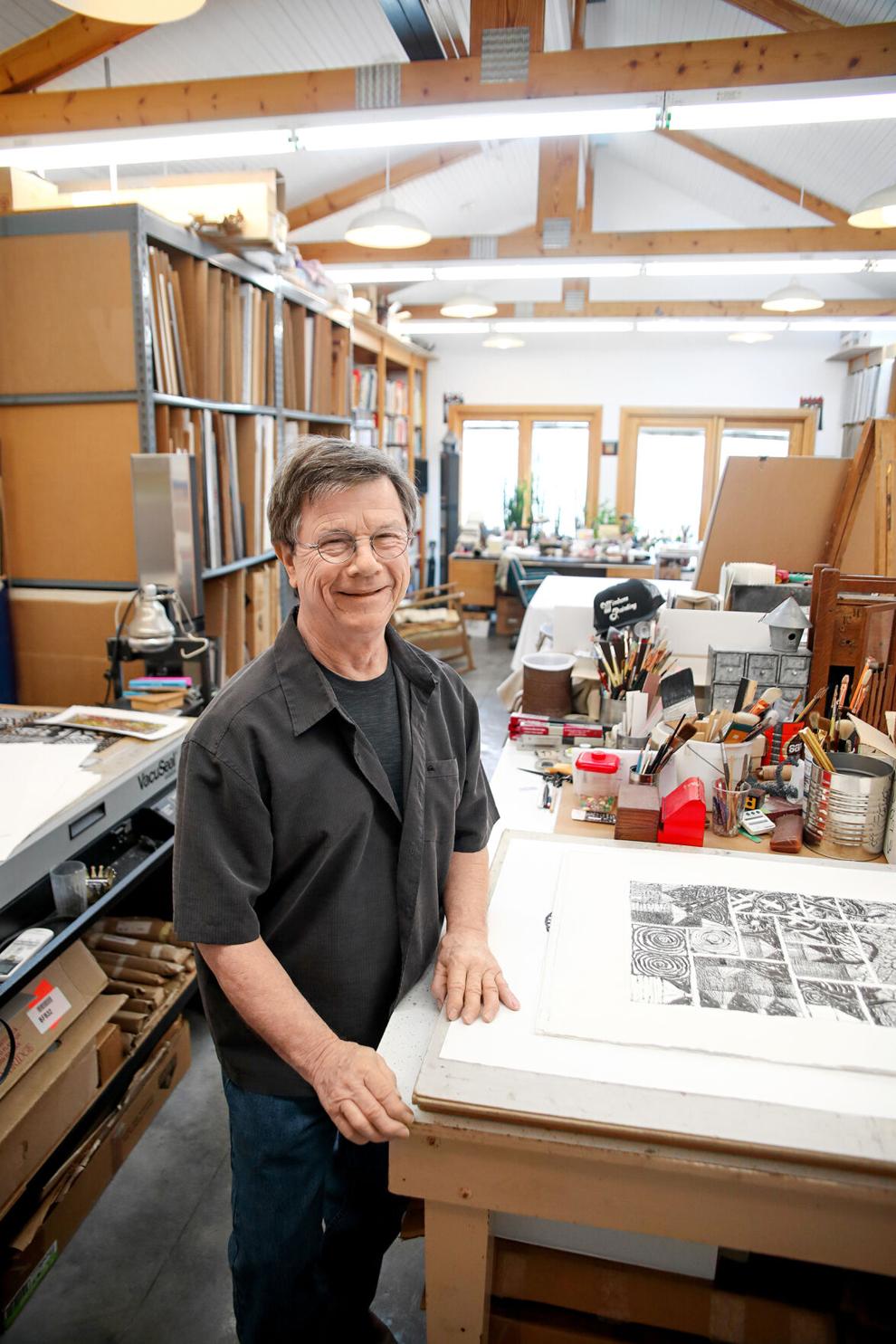 "When we got up to that room I thought we have to get this building," Strom said.
While working full-time at the store, Strom would search for blocks of a couple hours at a time, usually before the store opened or after it closed to get in some artwork.
Some was done in the studio above. Some was done in a portion of a room at home. Sometimes he'd even draw people shopping at the store.
"It's more than a hobby, it's a passion," Strom said. "I'm not a commercial artist. I love it because every day I can do something different. At that time I came to a point where I was doing these fun jungle drawings that are actually pretty nice in retrospect and I decided, you know, I'm a trained serious artist with a degree. I have to do something serious. I can't be messing around with all this jungle stuff."
Artists often have a way of looking at their surroundings in new and unique ways.
Strom was no exception in this regard and soon found a correlation between the jungle huts he'd drawn so extensively and the grain bins that are ubiquitous in the rural Midwest.
Working with pen and ink and acrylic paints, his work evolved from those jungle origins into something new.
"I discovered those gray steel bins were essentially the same shape as the jungle huts, just a triangle over a rectangle, so I started using them as an abstract shape and now I've started to work a little bit of the landscape into it with the contours of crop rows," Strom said.
Wind turbines and more recently birds have begun making appearances in the vignettes of many pieces and plat maps have also served as an inspiration.
"With the plat maps looking down on Earth you've got townships that are six square miles and - genius that I am! - I figured out a square canvas could be a township, what a revelation!" Strom said. "Play is a major part of art. Taking something and playing with it and looking at it in different ways again and again. The jungle stuff still filters in time and time again with leaves and flowers."
During a home renovation about 15 years ago the Stroms built a dedicated studio space that he still uses today and is filled with his art, as well as shelves stocked full of books and vinyl records.
At the time they were also renting out rooms around downtown to store all his paintings. Great spaces
individually, they came with one drawback.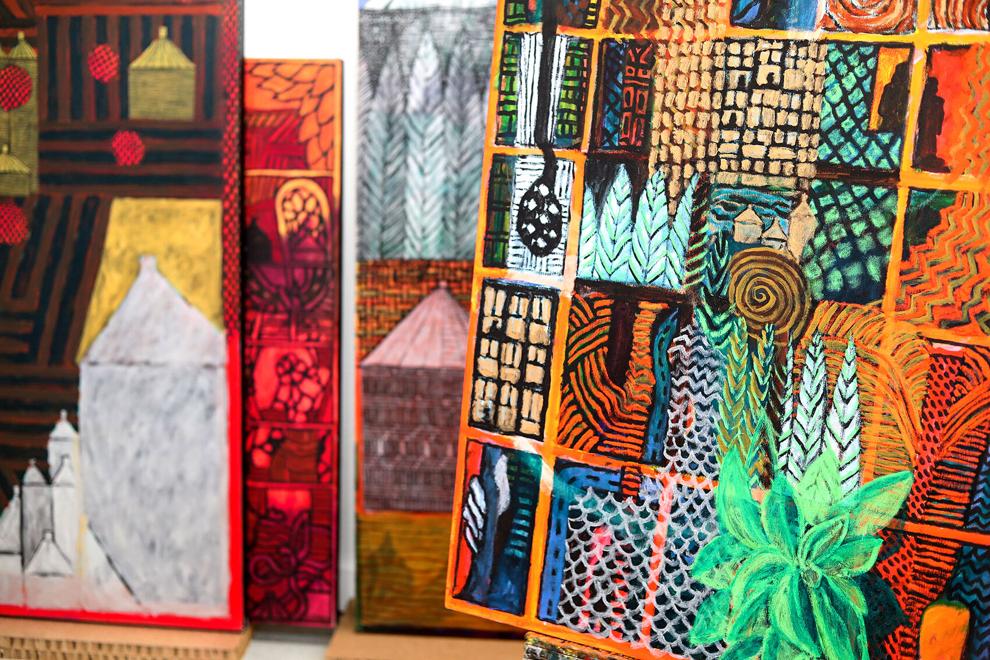 "You'd have to go up 25 steps carrying six-foot paintings up to these small apartments and to get out one painting you might have to put 10 of them in the hallway to get at the one you wanted," Strom said.
Then they saw the building that would become Strom's main studio space today. It was right along the route between their home and their store downtown and one day a "For Sale" sign popped up.
A quick same-day tour led to an offer and they closed on the building three weeks later.
That was almost three years ago.
They moved all the artwork down those same 25 or so stairs and transferred to the new spacious studio, which also features a small gallery of its own.
A big garage door makes it easy to back a trailer right up as close as possible whenever several pieces need to be packed up for a show or exhibition.
Fittingly there is a row of grain bins directly behind the building.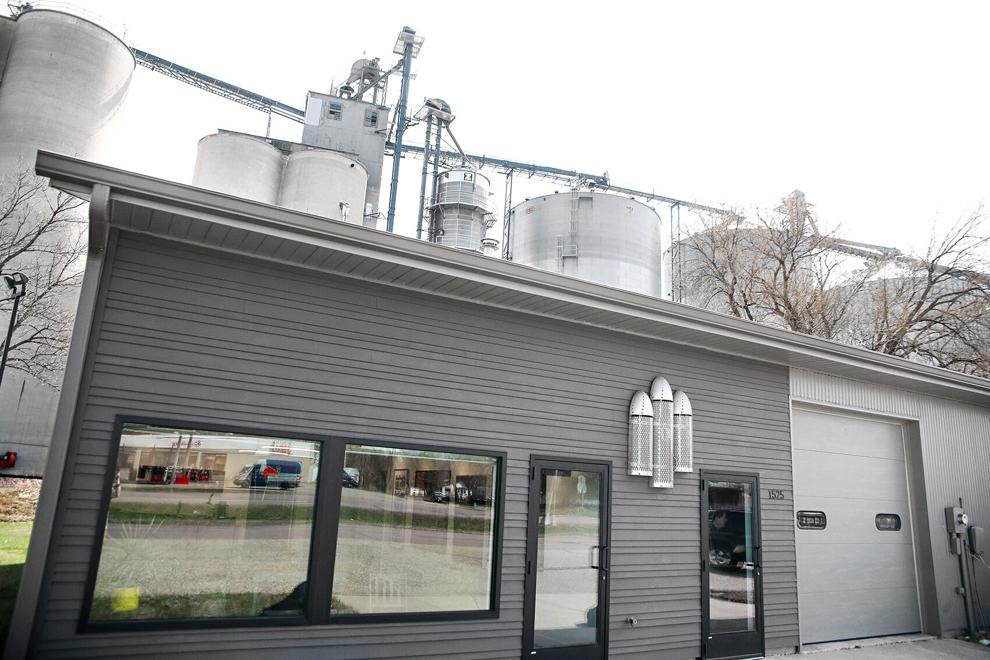 Strom completed several large black-and-white drawings upon moving into the studio and has since received a grant from the Southwest Minnesota Arts Council to make paintings related to those drawings.
"So those will become 3x5-foot paintings with color and texture and the collection will be 24 pieces when it's all done - the 12 original drawings and the 12 paintings," Strom said.
Having sold the Hallmark store a little over three years ago, more and more time has been dedicated to drawing and painting.
But it's obvious in a glance around town that Strom has been dedicated in his passion for much longer.
Several large paintings hang inside the River City Eatery right next door to their former Hallmark business, which is itself in the location that formerly held his parents' grocery store.
Across the square the old bank building is now the public library and some of Strom's artwork adorns the walls there as well.
There is plenty more to come as Strom continues to paint, draw and create new works of art. One grain bin at a time.