Tom Gustafson takes drone photography international
Look! Up in the sky! It's a bird. It's a plane...
The popularity of drones has surged in the past few years and chances are you've seen one hovering above the Iowa Great Lakes at one point or another in that span of time.
And chances are that drone belongs to Tom Gustafson.
The Spirit Lake native and owner of Lakes Area Storage has always had an affinity for photography.
"I was always fascinated with my mom's little Vivitar camera and thinking, wow, I can capture a moment in time and I was enthralled with that," Gustafson said.
Each time the family camera was upgraded, Gustafson enjoyed the challenge of learning and mastering the new technology. During college Gustafson continued his passion for photography while adding another one in becoming a pilot. So eventually gravitating to drone photography made complete sense.
"My dad was a pilot. I'd always been in the air and knew how unique the world looks from that vantage point," Gustafson said, "And so you mix my history of being a pilot and my interest in cameras and then this whole new industry came out — oh my gosh it's a flying camera!"
After closely following the drone industry for awhile, Gustafson pulled the trigger and took his first flight in February of 2016. He's used a few models over the past few years but now takes flight with a DJI Mavic 2 Pro, which comes outfitted with a Hasselblad camera.
He admits to having some nerves during that initial foray into drone photography, but settled down quite quickly.
If one needs any evidence of that, Exhibit A would be "Above Okoboji: Drone Photography of Okoboji's Seasons" which Gustafson published a little over a year after that first flight.
That was soon followed by the early 2018 release of "Above Okoboji: Drone Photography of Okoboji from Sunrise to Sunset."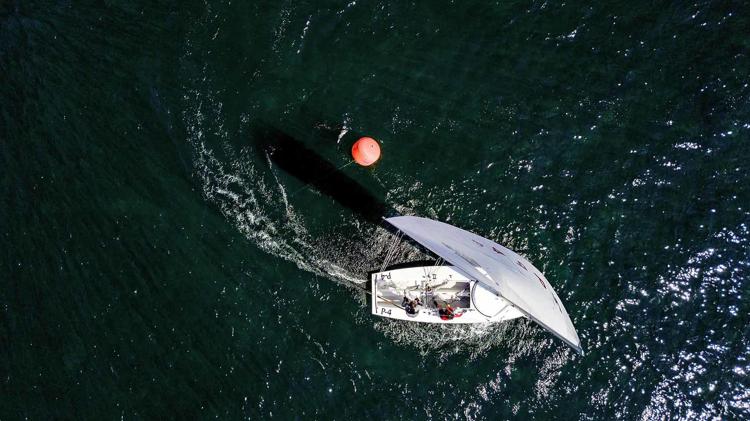 While everyone was admiring the unique, intriguing and beautiful photos capturing the area where they live and vacation, Gustafson was already planning to branch out beyond Okoboji.
Photos for the second Okoboji book were compiled over the course of 2017, and in September of that same year Gustafson and his wife Janine took a trip to Italy. Leaving the continental United States presented several new challenges.
"I thoroughly investigated the laws Italy had set up and they looked very close to what they were for the FAA, so that was good," Gustafson said. "Still, it was exceedingly nerve wracking when I got the drone out the first time and turned it on. My heart was pounding — it was almost as if I was flying for the first time again."
In a foreign country for the first time, Gustafson was mostly concerned about the reaction of the local residents.
It turned out he needn't have worried.
"I just don't want to infringe on the enjoyment of others. Drones can be noisy during take off and landing. But it was nothing, no one seemed to care at all," Gustafson said.
Having scouted ahead of time via Google Earth, Gustafson had an idea of the shots he wanted to accomplish throughout the vacation and quickly got into a groove. His first flight took off from the terrace of the Airbnb where they were staying — on a cliffside approximately 170 feet above the shoreline.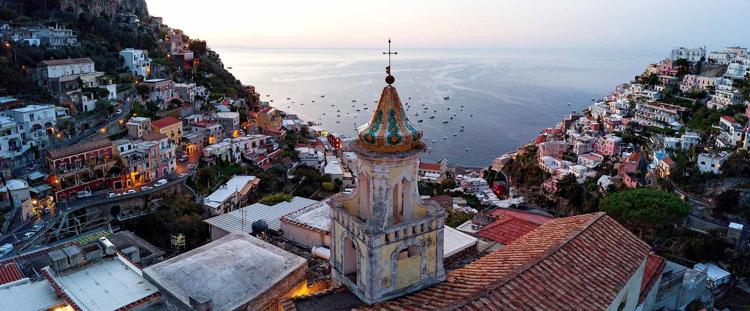 For those unfamiliar with Italy and the Amalfi Coast, its picturesque towns are filled with technicolored homes that are built into steep cliffs and gorges that plunge into the Tyrrhenian Sea.
It was that geography that presented Gustafson with his next obstacle.
"This was fantastic geography to photograph and presented a whole new set of challenges I had never dealt with here in the flat Midwest," Gustafson said. "When you go airborne here in Iowa you can see the drone right in front of you. With a sky backdrop you can clearly see it. When I flew in Positano if I was against the ocean I could see the drone, but if I swivel over here to the mountain backdrop — whoa — I have to look more closely, observe the lights blinking, what the camera is showing me to always maintain its location."
The mountainous topography also made it trickier to maintain the same altitude. Sharp changes in elevation when moving the drone closer to the cliffside could mean going from 400 feet above the ground to 100 feet or 50 feet quite quickly.
In addition to technical aspects of flying, as well as the social aspects in a new country, these new challenges helped push Gustafson creatively as a photographer.
The result was another fantastic coffee table book, "Above Positano, the Amalfi Coast, and Capri: Drone Photography of Italy's Popular Coast," released last spring and featuring 182 stunning shots of the region.
And he's not done there.
Recent journeys to both Switzerland and the Hawaiian island of Maui were documented by drone - "Above Maui" and "Above Switzerland" are coming soon.
Gustafson said the trip to Italy proved to be great prep for these next two locations.
Switzerland has developed a virtual map of restricted flight areas, which Gustafson noted was very useful when developing his photo plans. The downside was that several of the locations included iconic Swiss backdrops.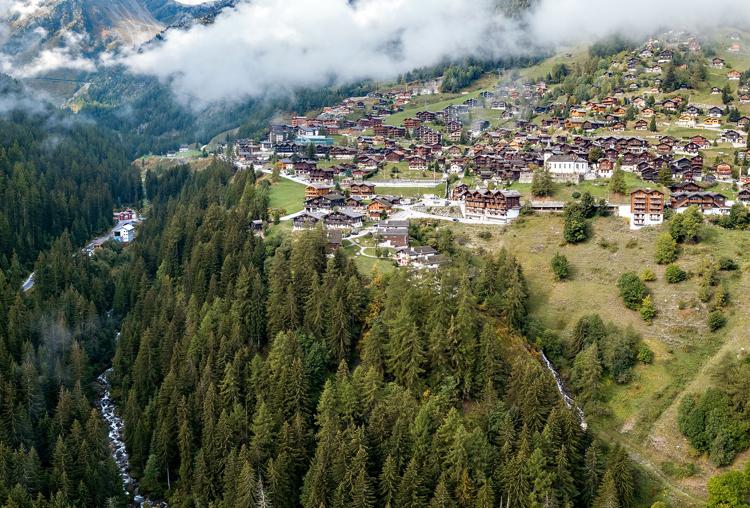 In Maui there was one subject in particular that proved especially difficult to track down.
"Watching the whales was absolutely amazing," Gustafson said. "You could see them from the shoreline and they looked like they were so close."
Therein lay the problem. They weren't really that close. The ocean made depth perception particularly tricky, but Gustafson was determined to secure a whale photo for the book.
"You might think they were a football field away, but no it's more than a mile away," Gustafson said. "My wife and I would be along the shoreline and see their spout blowing air or whatever and try to track where they were going. She would be the visual observer, find it and say go left, and from my screen and I would look down to find it. It's just blue water looking down, like looking for a needle in a haystack. We spent all this time and worked so hard to get just two shots of whales in the book."
Those whales will join an eye-popping set of tropical vistas, rolling ocean waves and much more in the new book.
Add to that the sweeping views of the majestic Swiss Alps above postcard perfect mountain towns, turquoise mountain lakes, and fans of Gustafson's work have plenty to look forward to in 2019.
It's not exactly what Gustafson imagined when he unpacked his first drone, but he's been enjoying every minute.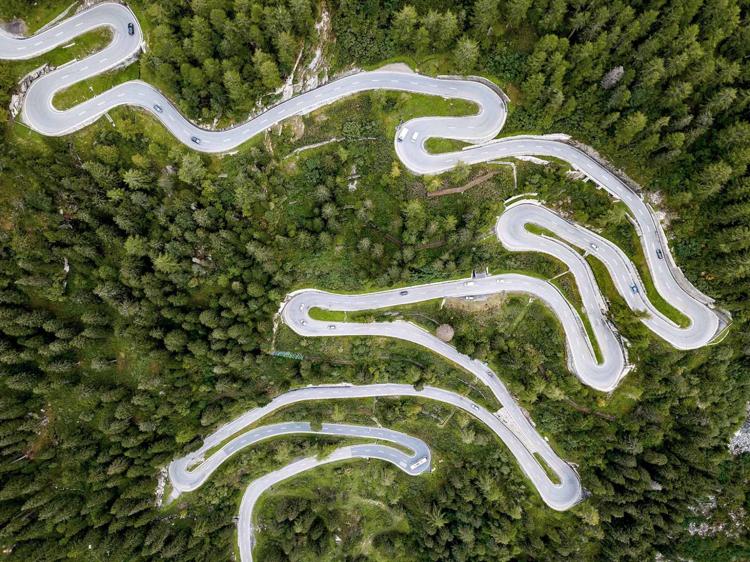 "I thought simply I'd take some photos and have some fun with a new gadget," Gustafson said. "Sometimes the greatest things in life are unintended. I would have never guessed it."
It would be a good guess that more photos are forthcoming.
"It's so fascinating. It's fascinating every time I go up," Gustafson said. "I enjoy seeing the beauty of our world and I really enjoy being able to share that. When you see something from a different view — whether it's Okoboji or any of these other places I've been — you linger and look and say, 'Wow!'"
"Wow" is right.