Iowa Great Lakes set record mark for latest thaw
It's not the record most folks wanted to see broken. Especially with summer on the horizon and lots of work to do to get the Iowa Great Lakes ready for the season.
But break it they did, as the Iowa Great Lakes saw the latest ice out ever according to records dating back just over a century. The previous late marks were set on April 26, 1951, for East Lake Okoboji with Big Spirit and West Lake Okoboji following a couple days later on April 28. West Okoboji tied that record again in 1983.
This year each lake broke it's own record by one or two days.
"Everyone is interested in ice out and there is some subjectivity to it," said Mike Hawkins, fisheries biologist with the Iowa Department of Natural Resources. "I don't know if we've decided completely but I think we'd probably call April 28 for East Lake Okoboji, April 29 for Spirit Lake, and April 30 for West Lake Okoboji."
While Hawkins noted that mid-April ice outs are not uncommon, ice outs past April 20 or so are pretty rare.
And with early ice outs the past couple years, the contrast was quite stark this spring as the ice hung on later and later.
All that ice clinging to shorelines meant lots of anxious moments for Lakes area businesses as they scrambled to get the IGLs ready for summer as soon as the water opened for good.
DOCKS, HOISTS, BOATS
Docks can't be assembled until the ice is out. And hoists can't go in until the dock is done. And the boat can't be delivered until those first two steps are complete. It's a slow dance that is done every spring.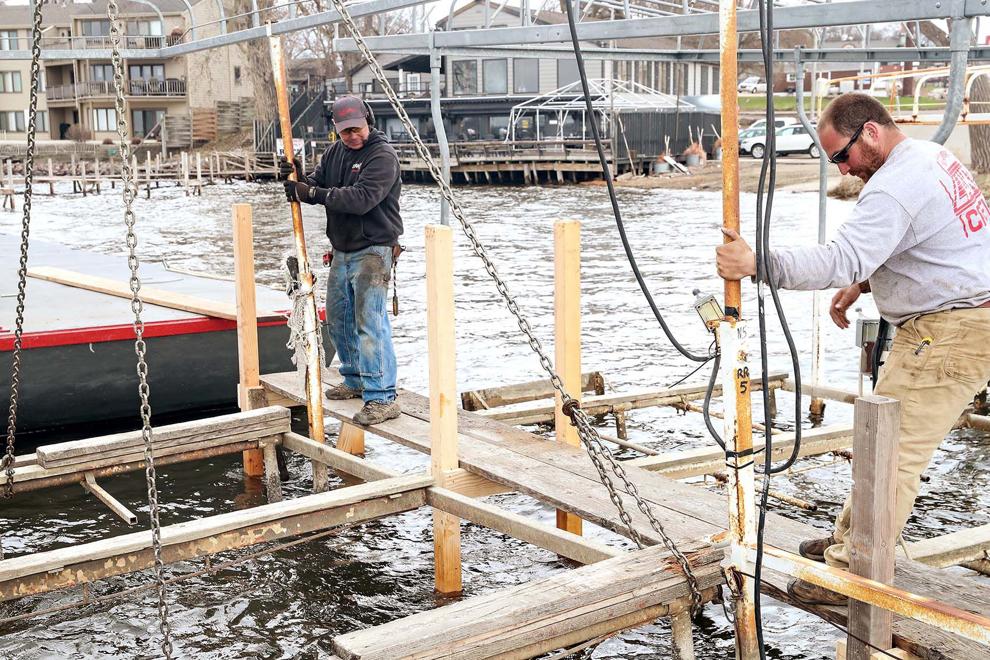 And this year that dance was delayed with the record late ice out.
"It's not a record we want to break. It will just be a mad rush to get everyone in," said Maria Mellmann, office manager, Kuhlman Lake Service & Welding. "At this time last year [April 26] we were almost halfway done and about 95 percent done by Memorial Day. This year it will be a miracle if we're halfway done by Memorial Day."
Josh Kirschbaum is in the same boat, so to speak.
Kirschbaum has nearly 20 years of experience working in the marine industry and this year was a first.
"This is the latest I've ever seen anything like this. I was born and raised here and don't ever remember it being this late," Kirschbaum said. "Last year at this time we probably had close to 175 boats in the water by now and as of today [April 26] we have absolutely zero. We got a fishing boat going out Saturday and a couple fishing boats out to the river. That's it."
Mellmann and Kirschbaum both iterated the importance of keeping tabs on the weather in the Lakes area in the spring.
"We've had people calling in asking to have a hoist in by a specific date in early April," Mellmann said. "I said, good luck — we still have three feet of ice on the lake. Places like Des Moines, Omaha, may not be that far away, but the weather can be completely different."
Mellmann posts a lot of weather-related photos on the business's Facebook page — one actually featured Kirschbaum himself walking on the ice of Big Spirit in late April — to help customers get a sense of what the weather is doing in their favorite vacation spot.
Kirschbaum noted that unless people check weather reports outside their own area, or take regular peeks at the various Okoboji webcams, they simply don't know what's going on in the Lakes.
In the meantime, crews begin working sunrise to sunset as soon as the ice goes out to get everything ready. Communication is key and many try to stay in constant contact with each other for speed and efficiency.
"We can only go as fast as the dock crews go and we're all dependent on each other," Mellmann said. "We have dock installers that text or call us every day — they know we service certain customers and tell us a dock is ready, and in turn if we know a marina services a customer we can call and say, 'hey this hoist is in.' It's great when everyone communicates."
Once the hoists have power then boats can be delivered.
There is a lot of cleaning and scrubbing going on at Ducky's Marine and with the ice delaying the start of deliveries, Kirschbaum tried to get as much of a headstart as he could.
"I've been sending our cleaners over to the storage buildings and cleaning there because there is no way we could do them one-by-one as we pull them out," Kirschbaum said. "I've got four full-time cleaners going as fast as they can. They got 15 boats done yesterday, which will save us a ton of time."
Time is certainly at a premium the closer the calendar gets to summer and Mother Nature has plenty of tricks up her sleeve.
Wind, rain and thunderstorms all play a major part in how quickly everything gets done and where it gets done.
"Some think if you're the first to call in, your hoist is the first to go in, but it doesn't work like that," Mellmann said. "We have 2,000 customers and we go where the dock is in and the wind allows. If the wind is high you don't want our barge there because even with stabilizers down the wind can catch the boom and swing a hoist into a dock and nobody wants that."
Boat deliveries have a little more leeway.
"We kind of got it a little better than the dock and hoist guys because we can still deliver if its windy. As long as it's not thunderstorms — we'll deliver them in light rain and wipe them down again in the hoist. If we wait for the perfect day in northwest Iowa to get it all done it isn't going to happen."
Both Mellmann and Kirschbaum noted that it's a short boating season in the Lakes, and when vacationers only get a few occasions to visit each summer it's going to be a disappointment if the dock, hoist and boat aren't ready to go.
Everyone works hard to make sure those instances are kept to the bare minimum.
"Weather is the one thing we can't control. It's going to be crazy [trying to get everything in]. I think that's all there is to it," Mellmann said. "I just hope that we get six months of summer now that we had six months of winter!"
FISH AND WILDLIFE
Late ice also affects the fish swimming around underneath it, as well as the people that manage them.
Hawkins and crews at the Spirit Lake Fish Hatchery put in long hours during the fish spawning season. This year was no different in that regard, but the late ice certainly caused some anxious moments.
"I was worried about it," Hawkins said. "If the ice had hung on a couple more days and we had to rely on the gill netting we most likely would have had to stop during the walleye opener. We would have had to sit on nets so nobody runs them over. It would have been a mess, but fortunately we got it done." The process for netting fish typically starts right after, or even during ice out.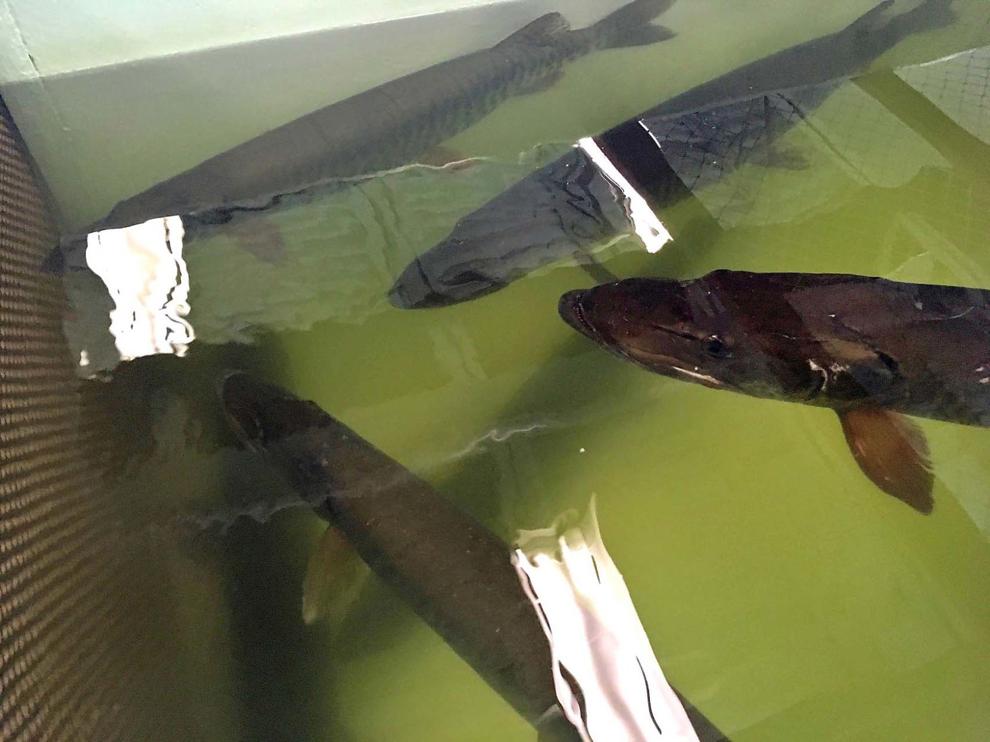 "Fish species are keyed to spawn by water temperature and photo period — length of daylight — and walleyes especially," Hawkins said. "Around mid-April is the ideal photo period for walleye but with ice on the water they don't spawn and need that other cue of water temperature rise. If not they'll just sit there."
With a late ice out the peak spawn gets compressed into a much shorter time, which in some ways makes the gill netting process much easier.
"Early ice outs are painful years. We catch fish, set nets, but it's a grind, later ice outs are good years in that it's fast and furious with walleyes in the net and we're done quickly," Hawkins said.
With ice on the major lakes, Hawkins and the netting crews used some non-traditional techniques to gather their needed numbers of fish, including a backpack electro fisher in the spillway.
"It was an unusual, unique set of circumstances, but we were able to get what we needed and fill the hatchery," Hawkins said.
Other bureaus of the DNR were scrambling as well.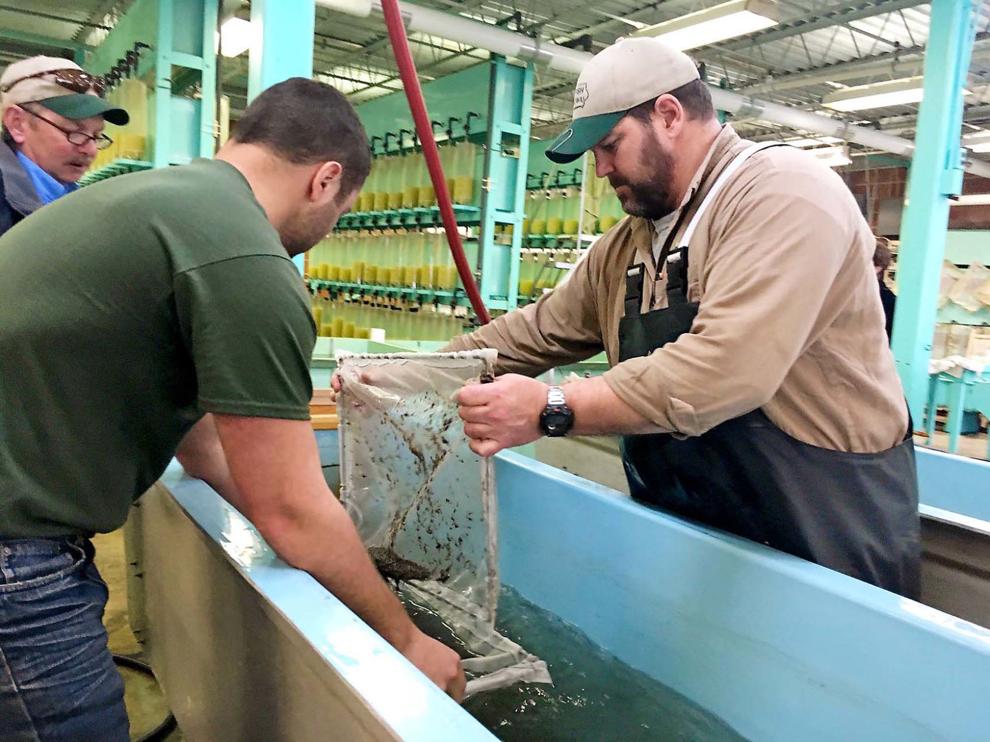 "The state parks guys have been working like crazy trying to get campgrounds open, courtesy docks in, bathrooms opened up. Everything is behind. They've been scrambling like crazy to get ready for Walleye Weekend. At the same time the wildlife bureau has a backlog of prairie burns they have to get done," Hawkins said.
Lots of people are interested in what a late ice out could do to the curly leaf pondweed problem. The short answer is not much, other than putting it a bit behind schedule.
"The science says that it's not duration of ice or a late spring period," Hawkins said. "It's that late ice up that has the greatest effect. It is germinated and gets a great start. I think we need a couple years of early ice cover with good snow right on top to have an effect."
While there can be some benefits to such late ice — it obviously extends the ice fishing season — it only goes so far.
"There is a point when enough is enough," said Thane Johnson, who co-owns Kabele's Trading Post & Lodge with his wife, Tanya. "Once everyone else loses their ice they lose interest in coming up here because they've already put away all their ice stuff and are waiting for the next season."
Which can be detrimental when the next season is stubborn in its arrival.
Thane noted that it was just the second time in 15 years he'd done any ice fishing in April.
As far as it's effect on the bait shop, Tanya summed it up simply as "stressed to the max."
"It definitely makes it difficult for the water to warm up to allow us to get spot tail shiners and leeches," Tanya said. "With all the snow we got the creeks were really high so it can be difficult to get chubs. Overall getting bait has been very difficult but we're out trapping every day."
And now that the ice is melted, summer visitors aren't the only ones eager to get on the water.
"Another part of the late ice is it makes it tough for the dock guys to get public and private docks in and makes for a mad scramble for everybody," Tanya said. "Spring fishing is always good here, but we kind of skipped spring and moved right into summer. So we're excited to get that summer tourism going."
READY FOR SUMMER
"I've been at Parks Marina going on my 20th summer now and never, never, never can I remember an ice out this late," said marketing director Debbie Parks. "For us many things happen in spring, it's the hardest time of the year. In fall you can kind of take your time putting things away, but spring is always a bottleneck."
And it's not like they didn't try to hurry things along themselves.
"Of course if you follow us on Facebook you'll see we do what we can to help Mother Nature along," Parks said. "We'll get a boat out there and break up the ice, but I think this year it re-froze half a dozen times or more. I've never seen anything like it. If you'd asked me a week before Walleye Weekend that we'd have open water I'd have said 'no way.'"
With 1,200 boats to prepare and get out of storage for customers, the marina, like many others, was eager to see the ice go out.
"Everything is kind of like a puzzle — if one thing isn't ready the other pieces don't fit into place," Parks said. "I will say that I'm so proud of everybody, all the dock and hoist people, it's amazing how quickly things come along when people work together."
With the ice finally out and sunny skies in the forecast Parks quickly added, "Now I'm just so excited for summer!" 