Less house. More home.
That's the motto at Scott and Marilyn Tampke's Iowa Great Lakes getaway on the north end of West Lake Okoboji.
The couple from Kansas City bought the Triboji cottage sight unseen in 2015 and have been working ever since to make it into their ideal lakeshore getaway.
"My sister has a house here and when this one came on the market she said we'd better jump on it," Marilyn said. "So we made an offer then jumped in the car to come up and see what we bought."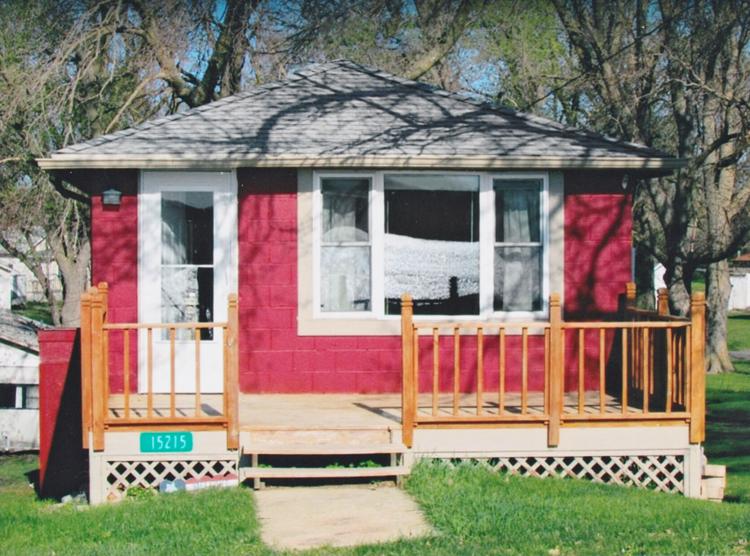 The cinder-block home was built in 1953, a couple decades after the Sioux City Tribune began advertising 25-foot lots on the north end of West Lake Okoboji and dubbing the area "Triboji."
The Tampkes new lake home rests along those original lot lines.
"If you want to know where the markers are you just have to find the trees or where the trees used to be. They planted them 25 feet apart and those were the lot lines," Scott said.
Within their lines was a structure they set about updating and modernizing.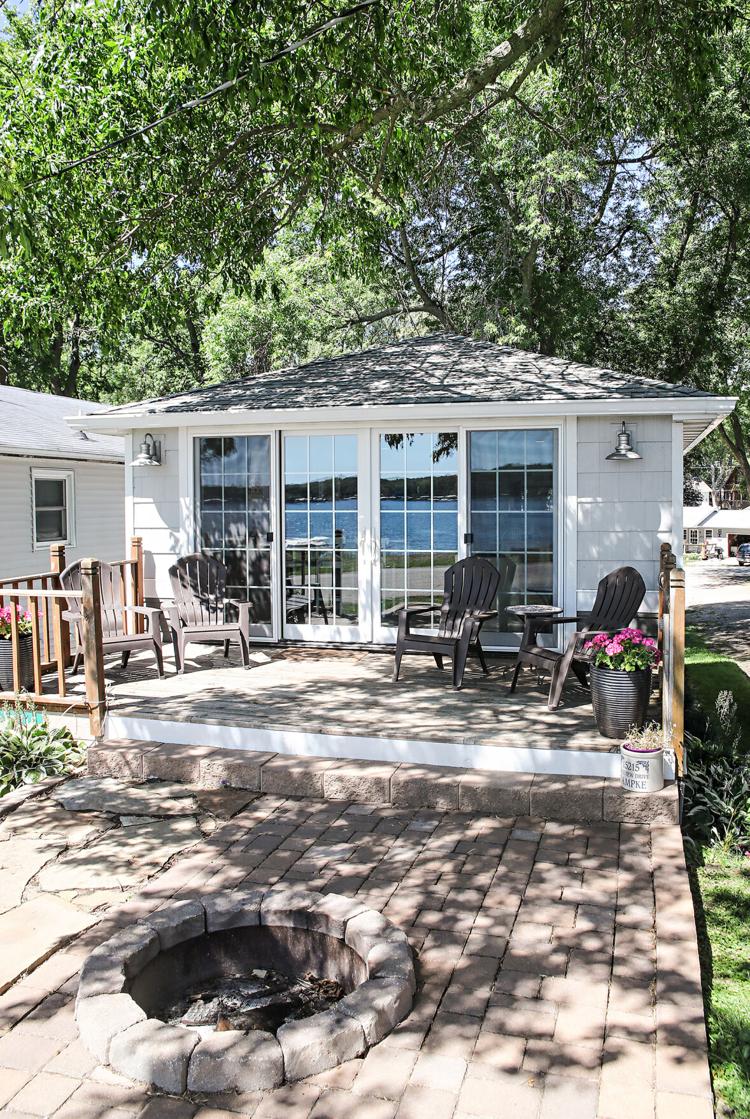 "We knew it had good bones — structurally it wasn't going anywhere — it just needed updating," Marilyn said.
"A lot of people think of remodeling as expanding, but that's not what we did," Scott added. "We wanted to modernize. We took a small footprint and just tried to not make it smaller."
Marilyn is originally from Omaha and grew up visiting the Iowa Great Lakes. Her parents had a place in Sandpiper Cove and she has fond memories of staying at The Inn when she was a child.
"I've always loved Okoboji," Marilyn said.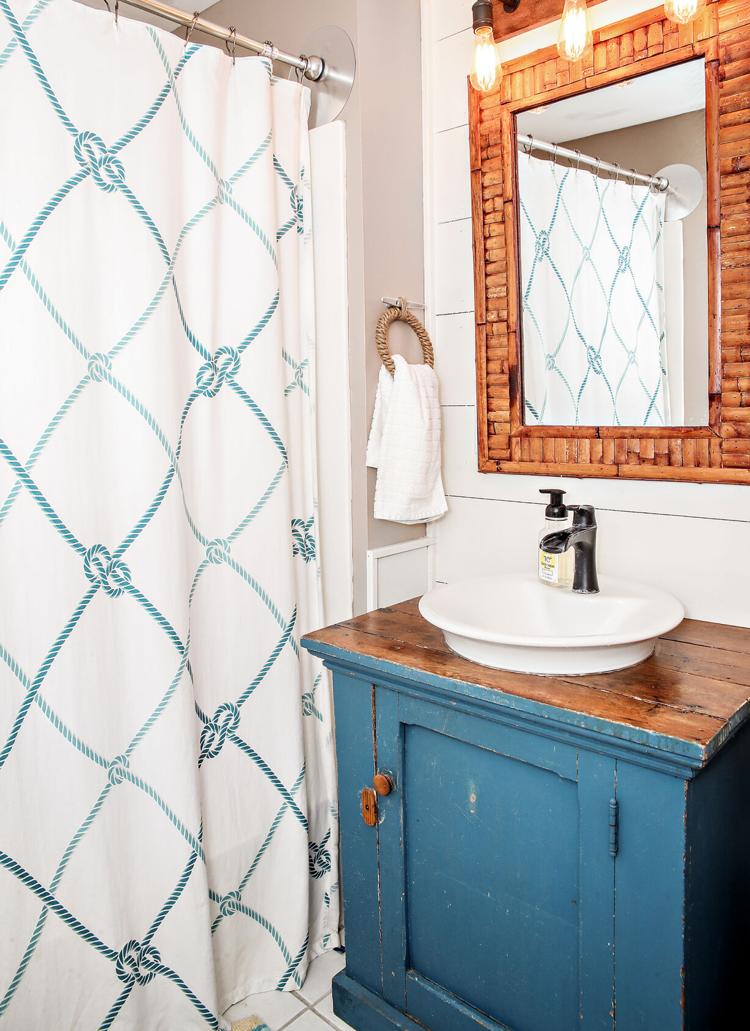 So much so, in fact, that their dog's name is Piper, after Sandpiper Cove, and a previous pooch was named Boji.
Scott grew up in New Orleans and met Marilyn when his job took him to Omaha.
"I was a gulf person, a beach guy and I became a lake person," Scott said. "I loved it because it's about family."
The Tampkes have five children, all of whom grew up vacationing in Okoboji, and now one grandchild is also starting to enjoy the same things.
The goal for their Triboji remodel was to get their lake home to a place to host family and friends for a fun weekend.
"At first it was just putting band aids on things so we could get the place to where we could have family over for the weekend and they wouldn't feel like they were just one step above camping," Scott said.
Eventually they crossed paths with Ben Zenor, owner of The Okoboji Tile Shop.
"We were really lucky in finding Ben. We asked if he could take and kind of project manage the process for us," Scott said. "Whatever we needed done, Ben would find somebody."
The cottage is perched atop a hill with a sweeping view of West Lake Okoboji, so preserving and actually expanding on that was key.
But first things first. Water is life.
"The biggest thing was that we had well water when we bought it," Marilyn said. "I remember thinking if we had normal water I would be so happy, so when we got city water it was a life changer. Then getting the electrical work fixed made a huge difference."
Other changes arose over time.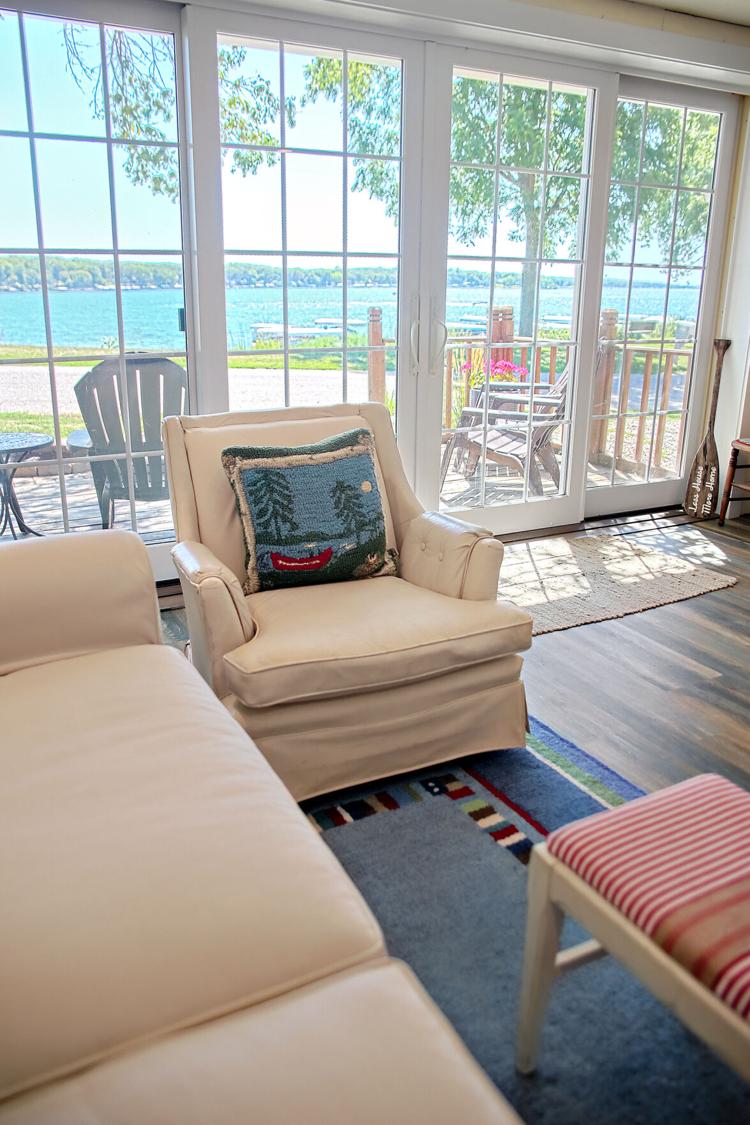 Window air units were replaced with a mini-split HVAC system. Swinging doors were exchanged for sliding ones wherever possible. New windows went in.
The home wasn't insulated at all so they found a unique solution.
"We didn't want to put it on the inside and make the space even smaller, so the guy who did our siding also did the insulation underneath, but on the outside of the house, which is pretty unique," Scott said.
"We'd just kind of find things day to day," Scott said. "One day we realized the kitchen cabinets weren't actually attached to anything."
The Tampkes made their own shiplap for the main floor, and redid the kitchen walls with subway tile.
Marilyn also added a few personal touches to enhance the lake life feeling with a bit of nostalgia.
"My dad was a homebuilder in the '50s and '60s and when I first saw this place it reminded me of the houses he used to do," Marilyn said. "So I got appliances like the refrigerator and toaster with that retro look. I also tried to incorporate things like a picture that used to hang in my parents' condo and the coffee mugs from there that I loved."
Reds and blues serve as accent colors in a light and airy space. It started with the pattern on the first chair Marilyn bought for the cottage.
"We literally came up here with no furniture," Marilyn said. "So our very first piece of furniture was this chair and I went from there with the color schemes. I'm always looking for new pieces and picking up things that fit."
She always has an eye out for the next perfect cottage addition.
"My latest find is this cool door to the bedroom that I found at a consignment shop," Marilyn said. "It has beveled glass and a doorbell. I love it."
The main floor bedroom it leads to has its own unique feature.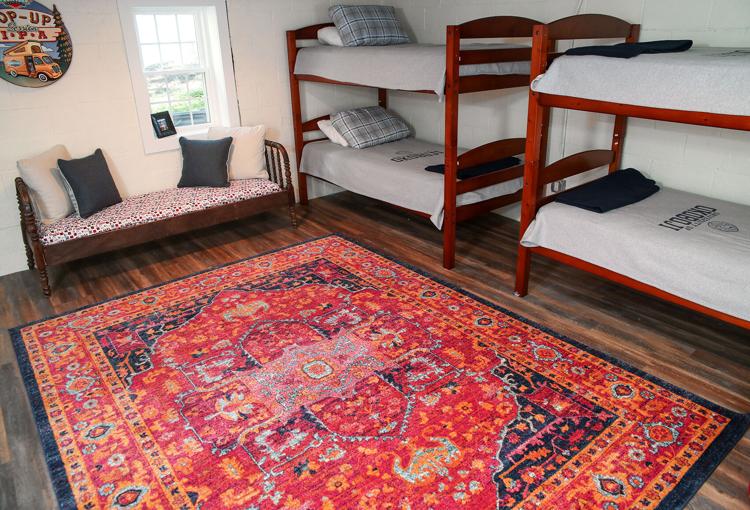 "It's kind of a weird thing but we wondered why does this bedroom have a window opening to the living room?" Marilyn said. "Turns out it was to get the air flow because otherwise it would have been a hot box."
Now they simply draw a shade or wake up to a lake view. To take full advantage of that view the Tampkes also installed a sliding-glass door spanning nearly the entire front of the home.
They also took down the front rail from their front porch and expanded with pavers and a fire pit.
"I couldn't have imagined how much taking that down and putting down pavers would add to it, but it gave us great access to seeing the lake," Scott said.
"I've always wanted a good view," Marilyn added. "What's the point of being on the lake without a good view? We always have walkers and cyclists stopping by taking pix."
That's partly because their home is uniquely situated in Triboji.
A road crosses in front of the house, but the land beyond is owned by the state and managed by the Department of Natural Resources, so there is no development hindering their panorama.
"We feel like we have a million dollar view. It's a Champagne view on a beer budget!" Scott says with a laugh.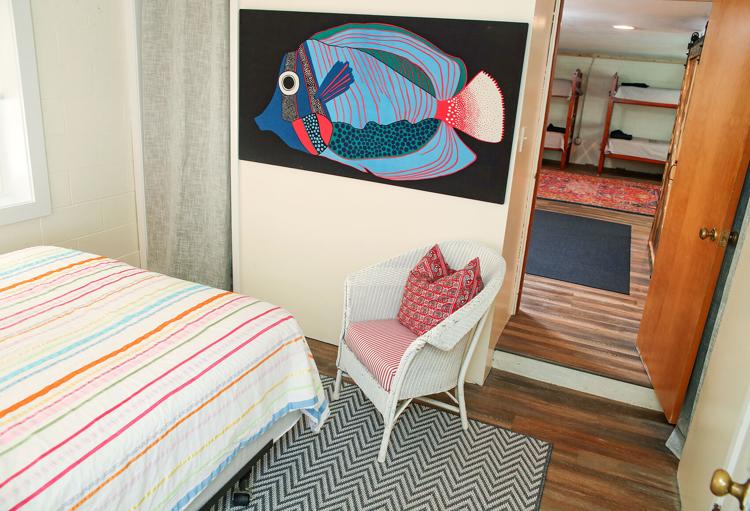 Moving toward the top of their to-do list now is adding storage space to make up for what they've converted and updated for other uses. Building a garage will also give Scott office space and room for one more necessary addition.
"We need a golf cart!" Marilyn said. "It's a very Triboji thing and has always been amusing to see the golf carts flying by. It's part of why we love the neighborhood. So we need a garage to store our golf cart."
In the meantime they're content to enjoy their home to its fullest potential. And that means one thing above all else.
"I think it's the family time," Marilyn said. "I just looked at an old photo album and all of the pictures are from Okoboji when our kids were babies and we'd come up with their grandparents. And I'm very close with my sister across the lake, but with her in Omaha and me in Kansas City we would never spend all this time together if it weren't for the lake."
That family connection and tradition continues with their own children.
"Our kids are all grown and in college or have careers and families, but they'll come back to Okoboji," Scott said. "Our granddaughter lives in Dallas and they came up here for 10 days with us."
Something about the Iowa Great Lakes has a magnetic draw for families near and far.
"I consider it my happy place," Scott said. "I used to joke that I'd come up here, park, walk around the house and all the stress out of my toes. There's something soothing about the water. It's transformative."
Just like the cottage on the hill. Transformed into their perfect Iowa Great Lakes getaway.