Family traditions and the gift of giving.
There are plenty of reasons, but Christmas has always been a highlight of the year in the Gifford household.
"For me Christmas was always a big deal," Jill Gifford said. "We always decorated a lot, had Christmas at my grandma's house and danced around the Christmas tree singing songs."
As far as decorating the home, Jill enjoys expanding on those traditions while putting a Christmas spin on her preferred rustic farmhouse style.
Her husband, Tyler, also credits family traditions handed down from his grandparents for his Christmas enthusiasm.
Every year he hangs all the ornaments his grandmother gave him as he was growing up.
It's a tradition they've since started with their own two children.
"We get them a personalized ornament based on whatever they're into that year and when they move out we'll give them all their ornaments so they can start their own tradition with their family," Jill said.
Traditional white, red, and silver bulbs join those ornaments and several others on the tree, which sits in the entry hallway just before the living room and is topped off by a star that fits right in with Jill's decorative farmhouse style.
"We definitely have the sentimental ornaments along with all the pretty ones," Jill said.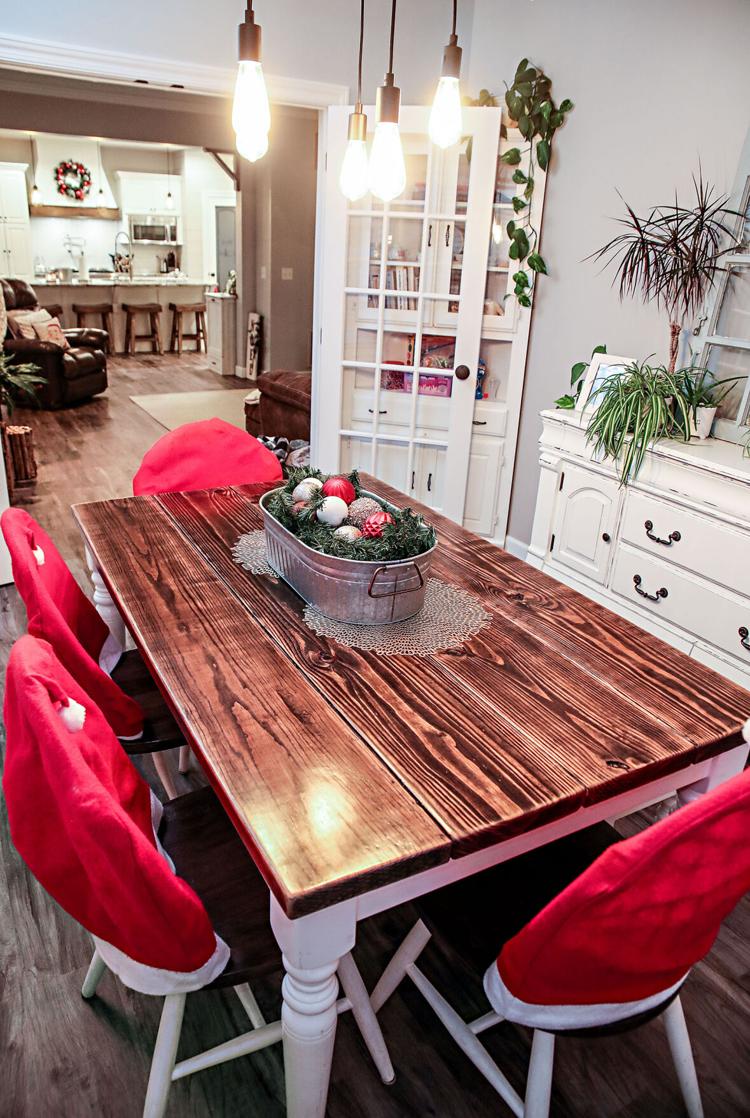 Tyler noted that sentimental ones are mostly hung on branches on the upper half of the tree to avoid the curiosity of the family cat.
The line of demarcation for Christmas decorating, for many folks, typically falls at Thanksgiving weekend.
That's when all the boxes and lights come out from wherever they're stored the rest of year and piece by piece are placed around the house.
For some this is a hard and fast rule.
For others there is a little more leeway.
Count the Giffords as the latter.
"We usually start the day after Thanksgiving, but this year the time period was so short that we actually did decorate before Thanksgiving," Jill said. "I think it also depends if we're having people here for Thanksgiving or not, so this year we did it about a week before."
Tyler is ready to go as soon as he starts hearing Christmas songs while he's out and about.
"Some don't like it when they hear them so early, but I'm like 'Yes! It's officially Christmastime,'" Tyler said. "We'll have Spotify on Christmas Classics all the time."
So while the sleigh bells are ringing and snow glistening, the Giffords are decorating.
On the outside holiday decor is kept simple and timely with a few holiday pottery arrangements around the house and wreaths in each window — a timeless look that perfectly matches their red brick home.
"I feel like outside the wreaths are very classic and everything goes well with the house. It's subtle and looks good," Jill said. "We have them where people can see them driving and there's one that's fun that you can see from the kitchen."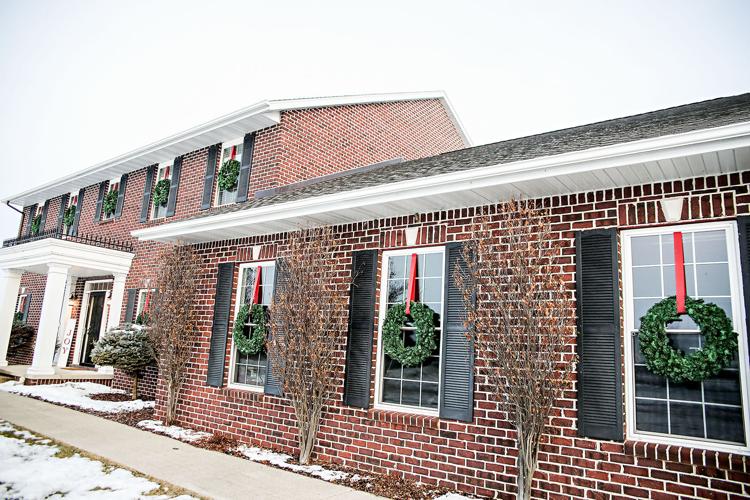 There are 12 wreaths on the front of the house and 15 in total.
"In general we just like a warm feeling home even outside of the Christmas season," Jill said. "When we redid the home we just wanted it to feel warm and welcoming and I think Christmas decorations add that extra warmth that make you just want to snuggle up around the fireplace."
There is one of those in the living room and above it are four stockings hung from the mantel with care. In fact, Jill actually built that mantel herself, as well as many other features in the home.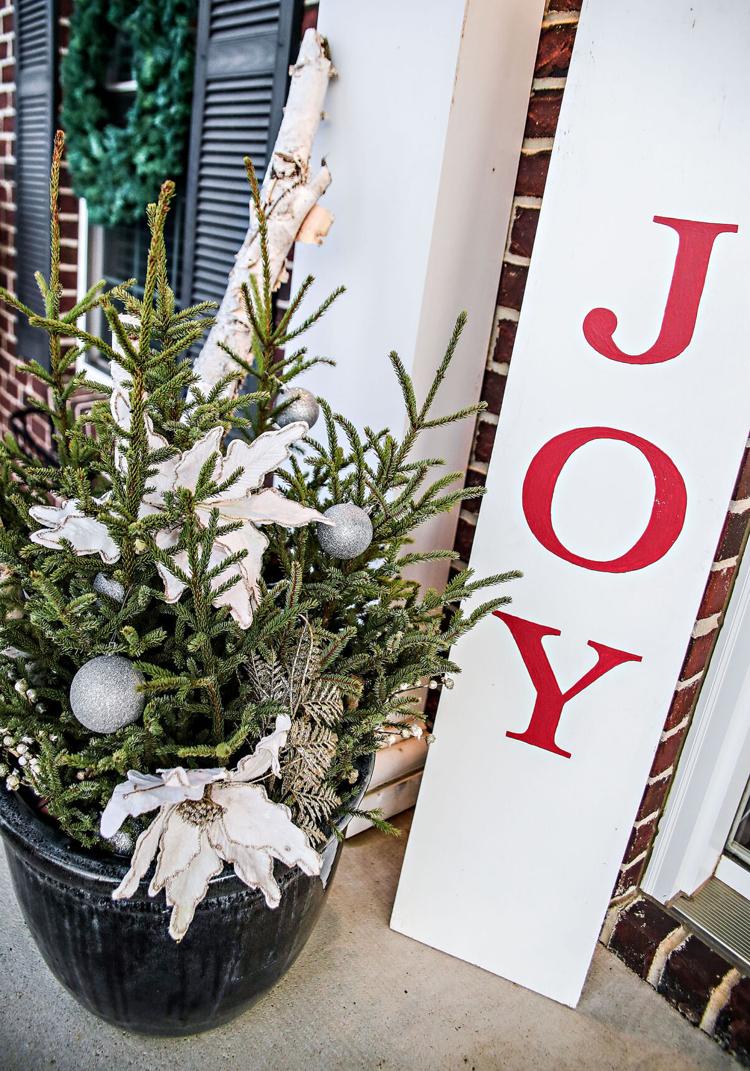 At the entry to the home and carefully placed throughout the interior are festive holiday signs with "Joy" and "Noel" painted in crimson letters.
Jill made those as well.
"I used to make signs as a side job when we lived in Colorado," Jill said. "I try to make signs for the holidays and all sorts of things. I just love making them."
Jill and Tyler undertook a much bigger project when they first moved into the house a few years ago.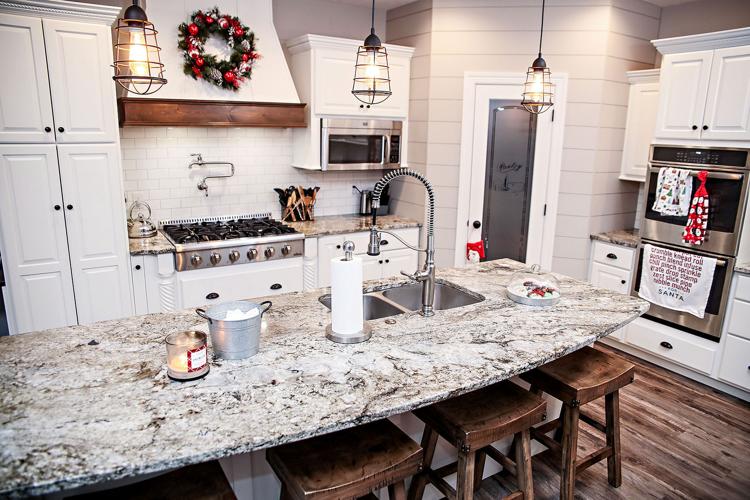 "I would say every house we've lived in we've kind of redone," Jill said. "Here we renovated the kitchen, put in all new flooring, kind of a face-lift on everything. I love walking into a home seeing a vision of what it could be and the potential of it and being able to create that vision. I love that."
Another great reason for the kitchen makeover is the fact that the Giffords love to host.
Christmas gatherings, holiday meals — they enjoy it all.
Holiday accents keep the holiday mood in mind when the kitchen is being put to use for one of those December get-togethers.
Santa Claus hangs from the pantry door handle. A wreath is perfectly placed above the oven and a plate of Christmas cookies lays enticingly on the kitchen island.
Meals are enjoyed in a dining room just across the living room from the kitchen.
Each chair is kept cozy with Santa hat seat covers.
"Those have stuck around for quite awhile. They're kind of old and tattered but the kids love them," Jill said.
Standing in a corner of the dining room is a small tree with particularly special significance.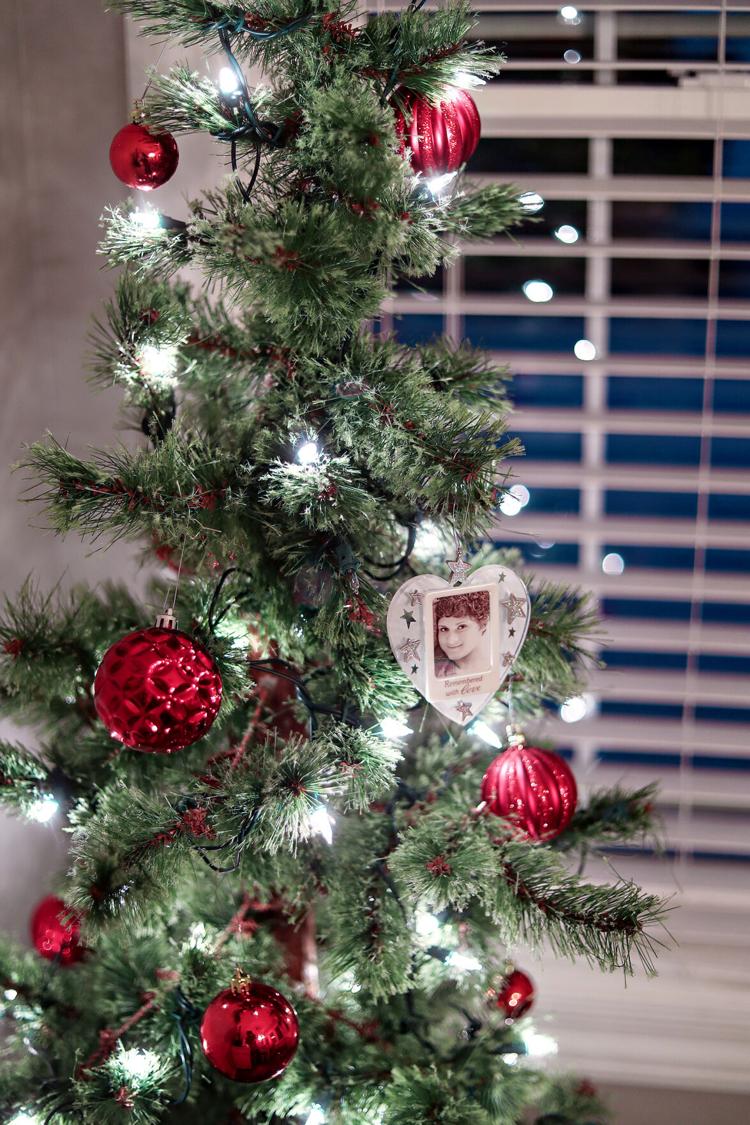 White lights and red bulbs are joined by a single heart-shaped ornament holding a photo of Jill's sister, who passed away at 19 years old after a three-year battle with cancer.
"That's her special tree with her ornament on it. It's something where we don't want to get sad about it. We want to remember her and celebrate her life," Jill said. "And she's a big part our life, even for our kids. I was pregnant when she passed away and our daughter talks about her like she knew her. She was very strong in her faith and that's a big part of how we raise our kids too."
Recalling family memories and forging ahead with holiday traditions make the holiday season that much more special to the Giffords.
Picking out a few new decorative items each year helps as well.
"I have stuff on my mind I'd like to get this year the day after Christmas," Jill said. "I definitely add new stuff every year. I love the garland with the lights in it. We did white lights this year but the kids really wanted colorful lights so we may have to switch that up every other year."
White, red, green or blue, next Christmas the carols are sure to be playing as the Giffords get ready to decorate for the holidays.